Market Overview
The Global Zirconium-Vanadium-Iron Alloy Market Size is growing at a CAGR of 4.8% during the forecast period 2023-2031.
Zirconium-Vanadium-Iron Alloy is a chemical element with the symbol Zr, atomic number 40, and an atomic mass of 91.224. It was named for its zirconium, vanadium, and iron component elements. It is a strong transition metal with a shiny grayish-white appearance similar to titanium. The mineral zircon is where the element zirconium was first discovered, and today it is one of the most important sources of zirconium. Vanadium is often used as an alloying element in high strength low alloy (HSLA) steels because it makes vanadium carbonitrides, which make the steel stronger and less likely to wear out. So far, vanadium has not been used much in powder metallurgy (PM) steels.
About 80% of the vanadium that is made is put into steel. Vanadium-steel alloys are very strong and are used for armor plates, wheels, tools, piston rods, and crankshafts. Steel can handle shocks and vibrations because it has less than 1% vanadium and the same amount of chromium. Because vanadium doesn't absorb neutrons very well, vanadium metals are used in nuclear reactors. The application of vanadium extends to the Zirconium-Vanadium-Iron Alloy Market, where the unique properties of vanadium contribute to the strength and durability of alloys in various industrial applications.
Market Dynamics
Market Drivers
Growing demand for zirconium-vanadium-iron alloys from various application sectors
Zirconium has high corrosion resistance and has widespread use in fabricating pumps, valves, and heat exchangers. Zirconium is also used as an alloying agent in producing some magnesium alloys and as an additive in manufacturing certain steels. Ferrous metals and alloys are used in countless applications as construction materials, medical devices, tools, magnetic cores, and wires, and in the aerospace, military, and medical fields. Hence, they are used in various industries.
Market Restraints
Difficult to Work, limited style, and high cost
Zirconium-Vanadium-Iron Alloy is tough but easy to use. It costs more than other materials to mold and finish because it requires particular tools and skills. Zirconium costs more than stainless steel or titanium. Zirconium has distinct benefits, but its cost may limit its use. Hence, due to its difficulty in working, it has limited styles, which can hinder the Zirconium-Vanadium-Iron Alloy Market growth.
Market Opportunities
Rising demand for hydrogen storage
When hydrogen is burned in fuel cells, combustion is bypassed in favor of a chemical reaction, producing just water and heat as byproducts. It has various applications, including use in automobiles and homes, as a portable power source, and in many other contexts. Hence, many countries focus on backup power at hospitals, educational institutions, etc., increasing the increased market share of the Zirconium-Vanadium-Iron Alloy Market. The material Zirconium-Vanadium-Iron Alloy is very important for storing hydrogen. It can store hydrogen in several different ways. It can be used as a "getter." A getter is a deposit of reactive material placed inside a vacuum system to complete and maintain the vacuum.
Market Scope
Report Metric
Details
Market Size by 2031
USD XX Million/Billion
Market Size in 2023
USD XX Million/Billion
Market Size in 2022
USD XX Million/Billion
Historical Data
2019-2021
Base Year
2022
Forecast Period
2023-2031
Report Coverage
Revenue Forecast, Competitive Landscape, Growth Factors, Environment & Regulatory Landscape and Trends
Segments Covered

Segmentation by Type

Nuclear Grade
Industrial Grade

Segmentation by Application

Chemical Processing
Nuclear Reactor
Military Industry

Geographies Covered

North America
Europe
APAC
Middle East and Africa
LATAM

Companies Profiles

Treibacher
Getter Technologies International Inc
Jinzhou Haixin Metal Material
Stanford Advanced Materials
ATI Metals
Western Zirconium
Cezus-Areva
Chepetsky Mechanical Plant
State Nuclear Baoti Zirconium
Guangdong Orient Zirconic
CNNC Jinghuan
Nuclear Fuel Complex
Segmental Analysis
Segmentation By Type
Nuclear-grade Zirconium-Vanadium-Iron Alloy typically consist of more than 95% zirconium and less than 2% of additional metals, such as iron, tin, chromium, niobium, and nickel, which are added to enhance corrosion resistance and mechanical properties.
Industrial Grade products have extended temperature ratings of -45C to 90C off the shelf. In addition, they can be screen tested at much higher and lower temperatures.
Segmentation By Application
A chemical process is a way that one or more chemicals or chemical substances are changed. A chemical process like this can happen independently or because of an outside force. It always involves some chemical reaction.
A nuclear power plant's core is its nuclear units. They limit and control nuclear chain reactions that make heat through a physical process called fission. This heat is used to make steam, which is used to turn a turbine and make power.
The military industry is a global industry that manufactures and sells weapons and military technology. Where these alloys are used in manufacturing process.
Regional Analysis
The Global Zirconium-Vanadium-Iron Alloy Market is segmented by region as North America, Europe, Asia Pacific, Latin America, and Middle East and Africa.
North America
North America has major manufacturing industries like the Iron and Steel Industry, Heavy Engineering Industries, Wood Pulp and Paper Industry, Textiles Industry, and The Meat-Packing Industry. Iron and still industry use these alloys to manufacture various applications. The United States and Canada are the most important in North America for zirconium-vanadium-iron alloy market. The United States of America is the most important market for zirconium-vanadium-iron alloy because it contains the world's highest concentration of manufacturing facilities. Therefore, the market is expected to grow in this region.
Europe
Europe has many spaceship agencies for which they require good quality spacecraft parts. Zirconium metals are used in spacecraft parts because they can handle high temperatures. This is especially important during re-entry into Earth's atmosphere. Zirconium is a good diluent because it mixes well with plutonium and has desired nuclear properties. Other benefits include resistance to corrosion, good manufacturing properties, an isotropic structure, and softness at first. Hence, this rising need can drive the Zirconium-Vanadium-Iron Alloy market growth.
Asia-Pacific
The extraction of hydrogen from water is the primary application for the Zirconium-Vanadium-Iron Alloy. It is a substance capable of removing hydrogen from gas mixtures and storing it separately. Hydrogen getters have applications in several different industries, one of which is the automotive sector. In this sector, hydrogen getters are used to extract hydrogen from fuel cells and store it. A "getter" is a machine that grabs atoms or molecules and saves them. Getters are used in many different fields, such as the semiconductor business, where they are used to clean materials of impurities. The government is paying more attention to storing hydrogen for power backup in hospitals, boosting this Asia-Pacific's Zirconium-Vanadium-Iron Alloy Market.
South America, Middle East, and Africa
As a result of the fact that zirconium vanadium iron alloy can be utilized in the production of hydrogen getters, which play an essential role in the automotive sector, the automotive industry, which is continually expanding, demands an increase in the quantity of this alloy.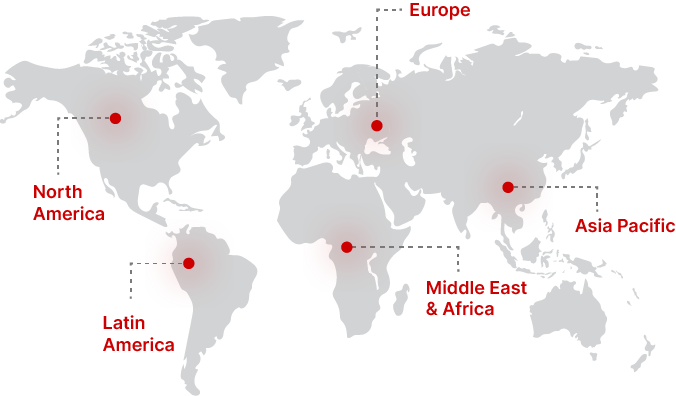 Regional Growth Insights
Download Free Sample
Key Players
Getter Technologies International Inc
Jinzhou Haixin Metal Material
Stanford Advanced Materials
ATI Metals
Western Zirconium
Cezus-Areva
Chepetsky Mechanical Plant
State Nuclear Baoti Zirconium
Guangdong Orient Zirconic
CNNC Jinghuan
Nuclear Fuel Complex
Recent Developments
July 2022: ATI Metals announced a new multi-year agreement with GKN Aerospace to supply high-value titanium materials for commercial and military airframes. The company provided the majority share of titanium plate and sheet products to this prominent global tier-one aerospace supplier. Shipments were expected to begin in the third quarter of 2022. The company anticipates delivery tracking increases with market demand. This agreement significantly expanded the longstanding relationship between ATI and GKN Aerospace.
Zirconium-Vanadium-Iron Alloy Market Segmentations
Segmentation by Type
Nuclear Grade
Industrial Grade
Segmentation by Application
Chemical Processing
Nuclear Reactor
Military Industry
Frequently Asked Questions