Market Overview
According to Reed Intelligence the Global Ambroxan Market Size will approximately grow at a CAGR of 7.3% during the forecast period.
Ambroxan is a diterpenoid derived from sclareol that is responsible for the odour of Ambergris. Ambergris is a rare product that is produced in the digestive tract of the sperm whale (Physeter macrocephalus) as a waxy substance, presumably to protect it from injuries caused by the sharp beaks of the giant squid. Ambrox has been recognized as the prototype of all ambergris odorants and used as a valuable ingredient in perfumery because of its unique scent and fixative function. Ambroxan is an organic heterotricyclic compound and a diterpenoid. The modern Ambroxan is now often called the synthetic ambergris or modern ambergris. It specifically sits within the base note of many perfume formulations and adds a woody, ambery, and musky aroma to a perfume. Sclareol has been extensively used to prepare Ambrox due to its reasonable commercial availability. The complexities function properly as a diffuser, adding depth to perfume formulations to create nuances and unisex appeal.
Ambroxan is also said to have some calming and relaxing properties. Ambroxane was previously used to treat the fever, typhoid, general weakness, hysteria, epilepsy, and other nervous disorders. All the chemical routes reported to synthesise Ambrox involve several chemical steps having high processing costs, long reaction times, and severe processing conditions such as high pressure and temperature.
Ambroxan is a synthetic chemical compound that is used in a variety of industries, including the food industry, cosmetic industry. It is present in crystal forms before it is used in perfumes or food. Givaudan a global leader in fragrance & beauty and taste & wellbeing introduced a new approach to produce Ambroxan by fermenting sustainably sourced sugar cane.
Market Dynamics
Global Ambroxan Market Drivers
Increasing Demand For Cosmetics
The cosmetic production is rapidly increasing due to beauty cocerns of people. The Male as well as female population is attracted towards the skin therapies, hair therapies etc. The fragrances used in the cosmetic industries play an important role as it is sometimes the deciding factor for the customer to make purchase decisions. Ambroxan is mostly used in expensive cosmetics like body lotions, perfumes, shampoo, conditioner etc. It is the main factor used in the perfumes which are more expensive. It is used in oils used for the aromatherapy. The increasing demand for cosmetics Globally drives the market of the Ambroxan used in the products.
High Cost and Availability
Ambroxane is the high-cost ingredient which provides fragrance, Oduor in various personal care products including cosmetics like body lotions, perfumes, oils etc. It is not easily available as it is extracted from the sclary sage which is the rarely found herbaceous plants. The process of extraction of Ambroxan is costly as it has to go through various reactions and processes for extraction. The cosmetic brands using Ambroxan for adding perfume to the products price their products higher as compared to normal cosmetics. As ambroxane is added to the dairy products and food products for flavors the cost of these products can be increased. The financially stable population can only afford buying such products which would be a restraint for the market of Ambroxan.
Market Scope
Report Metric
Details
Market Size by 2031
USD XX Million/Billion
Market Size in 2023
USD XX Million/Billion
Market Size in 2022
USD XX Million/Billion
Historical Data
2019-2021
Base Year
2022
Forecast Period
2023-2031
Report Coverage
Revenue Forecast, Competitive Landscape, Growth Factors, Environment & Regulatory Landscape and Trends
Segments Covered

Segmentation by Type

Cosmetic Grade
Food Grade

Segmentation by Application

Perfume and Cosmetics
Food Industry
Aromatherapy

Geographies Covered

North America
Europe
APAC
Middle East and Africa
LATAM

Companies Profiles

Firmenich
Givaudan
Kao Chemicals
IFF
Symrise
MANE
Moellhausen
Segmental Analysis
Segmentation By Type
Cosmetic grade Ambroxan is a synthetic chemical compound that is used in a variety of cosmetics, including perfumes, deodorants, body lotions, and makeup. Cosmetic grade Ambroxan is typically made from synthetic materials, such as sclareol, a molecule extracted from clary sage. Firstly, the sclareol is extracted from sclary sage using solvent like ethanol. The extracted sclareol is then oxidized by exposing it to the air. The ambroxane is formed after reacting it with air which is further purified using methods such as distillation, chromatography, filtration. The resulting product is a white or off-white powder that has a woody or ambergris-like scent. Cosmetic grade Ambroxan is typically 99% pure, and it is considered to be safe for human use. As the demand for cosmetics is increasing rapidly the demand for Ambroxane is increasing by the cosmetic industry.
Food grade Ambroxan is a chemical compound that is used as a flavoring agent in some foods. The process of making food grade ambroxan is similar to the process of making cosmetic grade Ambroxan, but there are some additional steps that are taken to ensure that the product is safe for human consumption. Ambroxan can improve the flavor of food by giving it a more complex and sophisticated taste. Ambroxan can help to extend the shelf life of food by preventing other flavors from evaporating too quickly. Ambroxan can increase the palatability of food by making it more appealing to the taste buds. The purity, scent, stability, should be checked while purchasing the Amroxan in Food Industry. The flavored food demand is increasing and the demand for Amroxan used for food flavoring is increasing.
Segmentation By Application
Ambroxan is an important and commonly used ingredient in perfumes, both men's and women's perfumes. As it is used as a fixative it gives a long-lasting perfume with slow evaporation. It is also used in deodorants to give them a pleasant and refreshing scent. This helps to mask the odor of sweat. Ambroxan is also used in body lotions to give them a good Oduor or scent. It can also help to moisturize the skin. Ambroxan is also used in makeup, such as foundation and lipstick, to give it a pleasant and appealing scent. It is also responsible prolonged makeup. Ambroxan is a safe and non-toxic compound. It can cause allergic reactions in some people. It is not suitable for the people having sensitive skin as allergic reactions can be seen due to the use of Ambroxan in the cosmetic products. Ambroxan is sometimes added to hair care products, such as shampoo and conditioner, to give them a pleasant scent. It can also help to make hair silky and smoother. It is used in Nail polish production for the purpose of scent.
It is a flavoring agent that is often used to give foods a woody or ambergris-like scent. Ambroxan is also used as a fixative, which means that it helps to keep other flavors from evaporating too quickly. Ambroxan is often used in dairy products, such as yogurt, ice cream, and cheese, to give them a more complex and good flavor. It is also used in confectionery products, such as candy, gum, and cookies, to give them a good taste and different flavor. Ambroxan is also used in beverages, such as soft drinks, alcoholic beverages, and tea, to give them a more refreshing and invigorating flavor. It increases the shelf life of the flavors used in food. The growing Demand for flavored packaged and unpackaged food drives the market of Ambroxan in food industry.
Aromatherapy is the practice of using fragrances to promote overall good health. The fragrances used in the therapy can be due to the presence of aroma and fragrance of Ambroxan added to the oil used for Aromatherapy. Aromatherapy is often used to induce relaxation and eliminate stress from everyday life; however, it is also used frequently to treat and manage certain types of medical conditions. Aromatherapy is considered a holistic treatment method and its effectiveness in truly treating medical conditions is often disputed between those in the fields of alternative and traditional medicines. Ambroxan acts as a fixative giving long-lasting fragrance in Aromatherapy.
Regional Analysis
The Global Ambroxan Market is segmented by region as North America, Europe, Asia Pacific, Latin America, and Middle East and Africa.
North America
Cosmetics represent the third-largest segment of the entire US beauty industry in terms of revenues. As there is growth of cosmetics industry in US there is increase in demand of Ambroxane. The cosmetic products market experiences high competition, with the dominance of major global players in Canada. The provinces of Ontario and Quebec are home to the largest producers of cosmetics and skin care and are also the most active consumer marketplaces for such products in Canada. The three largest urban markets for cosmetics and skin care products in Canada are Toronto, Montreal, and Vancouver. The rise cosmetics drives the market of Ambroxane.
Europe
Europe is one of the largest markets for fragrances in the world. The region is home to a number of leading fragrance manufacturers, such as Firme ich, Givaudan, and Symrise. Givaudan is a company in Geneva Switzerland who produces Ambroxan using sustainably sourced sugarcane. It is the global leader for in fragrance & beauty and taste & wellbeing. Spain is the top exporter of Ambroxane. Sephora, Marionnaud, Nocibé, and Douglas, are key players in the cosmetic industries in France. The beauty and personal care products market is growing in France owing to the demand of beauty products. Consumers prefer high-quality products even if they have to pay more.
Asia Pacific
India and Asia are the fast-growing markets in the Asia pacific Regions. The growing demand for cosmetics and healthcare benefit products is leading to high demand of Ambroxan. It is a major export market, exporting over three-fourths of its domestic production of flavors and fragrances ingredients. The majority of the industry in India lies in the unorganized sector, which caters to products like incense sticks. India exports most of its Ambroxan to Netherlands, Spain and Singapore. China stands second for the export of Ambroxan. It produces Ambroxane due to the need of the cosmetic and food industry where it is used as a Fixative agent. The demand of Korean products like BB creams is leading to an opportunity to the market growth of Ambroxane.
South America
The rising incidence of hair- and skin-related problems such as alopecia areata, telogen effluvium, and other issues among consumers, coupled with increasing hygienic practices, has led to the demand for such effective products across Brazil. Rising pollution levels in a few major cities in Brazil are also a significant reason for people to use protective personal care cosmetics to protect their skin from damage. Columbia ranks fourth in the sales of cosmetic products in Latin America., the changing lifestyles and the increased purchasing power of consumers have led to the development of the cosmetics market in the country and Ambroxane demand can grow in the upcoming years.
Middle East and Africa
The growth rate of Cosmetic industry in Middle East and Africa is relatively lower the European countries due to economic conditions and awareness. The increasing dental problems among children and adults, due to poor eating habits, and the rise in the popularity of herbal oral care products are the factors primarily driving the oral care products market in the region. The market has witnessed substantial growth in the demand for hair care products, coupled with the rise in hair fall problems, which is likely to contribute to the growth of the market. This leads to the growth of Ambroxane Market in Middle East and Africa.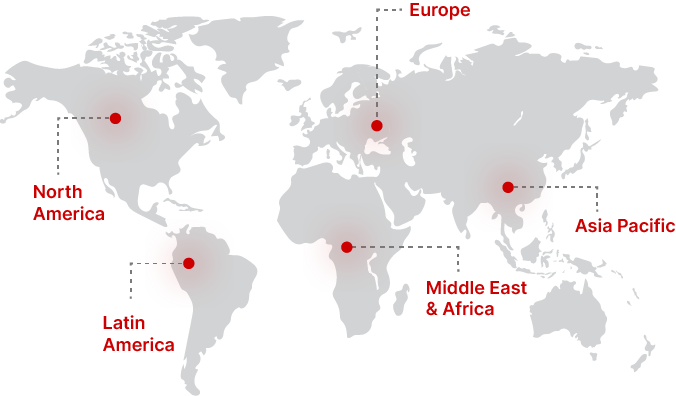 Regional Growth Insights
Download Free Sample
Key Players
Givaudan
Kao Chemicals
IFF
Symrise
MANE
Moellhausen
Recent Developments
2022 - Firmenich, a leading fragrance company, announced the launch of a new Ambroxan-based fragrance called Ambre Nuit.
2023 - Symrise a fragrance company, announced the development of a new synthetic method for producing Ambroxan that is more efficient and cost-effective than traditional methods.
2023 - The personal care company Unilever announced that it would be using Ambroxan in a new line of deodorants.
Ambroxan Market Segmentations
Segmentation by Type
Cosmetic Grade
Food Grade
Segmentation by Application
Perfume and Cosmetics
Food Industry
Aromatherapy
Frequently Asked Questions