Market Overview
The Global Aquaculture Fish Incubators Market Size is projected to register a CAGR of 7.85% during the forecast period 2023-2031.
The equipment and methods used to produce fish in aquaculture operations are called aquaculture fish incubators. Aquaculture fish incubators regulate the water temperature, oxygen levels, and other environmental parameters to provide the best circumstances for fish eggs to hatch.
As wild fish populations keep decreasing due to overfishing and environmental degradation, the aquaculture fish incubators market is driven by the rising demand for fish and seafood. Fish incubators are essential to the growth of farmed fish since aquaculture is thought to be a more environmentally friendly method of satisfying this demand.
The market is anticipated to expand over the upcoming years due to rising demand for fish and seafood and improvements in fish incubator technology. But, environmental issues, legislation, and competition from other protein sources, like plant-based meat alternatives, could pose problems for the market.
Market Dynamics
Market Drivers
Increase in Investment in Aquaculture
Governments and private investors are putting more money into aquaculture because it is thought to be a means to boost economic growth, create jobs, and ensure food security. The growth of new aquaculture enterprises stimulated by this investment raises demand for fish incubator systems.
Water pollution and illness transmission to wild fish populations are two undesirable environmental effects of aquaculture. Fish incubators can assist in alleviating these effects by increasing the effectiveness of aquaculture operations, cutting down on waste production, and stopping the spread of illness. For instance, it is possible to create fish incubators that filter waste out of the water and circulate it to lessen the number of toxins released into the environment. Also, by providing a controlled environment for fish to thrive and lowering the danger of contamination from wild fish populations, fish incubators can help stop the spread of illness. The usage of fish incubators is projected to rise as environmental concerns continue to drive demand for sustainable aquaculture methods.
Market Restraints
The cost of running a fish incubator system might be high in addition to the high initial costs. To function, these systems need labor, water, and electricity. In particular, in regions with high energy costs, the electricity cost to maintain water temperature, filtration systems, and aeration can be high. Regular maintenance is also necessary to ensure the incubator system is working effectively and avoid any problems that can result in the loss of fish eggs or fry. Some aquaculture operators may find it challenging to justify the purchase of a fish incubator system due to these operational costs, particularly those with low financial resources.
Market Opportunities
Technological Advancement
As technology develops, there is potential for developing novel and enhanced fish incubator systems. For instance, improved monitoring and control of incubator systems may be made possible by using artificial intelligence and machine learning, increasing productivity and efficiency. Developing more energy-efficient devices may also decrease the cost of operating a fish incubator system.
Market Scope
Report Metric
Details
Market Size by 2031
USD XX Million/Billion
Market Size in 2023
USD XX Million/Billion
Market Size in 2022
USD XX Million/Billion
Historical Data
2019-2021
Base Year
2022
Forecast Period
2023-2031
Report Coverage
Revenue Forecast, Competitive Landscape, Growth Factors, Environment & Regulatory Landscape and Trends
Segments Covered

By Type

Vertical Incubators
Cylindrical Incubators

By Application

Salmon
Trout
Other

Geographies Covered

North America
Europe
APAC
Middle East and Africa
LATAM

Companies Profiles

AGK Kronawitter
Cofa
MariSource
Billund Aquaculture
Segmental Analysis
Based on Type
The market can be sub-segmented as Vertical Incubators, Cylindrical Incubators.
Vertical incubators are expected to dominate the market based on Type. These cylinder-shaped, tall incubators are frequently used to incubate and hatch fish eggs. They can be used to hatch a variety of fish species and are made to imitate the natural conditions of fish spawning.
Egg incubation and larval rearing are both done in cylindrical incubators, which are round. They are frequently used for high-density fish production and can be created to function in both freshwater and saltwater conditions.
Based on the Application
It is further divided into Salmon, Trout, and Other.
One of the most widely raised fish species is salmon, which is raised for its meat and eggs. Salmon eggs are hatched and raised in incubators, which can be made to cater to the requirements of various salmon species specifically.
Another fish species that are frequently raised in the aquaculture sector is trout. Several trout species' eggs can be hatched and raised in trout incubators, frequently made to give the fish the best water conditions and temperatures.
Additional fish species raised in the aquaculture sector, like tilapia, catfish, and barramundi, are listed under the "Other" category. According to the unique requirements of each fish species, different types of incubators may be employed for various species.
Regional Analysis
The Global Aquaculture Fish Incubators Market is segmented by region as North America, Europe, Asia Pacific, Latin America, and Middle East and Africa.
Depending on the region, the market is analyzed in North America, Asia-Pacific, Europe, and LAMEA. Asia-Pacific dominates the market.
The Asia-Pacific region is expected to dominate the market for aquaculture fish incubators due to factors such as a big consumer base, a high demand for seafood, and favorable government laws encouraging the establishment of the aquaculture industry.
In North America, the market for aquaculture fish incubators is anticipated to expand steadily over the next several years because of rising consumer demand for sustainable seafood, government funding for aquaculture development, and technological improvements.
Due to rising consumer demand for premium seafood, supportive governmental policies, and increased investment in the aquaculture sector, the market in Europe is also anticipated to expand steadily.
The market in South America and the Middle East & Africa region has great growth potential due to favorable government policies, rising consumer demand for premium seafood, and rising aquaculture sector investment.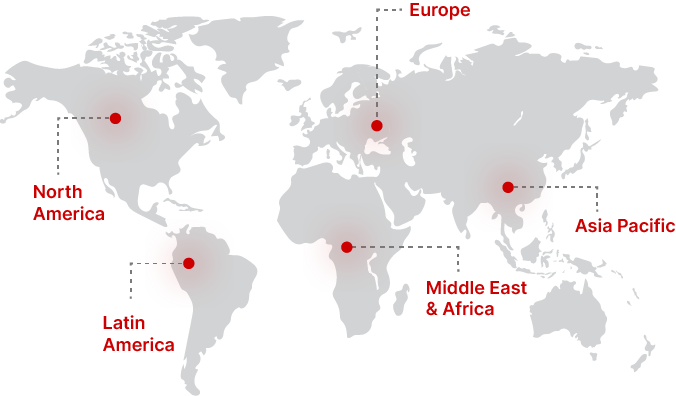 Regional Growth Insights
Download Free Sample
Key Players
Cofa
MariSource
Billund Aquaculture
Recent Developments
In August 2022, Billund Aquaculture and Tassal, which collaborated once more to boost their most effective RAS to previously unheard-of heights, are celebrating the accomplishment of the Rookwood hatchery.
Aquaculture Fish Incubators Market Segmentations
By Type
Vertical Incubators
Cylindrical Incubators
By Application
Frequently Asked Questions