Market Overview
The Global Baby Trage Market Size is anticipated to touch at a CAGR of approximately 5.1% during the forecast period.
A baby Trage is a baby carrier that lets the mother or person carrying the baby to free their hand and keep the baby close while conducting everyday activities. A baby Trage holds the infant in a proper and comfortable posture, much like the womb does during pregnancy. The upright position of the carrying infant aids in the prevention of physical defects linked with newborns that spend a significant amount of time lying on their backs or tummies.
Among the innovative products introduced to the market are baby Trage with multi-functions, such as the fully adjustable and easy-to-use baby Trage to hold infants and young children, crossable shoulder straps for better comfort and personalized fit, machine washable, and carrier with three ergonomic carry positions, such as front-inward, hip, and back carry. Furthermore, the customizable designs enable women to practice hands-free feeding while on the go.
Artsana s.p.a., Baby Bjorn AB, Blue Box Company, The ERGO Baby Carrier, Inc., Lalabu LLC, Good baby International Holding Limited, FirstCry, and Moby Wrap, Inc. are some notable brands in the baby carrier industry. Each brand has its own features and styles to meet a variety of demands and tastes. There has additionally been an increase in the popularity of eco-friendly and sustainable baby carriers produced from organic or recycled materials. As parents become more ecologically sensitive, these sorts of carriers are becoming more popular. The baby carrier industry is likely to expand as more parents learn about the benefits of baby wearing and look for high-quality, comfortable, and attractive carriers for their children.
Market Dynamics
Market Drivers
Parental Mobility Requirements are Increasing
Parents need a handy and comfortable way to hold their newborns while freeing up their hands as they become more active and on-the-go. Baby Trage offer a solution that enables parents to keep their infants near while still being flexible, which is where they come in. Increasingly, parents are depending on public transit, walking, and bicycling to get about as urbanization and the number of people residing in cities grows. Baby Trage are a sensible option in these circumstances since they are portable, simple to use, and take up little room.
Innovation, Style, Function, and Inventiveness
Manufacturers are continuously seeking for new and better methods to make baby carriers more comfortable, ergonomic, and multifunctional, which is a primary driver of the baby carrier business. For instance, some baby carriers offer movable straps and waistbands to fit a range of body shapes, while others come with built-in sunshades or storage spaces for extra convenience. Another significant factor driving the market for baby carriers is fashion, as many parents nowadays seek out carriers that not only look well but perform well. In order to satisfy a variety of interests and preferences, manufacturers are reacting to this need by providing a wide selection of styles and colors. Parents may also customize some of them by switching out panels or straps, for example, to create a distinctive style.
As parents require carriers that are useful, simple to use, and secure for their children, functionality is a primary market driver for baby trage. Baby trage that may be used for newborns or toddlers are just one example of the variety of demands and preferences that manufacturers are catering to. Other options include carriers that can be worn in a variety of postures for greater adaptability. Inventiveness is another factor driving the baby Trage industry, as producers develop inventive and imaginative designs to cater to the demands of contemporary parents. For instance, some baby products employ environmentally friendly and reusable materials, while others incorporate extra features like nursing covers or teething pads to improve the user experience.
Market Restraints
Despite the baby carriers' rising popularity, some parents may still be ignorant of their advantages or may not have been exposed to them. The market may be constrained by this as it reduces the pool of possible customers. Many people are unaware of the advantages of baby carriers, how pleasant they are for parents as well as the baby and the parent.
Baby Trage might not be appropriate in all circumstances, such as for parents who may have physical limitations or for activities that call for greater mobility. For some parents, this may restrict the market for Baby Trage. Other than this, it can only be used until the child is a toddler; beyond that, it serves no use.
Market Opportunities
Reusing and Recycling Baby Trage
Reusing and recycling baby clothes may be a desirable choice for both parents and manufacturers as sustainability and environmental responsibility gain popularity with customers. Recycling baby Trage provide a chance for producers to advance a sustainable and circular economy. Manufacturers may use recycled resources to make new goods and lessen their reliance on virgin materials, which also helps to lower their carbon impact.
Additionally, encouraging recycling and reuse may boost a brand's image and fanaticism among customers who care about sustainability.
Already, several businesses are working to encourage the reusing and recycling of baby trage. For instance, to entice parents to recycle or donate their carriers, several manufacturers provide buyback schemes or donation campaigns. Others have begun incorporating recycled materials into their goods or formed alliances with recycling initiatives in an effort to cut waste. The business has a chance to address the rising demand for ecologically friendly and sustainable products while also fostering a more circular economy through the reuse and recycling of baby trage market.
Market Scope
Report Metric
Details
Market Size by 2031
USD XX Million/Billion
Market Size in 2023
USD XX Million/Billion
Market Size in 2022
USD XX Million/Billion
Historical Data
2019-2021
Base Year
2022
Forecast Period
2023-2031
Report Coverage
Revenue Forecast, Competitive Landscape, Growth Factors, Environment & Regulatory Landscape and Trends
Segments Covered

Segment by Type

Polyester
Cotton
Others

Segment by Application

Retail Stores
Specialty Outlets
Others

Geographies Covered

North America
Europe
APAC
Middle East and Africa
LATAM

Companies Profiles

Sunveno
Goodbaby International
Babycare
TushBaby
Ergobaby
BabyBjörn
Bebamour
LILLEbaby
East Coast Nursery
Infantino
Baby K'tan
Bethbear
Segmental Analysis
Segment By Type
Polyester baby Trage are dependable, portable, and simple to care for. Baby Trage made of polyester are often water-resistant, making them an excellent option for usage during outdoor activities or in damp environments. Polyester is breathable as well, which may keep newborns comfy and cool. As polyester is a synthetic material and may not be as soft to the touch or as comfy for the infant, some parents may choose natural textiles like cotton.
Cotton is a common material for baby Trage Market, since it is natural, soft, breathable, and hypoallergenic. It may be woven into a range of textures and weights to suit various purposes and tastes, making it a versatile material as well. In addition, cotton is a sustainable and eco-friendly material, which may appeal to parents who value items that are ecologically friendly as well as being a key factor in the baby Trage market.
Segment By Application
Baby Trage is frequently mass-produced and generally accessible at big chain stores like Walmart, Target, and Amazon. From new parents to seasoned carers or babysitters, these carriers may be marketed to a wide spectrum of consumers. They frequently come in a range of colours and designs and may be marketed at various price ranges to suit various budgets.
Baby Trage are often sold only at smaller, privately owned boutiques that specialise in baby carriers and other newborn items. With an emphasis on premium, sustainable, or handcrafted goods, some stores may provide a more carefully picked variety of carriers. Together with fittings and demonstrations to assist parents in choosing the best carrier for their requirements, they could also offer more individualised customer care.
Regional Analysis
The Global Baby Trage Market is segmented by region as North America, Europe, Asia Pacific, Latin America, and Middle East and Africa.
North America
The market for baby Trages is a worldwide one that spans several continents and nations. Yet, due to a number of variables, North America is thought to hold the biggest market share for infant carriers. Because baby Trage provide a handy way to hold newborns while freeing up hands for other duties, the number of working moms in North America has increased, which has increased demand for baby carriers. Urban regions, where parents must manage busy environments and public transit, are where this tendency is most noticeable.
There are government programs and regulations for baby carriers. For instance, under federal law, soft infant and toddler carriers must adhere to the standard for such carriers as well as other regulations, such as those imposed by the Consumer Product Safety Improvement Act of 2008. (CPSIA). When the soft newborn and toddler carriers have been evaluated for compliance at a CPSC-accepted, independent laboratory, manufacturers and importers must declare in a Children's Product Certificate that the soft infant and toddler carriers match to the standard and any extra requirements.
Lastly, there is a huge demand for baby carriers in North America due to rising knowledge of the advantages of baby trages and its good effects on infant development.
Asia Pacific
The Baby Trage industry as a whole is now seeing its strongest growth in the Asia-Pacific area. This tendency is influenced by many different things. Firstly, more newborns and young children are being born and raised in Asia-Pacific as a result of the region's growing population. Baby carriers are now more in demand in the area as a result of this. Also, the growing urbanization and shifting lifestyle trends in the Asia-Pacific region have resulted in a demand for small, portable baby carriers that are simple to transport in congested metropolitan areas.
Apart from this, the demand for baby carriers has also been influenced by the increasing number of working women in Asia-Pacific. These baby trages provide moms with a useful and practical way to hold their newborns while freeing up their hands for other activities. The demand for Baby Trages has increased as a result of Asia-Pacific consumers becoming more and more aware of the advantages of babywearing. Babywearing is viewed as a technique to foster parent-child relationships and to give the baby a safe and secure environment.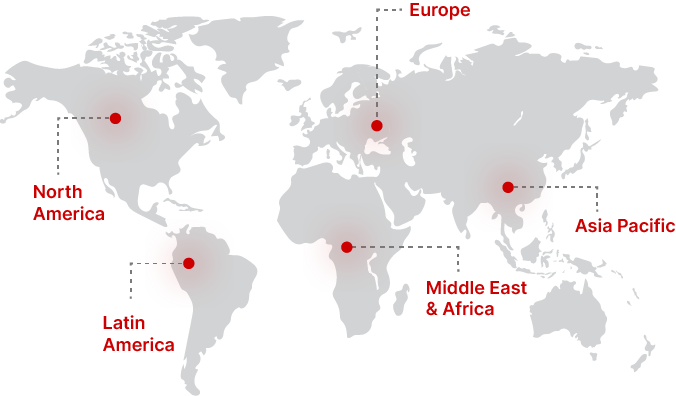 Regional Growth Insights
Download Free Sample
Key Players
Goodbaby International
Babycare
TushBaby
Ergobaby
BabyBjörn
Bebamour
LILLEbaby
East Coast Nursery
Infantino
Baby K'tan
Bethbear
Baby Trage Market Segmentations
Segment by Type
Segment by Application
Retail Stores
Specialty Outlets
Others
Frequently Asked Questions