Market Overview
The Global Bale Spear Market is projected to register a CAGR of approximately 4.93% during the forecast period 2023-2031.
Agricultural machinery called bale spear handles transported big hay, straw, or other commodities. Usually, it consists of a long, pointed spear or prong fastened to a frame that can be installed on a tractor or other farm machinery.
Several variables, such as the rising demand for hay and other feed crops, the increase in livestock production, and the mechanization of agriculture, influence the market. The development of e-commerce platforms, growing emphasis on sustainable agriculture, and technological developments in bale spear manufacture are all factors in the market's expansion.
Market Dynamics
Market Drivers
Growing demand for hay and Forage Crops
Many causes drive the demand for hay and other forage crops, including the expanding world population, rising earnings, and shifting dietary preferences. The demand for meat and dairy products is rising as a result, which in turn is increasing the need for hay and other forage crops to feed cattle. This has increased the need for bale spears, crucial for effectively moving and managing hay bales.
The demand for hay and other forage crops used to feed horses has also increased due to the growing popularity of equestrian sports and horse-related leisure activities. This has increased the agriculture industry's need for bale spears even more.
Mechanization of Agriculture
Farmers are utilizing more sophisticated machinery to increase productivity and efficiency, which is mechanizing agriculture. A significant part of this trend is the use of bale spears, which let farmers move and handle enormous amounts of hay swiftly and easily while spending less time and money on labor. This is especially significant in areas with high labor costs or labor scarcity.
Farmers may handle hay bales more safely by using bale spears, which also lowers the possibility of worker injuries. This is crucial when dealing with huge bales because they might weigh several hundred pounds and be challenging to handle manually.
Market Restraints
The large initial expenditure needed to buy the equipment is one of the main barriers to the bale spear business. This can be a substantial entry hurdle for small and medium-sized farmers who might not have the financial resources to buy bale spear equipment.
The Bale Spear Market Demand equipment occurs during the harvest season, a very seasonal market. Demand and production may fluctuate, which may impact the profitability of producers and distributors.
Market Opportunities
Adoption of Precision Agriculture Techniques
Utilizing cutting-edge technologies like GPS and remote sensing allows for optimizing farming methods and increasing productivity. In the upcoming years, more precision farming methods will likely be used, opening up new potential for bale spear producers to produce more advanced and effective machinery that can be used with these technologies. Bale spear equipment could be more affordable and effective with the help of technological developments, including lightweight materials and improved production processes. Small and medium-sized farmers might have easier access to the equipment, promoting market expansion.
Market Scope
Report Metric
Details
Market Size by 2031
USD XX Million/Billion
Market Size in 2023
USD XX Million/Billion
Market Size in 2022
USD XX Million/Billion
Historical Data
2019-2021
Base Year
2022
Forecast Period
2023-2031
Report Coverage
Revenue Forecast, Competitive Landscape, Growth Factors, Environment & Regulatory Landscape and Trends
Segments Covered

Segment by Type

Double-fork
Multi-fork

Segment by Application

Livestock industry
Hay producersa

Geographies Covered

North America
Europe
APAC
Middle East and Africa
LATAM

Companies Profiles

Krpan
Caterpillar
Paladin
Duevelsdorf
Tenias
Bobcat
Rata
Schlagel
Kerfab
John Deere
Burder Industries
Segmental Analysis
Segment By Type
For better understanding type is further segmented into Double-fork, Multi-fork.
Bale spears with two prongs or tines, called double-fork spears, are made to pierce and pull bales off the ground. Farmers who frequently need to transport hay or straw bales prefer to utilize double-fork bale spears, normally used for smaller bales.
Bale spears with many prongs or tines typically three to six are called multi-fork bale spears. Bale spears with several forks can move several bales simultaneously and are made for larger ones. Farmers who need to move huge amounts of hay or straw bales swiftly and effectively frequently use these spears.
Segment By Application
The segment can be further bifurcated into the Livestock industry, Hay producers, and Others.
Bales of hay and straw are frequently moved in the livestock business so that livestock can be fed. Numerous animals, including cows, horses, sheep, and goats, are used in the livestock business, and bale spear equipment is used to handle bales of various sizes and feed varieties.
Hay producers raise and gather hay and sell it to other people and the livestock business. Large volumes of hay bales are moved and stored by these producers using bale spear equipment during the harvesting and storage.
Regional Analysis
The Global Cosmetic Coloured Contact Lenses Market is segmented by region as North America, Europe, Asia Pacific, Latin America, and Middle East and Africa.
Depending on the region, the market is analyzed in North America, Asia-Pacific, Europe, and LAMEA. North America dominates the market.
North America is predicted to be a significant growth driver for the market due to the region's considerable livestock and hay production industries. The United States is the primary market for bale spear equipment. However, Canada also contributes to market growth.
Europe is an important market for bale spear equipment because of the large-scale cattle and hay-producing industries in countries like Germany, France, and the UK. The rising trend towards sustainable agriculture will improve the region's market.
Due to the rising demand for livestock products in nations like China, India, and Australia, the market is anticipated to expand significantly in Asia. It is also anticipated that the region's growing use of cutting-edge agricultural technologies will open up new prospects for market expansion.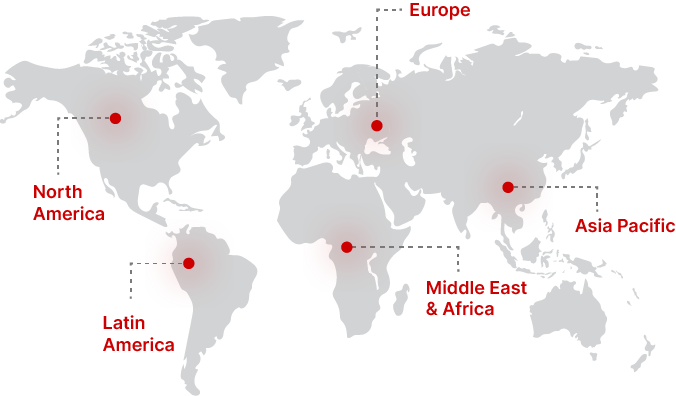 Regional Growth Insights
Download Free Sample
Key Players
Krpan
Paladin
Duevelsdorf
Tenias
Bobcat
Rata
Schlagel
Kerfab
John Deere
Burder Industries
Recent Developments
In September 2022, Caterpillar said it had partnered strategically with carbon capture technology business Carbon Clean Solutions. The alliance aims to create and market carbon capture systems for the industrial sector.
Bale Spear Market Segmentations
Segment by Type
Segment by Application
Livestock industry
Hay producersa
Frequently Asked Questions