Market Overview
According to Reed Intelligence the Bluetooth Fingerprint Scanner Market Size will approximately grow at a CAGR of 11% during the forecast period.
A Bluetooth fingerprint scanner is a biometric tool that records a person's fingerprint image and uses Bluetooth technology to communicate with other devices. The image of the fingerprint is captured by the scanner using a high-resolution optical or sensitive sensor, which is then processed to create a special digital template. use frequently for security and access control applications, such as user identity verification for secure area access, sensitive data security, or financial transactions. Also, by using fingerprints to confirm each employee's identification, they may be used to manage time and attendance for employees.
Since Bluetooth technology removes the need for physical connections and enables wireless data transfer, it increases the accessibility and flexibility of authentication and identity procedures. Also, it makes it easier to interact with other Bluetooth-capable gadgets like smartphones and tablets.
Due to its mobility, versatility in usage, interaction with other Bluetooth-enabled devices, and expected significant growth in demand, Bluetooth fingerprint sensors are expected to become more and more popular. They are often utilized in industries including banking and finance, healthcare, law enforcement, transportation, and retail. Since fingerprint verification and identification play a bigger role in security and access control across a variety of sectors, the market for Bluetooth fingerprint scanners is expanding.
Market Dynamics
Market Drivers
Urbanization, Modernization, and Globalization are Factors That Driving Market
Main reason for Fingerprint Scanner Market is growing fast due to Urbanization, modernization, and globalization are factors that are driving market value growth. Other factors influencing market expansion include the proliferation of the e-commerce sector, rising cyber threats and security breach worries, and advancing technology that will enhance the performance of fingerprint sensors. The market players have additional lucrative prospects throughout the projection period of 2022 to 2029 because to developments in manufacturing technologies. The market's future expansion will also be aided by growing demand for fingerprint sensors' use in internet of things (IoT) applications.
Rising Demand For Mobile and Other Device and Also Increase in Funding for The Expansion and Development Advance Technology
One of the key factors driving the market's growth is the increasing availability and penetration of consumer electronics. In other words, the rising availability and demand for smartphones, tablets, laptops, television kiosks, and giant interactive screens are directly affecting the market's growth pace. The increase in funding for the expansion and development of advanced and automated technology/machinery is a result of the growing number of strategic market alliances. Furthermore, increasing the amount of money spent on R&D will pave the path for advancements in manufacturing technologies.
Governments are Encouraging Market to Grow
The use of fingerprint scanners is now required by governments all around the world in a various sector, including law enforcement, healthcare, and finance. The use of Bluetooth fingerprint scanners in various industries is being pushed by these mandates.
Market Restraints
Compared to other types of fingerprint scanners, Bluetooth fingerprint scanner prices might be quite costly. This might prevent Bluetooth fingerprint scanners from becoming widely used, especially in price-sensitive markets. Bluetooth fingerprint scanners have a wide range of uses, they might not be appropriate in all situations.
Competition from Other Fingerprint Reader Restraints Market
Competition from other fingerprint readers, such as facial recognition and voice recognition, may be a constraint on the market expansion for Bluetooth fingerprint scanners. The development of Bluetooth fingerprint scanners in such applications may be constrained by the fact that certain technologies may be better suited for particular use cases, which is affecting f Bluetooth fingerprint scanners market.
Accuracy and Data Security Restraining Market Growth
Getting Bluetooth Fingerprint Scanners to match fingerprints with a high degree of accuracy is one of the main hurdles. The scanner's accuracy can be impacted by things like cuts, scars, dry or damp fingers, and these conditions.
The usage of biometric data raises questions about data security and privacy. Businesses must make sure they adhere to data protection laws and safeguard customer information from online threats.
Market Scope
Report Metric
Details
Market Size by 2031
USD XX Million/Billion
Market Size in 2023
USD XX Million/Billion
Market Size in 2022
USD XX Million/Billion
Historical Data
2019-2021
Base Year
2022
Forecast Period
2023-2031
Report Coverage
Revenue Forecast, Competitive Landscape, Growth Factors, Environment & Regulatory Landscape and Trends
Segments Covered

Segment by Type

Android
IOS
Windows

Segment by Application

Banking and Mobile payments
Insurance and Finance
Access Control
Law Enforcement

Geographies Covered

North America
Europe
APAC
Middle East and Africa
LATAM

Companies Profiles

SecuGen Corporation
M2SYS Technology
Futronic Technology Company
SMUFS Biometric Solutions
Gdfingerprint
Evolute
Mantra Softech
Segmental Analysis
Segmentation by Type
Android operating system has the facility of fingerprint scanner which keep your data safe
iPhone barcode scanners are designed specifically to work with iOS and connect to an iPhone wirelessly via Bluetooth, it also has face scanner and iris scanner for security.
Bluetooth network gathering detailed information about local and have to pair with it
Segmentation by Application
Banking and Mobile payments
Banking and Payment System via Mobile Devices with Biometrics Authentication. By help of Bluetooth fingerprint gives security and transfer money without using writing passwords it becomes possible to secure mobile with biometric technologies.
Financial organizations may safely prove and authenticate users using biometrics, reducing fraud and identity theft.
Bluetooth Fingerprint Scanner Access Control Support Windows Android IOS Linux System Micro USB Fingerprint Reader.
Criminal fingerprint databases are among the most valuable resources for law enforcement organizations. For the army to protect access to its sensitive data from the enemy, a fingerprint database is necessary. It is necessary for police to identify suspects or to check criminal histories.
Regional Analysis
The global bluetooth fingerprint scanner market is segmented by region as North America, Europe, Asia Pacific, Latin America, and Middle East and Africa.
Asia Pacific
Growing Demand of Smartphones Boosting Bluetooth Fingerprint Scanner Market
Asia Pacific is expected to maintain its rapid development. The country's fast increasing smartphone customer base is the main factor driving the market's expansion. Asia Pacific has the highest smartphone penetration overall in 2018. The Asia Pacific fingerprint sensor market has suffered as a result of the COVID-19 outbreak. Yet it is believed that the market would shortly rebound. Also, the percentage of people who use cell phones to access the Internet is rising worldwide. The global market for in-display fingerprint sensors is expected to expand due to the high demand for.
The market is expected to be dominated by Asia Pacific as a result of the use of sensing systems in automobiles. Customers from China, Japan, South Korea, India, and Australia make up the majority of the market. Growth of the market may be boosted by the presence of smartphone makers as well as applications in the travel, hospitality, banking and finance, travel and immigration, and government sectors.
North America
Market will grow in this region due to advancement in technology and well-developed country. The North American fingerprint sensor market is anticipated to grow at a CAGR of 1.50%. (2020 - 2025). Due to greater internet usage rates in the United States and Canada as well as rising e-commerce sales, which are further enhancing these transactions, online transactions are prevalent in the region. The use of biometrics technologies is likely to follow these advancements.
Smartphone industry and government support
The region's fingerprint market is being driven by the smartphone industry and government-sponsored investments. Due to the government's emphasis on border control, fingerprint scanners are also being used more frequently at airports in the area.
Creating the country's demand for fingerprint devices
Canada's first airports to deploy fingerprint scanning kiosk stations and three of Canada's major airports have joined together to buy and implement biometric kiosks and egates. and comply with the Federal Government's enhanced biometric border screening requirements. For this, the airport installed a BorderXpress kiosk from Innovative Travel Solutions (ITS). Such deployments are expected to continue over the forecast period, creating the country's demand for fingerprint devices and sensor modules.
Europe
Growing demand for Bluetooth fingerprint scanner market
Bluetooth Fingerprint Scanner Technology Advances Studying the Increasing Popularity of Bluetooth Fingerprint Scanners in the European Market shows that access control in a variety of settings and time and attendance tracking in the workplace are growth of developing applications and use cases that are driving market growth in Europe.
Middle East and Africa
The Middle East market for Bluetooth fingerprint scanners is expected to grow more slowly due to factors including insufficient infrastructure and lower adoption rates for biometric authentication technologies. Players may find it challenging to extend their business in this region. Yet, these areas still have room for expansion, especially in sectors like banking and government.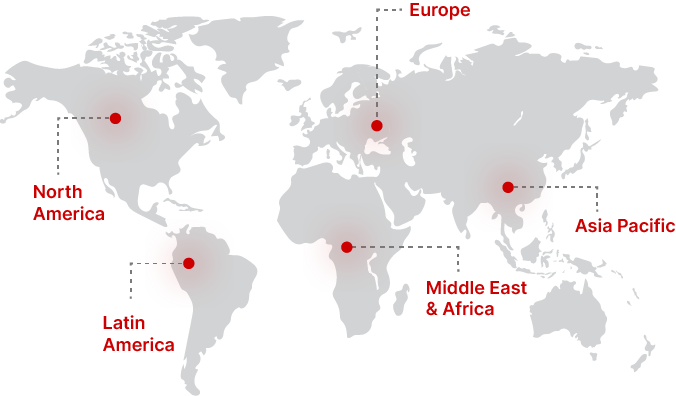 Regional Growth Insights
Download Free Sample
Key Players
SecuGen Corporation
M2SYS Technology
SMUFS Biometric Solutions
Gdfingerprint
Evolute
Mantra Softech
Bluetooth Fingerprint Scanner Market Segmentations
Segment by Type
Segment by Application
Banking and Mobile payments
Insurance and Finance
Access Control
Law Enforcement
Frequently Asked Questions