Market Overview
The Global Bread & Bakery Products Market Size is projected to grow at a CAGR of approximately 7.10% during the forecast period 2023-2031.
The market for bread and bakery goods is a strong and dynamic sector that satisfies the demand for a wide range of baked goods on a global scale. People of all ages regularly consume these goods, staples in many cultures. The market for bread and bakery goods has grown significantly in recent years in terms of market size. Numerous causes, such as population increase, urbanization, shifting consumer habits, and the rising popularity of convenience foods, are responsible for this growth. Additionally, the market has grown due to increased disposable incomes in emerging economies since customers now have more money to spend on bakery goods. Various items, such as bread, pastries, cakes, cookies, muffins, and other baked foods, are sold on the market. Producers and businesses frequently use innovation to meet changing consumer wants and tastes. There has been an increasing emphasis on healthier options, such as whole-grain bread and gluten-free goods, to appeal to health-conscious consumers.
Market Dynamics
Market Drivers
Urbanization and Busy Lives
Busy lives and urbanization have increased the need for convenience foods, which include bakery goods. Bakery goods are a go-to source for quick meals, snacks, and breakfast options as more people relocate to urban areas and lead busy lives. This component fuels market expansion, particularly in metropolitan areas.
Online Retail and E-commerce
The bakery sector has been greatly impacted by the growth of online retail and e-commerce platforms. Now that consumers can easily order bakery goods online, accessibility and market reach have expanded. Online platforms also make it possible for neighborhood bakers to connect with a larger customer base, stimulating market expansion.
Market Restraints
Bakery products, especially those without preservatives, have a limited shelf life. This poses challenges for manufacturers and retailers in terms of managing inventory and ensuring product freshness. Consumers often prioritize freshly baked products, which can limit the reach of bakery items through long distribution channels.
Market Scope
Report Metric
Details
Market Size by 2031
USD XX Million/Billion
Market Size in 2023
USD XX Million/Billion
Market Size in 2022
USD XX Million/Billion
Historical Data
2019-2021
Base Year
2022
Forecast Period
2023-2031
Report Coverage
Revenue Forecast, Competitive Landscape, Growth Factors, Environment & Regulatory Landscape and Trends
Segments Covered

Segment by Type

Bread and Rolls
Cakes and Pastries
Cookies

Segment by Application

Supermarkets/Hypermarkets
Convenience Stores
Independent Retailers
Online Sales

Geographies Covered

North America
Europe
APAC
Middle East and Africa
LATAM

Companies Profiles

Grupo Bimbo
Toufayan Bakery Inc
Finsbury Food Group Plc
Manna Organics LLC
United States Bakery.
The Hain Celestial Group Inc
Nature's Bakery Cooperative
Honeyrose Bakery Ltd.
Alvarado Street Bakery
Flower Foods Inc.
Segmental Analysis
Segment by Type
This group includes white bread, whole wheat bread, multigrain bread, sourdough bread, and specialty breads like baguettes, ciabatta, and focaccia. Rolls, like dinner rolls, hamburger buns, and sandwich rolls, are also included in this section. Bread and rolls are eaten worldwide and can be used in many ways, from sandwiches and toast to side dishes.
Cakes and pastries are another prominent segment in the bread and bakery products market. Cakes can range from simple sponge cakes to elaborate layered cakes for celebrations and special occasions. Pastries include a variety of sweet baked goods, such as croissants, danishes, éclairs, tarts, and pies. This segment is driven by consumer demand for indulgent treats and is popular in both retail and food service sectors, including bakeries, cafes, and dessert shops.
Cookies are a popular segment within the bakery industry. These sweet treats come in a wide range of flavors, textures, and shapes. From chocolate chip cookies and oatmeal cookies to shortbread and gingerbread, cookies cater to different taste preferences. They are consumed as snacks, paired with beverages, and are often used as gifts or party favors. The market for cookies includes both commercially produced packaged cookies and artisanal or homemade varieties.
Segment by Application
Supermarkets/Hypermarkets
Bread and bakery products have significant distribution channels in supermarkets and hypermarkets. To meet the diverse requirements of consumers, these large retail establishments offer a vast selection of bakery goods, including bread, cakes, pastries, and cookies. The convenience and one-stop shopping offered by supermarkets and hypermarkets make them popular for purchasing bakery items.
Convenience stores play a crucial role in the distribution of bread and bakery products. These smaller retail outlets are typically open for extended hours and offer quick and easy access to bakery items. Convenience stores often stock freshly baked bread, grab-and-go pastries, and packaged cookies to cater to customers' immediate needs and on-the-go consumption.
Independent stores are tiny, locally owned bakeries. Bread, pastries, cakes, cookies, and other baked foods are commonly available in these bakeries. Independent retailers may serve their communities and have devoted customers. Artisanal and specialty baked delicacies are their specialization. These shops may stand out with quality, freshness, and individualized service.
With the rise of e-commerce, online sales have become an increasingly important segment in the bread and bakery products market. Online sales refer to distributing and selling bakery products through digital platforms, websites, and online marketplaces. Consumers can browse various bakery items, place orders online, and deliver the products to their doorstep. Online sales provide convenience, especially for busy individuals who prefer to shop from the comfort of their homes. This segment offers various bakery products, including bread, pastries, cakes, and other treats, catering to diverse consumer preferences.
Regional Analysis
North America
The market for bread and bakery goods in North America is developed and very competitive. The United States is the biggest market in the area because people there want bakery goods that are ready to eat. Artisanal bread, gluten-free products, and organic options are becoming more common in this area. Canada and Mexico also help the market grow, with a focus on natural and healthy baked goods.
Europe
Europe has a well-established market for bread and other baked goods. The most important markets in this area are Germany, France, and the United Kingdom. Traditional breads like baguettes and ciabatta, as well as unique bakery goods, are in high demand. The market has many new things coming out, focusing on high-end and healthy products. Health and wellness are becoming more important to European consumers, which is driving the demand for healthier bakery goods.
Asia-Pacific
The Asia-Pacific region is witnessing significant growth in the bread and bakery products market. China, Japan, and India are the key markets in this region. Rapid urbanization, changing lifestyles, and increasing disposable incomes are driving the demand for packaged and convenient bakery products. There is a rising preference for Western-style bread and pastries in urban areas, while traditional Asian bakery products still hold a significant market share. Manufacturers are also catering to the growing demand for healthier and functional bakery products.
South America
South America's market for bread and bakery goods is growing. Brazil is the biggest market in the region, followed by Argentina and Colombia. Bread is a staple food in South American diets, and there are many different kinds of native bread and pastries. There is a growing demand for artisanal bread, pastries, and healthier bakery choices. Manufacturers are putting more effort into making their products stand out and developing new ideas to keep up with changing buyer tastes.
Middle East and Africa
The bread and bakery products market in the Middle East and Africa is witnessing steady growth. Countries like the UAE, Saudi Arabia, and South Africa are the key markets in the region. Traditional bakery products like flatbreads, pita bread, and pastries are popular, but there is also an increasing demand for Western-style bakery products. Manufacturers are expanding their product portfolios to include healthier and gluten-free options to cater to a more health-conscious consumer base.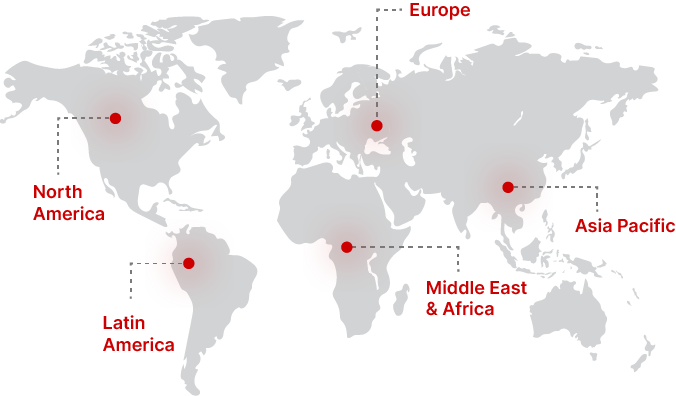 Regional Growth Insights
Download Free Sample
Key Players
Toufayan Bakery Inc,
Finsbury Food Group Plc
Manna Organics LLC
United States Bakery.
The Hain Celestial Group Inc
Nature's Bakery Cooperative
Honeyrose Bakery Ltd.
Alvarado Street Bakery
Flower Foods Inc.
Bread & Bakery Products Market Segmentations
Segment by Type
Bread and Rolls
Cakes and Pastries
Cookies
Segment by Application
Supermarkets/Hypermarkets
Convenience Stores
Independent Retailers
Online Sales
Frequently Asked Questions