Market Overview
The Global Laminated Pastries Market Size is expected to grow at a CAGR of approximately around 4.8% during the forecast period.
In order to make pastries of the kind known as laminated pastries, first the dough is layered with fat, and then the dough is rolled out into a thin sheet. After that, the dough is cooked in a variety of forms after being formed into those shapes. Laminated pastries are used in the production of a wide variety of baked products, including the likes of croissants, puff pastry, danish pastry, and other sorts of baked goods. This market development is being driven in large part by a rise in the demand for bakery products across the board in the foodservice industry.
This demand is being driven by both a rise in the amount of discretionary spending that consumers have, as well as a rise in the level of health awareness that consumers have towards their food. In addition, the performance of the industry has substantially increased as a result of the production of a huge number of new goods by a range of businesses. These new products include the introduction of innovative flavors, such as chocolate chip brioche buns, which have contributed to the sector's overall success.
The high growth can be attributed to changing lifestyles, which are leading consumers toward more indulgent food choices, as well as rising per capita income levels across developing economies such as China and India, which will drive demand for premium products with an increase in disposable incomes. These two factors, combined, will drive demand for premium products with higher disposable incomes.
Market Dynamics
Market Drivers
An rise in customer demand comes first. The popularity of laminated pastries, such as croissants, Danish pastries, and puff pastry treats, is growing as a result of its flaky, buttery texture and wide variety of flavors. The need for opulent baked goods that can be made quickly is driving the market for laminated pastries.
Market Restraints
In the market for laminated pastries, where several businesses manufacture products that are functionally identical to one another, there is strong competition. Manufacturers may find it challenging to differentiate themselves from the competition and maintain consistent profitability in a crowded market.
Market Opportunities
Online and delivery channels: As demand for online food delivery services develops, manufacturers of laminated pastries may consider collaborating with online platforms to increase their customer base.
Market Scope
Report Metric
Details
Market Size by 2031
USD XX Million/Billion
Market Size in 2023
USD XX Million/Billion
Market Size in 2022
USD XX Million/Billion
Historical Data
2019-2021
Base Year
2022
Forecast Period
2023-2031
Report Coverage
Revenue Forecast, Competitive Landscape, Growth Factors, Environment & Regulatory Landscape and Trends
Segments Covered

Segmentation by Type

Croissant Pastry
Danish Pastry
Flaky Pastry

Segmentation by Application

Residential
Commercial

Geographies Covered

North America
Europe
APAC
Middle East and Africa
LATAM

Companies Profiles

CSM Bakery Solutions
Gourmand PASTRIES
Ganache Patisserie
Vandemoortele
Dawn Food Products
Creation Food Company
Campbell's
Gourmet Primo
Bakels
WolfButterback
CSM Bakery Solutions
Segmental Analysis
Segmentation By Type
A croissant is a kind of flaky French bread comprised of layers of butter-flavored dough. These pastries have a great taste because to the dough's inclusion of yeast, milk, and eggs. They may be straight, twisted, crescent-shaped, and other shapes. Croissants are often served with jam, chocolate spread, or cheese.
Wienerbrd is a kind of pastry that originates in Denmark. It is a popular choice among consumers and is available in a variety of tastes, such as chocolate Danish, raisin Danish, etc. It may be had at any time of the day. Yeast-leavened flour, milk, eggs, and other ingredients are used to make danish, a laminated dough pastry. In order to enable yeast or sourdough cultures to ferment the dough and give the pastries their flavor, they must first be proofed for several hours to overnight in a cool atmosphere. They are then fried at high degrees until their surface has caramelized and become a rich golden brown after they have been verified. The dough is folded and rolled many times to create a layered appearance like puff pastry.
Flaky pastry is a laminated dough. It is constructed composed of many layers of butter and flour that have been mixed with water, salt, and/or sugar, rolled out into sheets, and then folded in different patterns to create a variety of thin, alternating layers. By using this technique, bakers may produce more enriched treats like strudel, Danish pastries, croissants, and cinnamon rolls that have numerous flaky or crisp layers inside of them.
Segmentation By Application
Bakeries, restaurants, and hotels, as well as other types of residential institutions such as cafes and coffee shops, often provide laminated pastries for breakfast and afternoon tea. In addition to this, desserts made with them may be served with hot drinks such as coffee or tea. Probably the most well-known example of this kind of layered pastry is the croissant. The dough for a croissant typically contains butter, eggs, flour, sugar, and salt. The dough is then leavened with yeast and shaped into the shape of a crescent. Baking is required for croissants. Their innards are large enough to hold several different kinds of creams and jams of varying consistency. Examples of popular laminated pastries include éclairs, Danish pastry, flaky pastry, and puff pastry. Other examples include flaky pastry and puff pastry.
It is general known that laminated pastries are part of the product variety that is made available by commercial bakeries. They often offer numerous different kinds of croissants, Danish pastries, and other types of pastries available for purchase at various times of the day or week, especially in the morning when breakfast is served.
Regional Analysis
The Global Laminated Pastries Market is segmented by region as North America, Europe, Asia Pacific, Latin America, and Middle East and Africa.
North America
The two primary variables affecting the North American market for laminated pastries are the increased demand for convenience foods and the growing café culture. The two largest markets in this region are the US and Canada, where a variety of laminated pastries may be found at bakeries, cafes, and supermarkets. Additionally, artisanal and premium laminated pastries are becoming more and more well-liked, drawing clients seeking for exceptional and unique baked delicacies.
Europe
Pastry consumption has a long history on this continent, where laminated pastries rule the market. In countries like France, Denmark, and Austria, traditional laminated pastries are highly recognized and account for a significant share of the market. The variety of flavors, fillings, and styles makes the laminated pastry market in Europe unique. The demand for natural and organic laminated pastries is rising in several European countries.
Asia Pacific
This region's market for laminated pastries is rapidly growing as a result of changing consumer lifestyles, urbanization, and the influence of Western cuisine. Laminated pastries are becoming more and more well-liked both as stand-alone bakery items and as components of breakfast or snack choices in countries like China, Japan, South Korea, and Australia. The Asia-Pacific market is also seeing innovation in flavors, fusion combinations, and container formats to accommodate local preferences.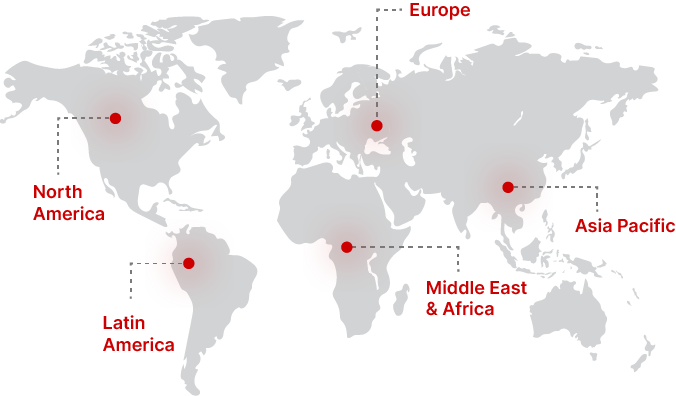 Regional Growth Insights
Download Free Sample
Key Players
CSM Bakery Solutions
Gourmand PASTRIES
Ganache Patisserie
Vandemoortele
Dawn Food Products
Creation Food Company
Campbell's
Bakels
WolfButterback
CSM Bakery Solutions
Recent Developments
Premium and artisanal offerings: To meet the demands of consumers searching for high-quality gourmet baked goods, a number of businesses have created premium and artisanal laminated pastries.Many companies are focusing on the development of environmentally preferable packaging substitutes in an effort to decrease the negative environmental effects that laminated pastry packaging produces. Some of these include using biodegradable materials and doing business morally.
Laminated Pastries Market Segmentations
Segmentation by Type
Croissant Pastry
Danish Pastry
Flaky Pastry
Segmentation by Application
Frequently Asked Questions