Market Overview
The Global Central Inverters Market size is projected to register a CAGR of approximately 6.5% during the forecast period 2023-2031.
Central inverters connect a series of PV panels and convert DC to AC. A single string - the term for solar panels connected in series - typically contains no more than ten solar panels. Multiple strings are combined in a pair; then, the output is inverted. Typically, a central inverter has a maximal input voltage of 1,000V. However, some modern central inverters already include an input voltage of 1500V. These inverters permit PV arrays with a maximum voltage of 1,500V, necessitating fewer BOS (balance of system) components.
Depending on the installed solar power plant's scale, central inverters' size and capacity may vary. Some central inverters can manage solar power installations with capacities of several gigawatts. Central inverters have numerous benefits. They are trustworthy and simple to maintain. They can be readily monitored and serviced from a central location. Frequently, central inverters are equipped with sophisticated features, such as remote monitoring and fault detection, which can enhance system efficiency and reduce downtime.
Market Dynamics
Market Drivers
Growth of Green Building Activities
A Green building employs environmentally sustainable and resource-efficient processes throughout the building's lifecycle, from siting to design, construction, operation, maintenance, and deconstruction. Green buildings are also referred to as sustainable and high-performance structures and include the following elements: Reducing the use of energy, water, and other resources in an efficient manner.
Protecting the health of the residents and enhancing employee productivity. Reduce electricity, water, pollution, and environmental degradation efficiently. Solar panels are an efficient method for a structure to meet sustainability requirements. These photovoltaic panels can generate abundant eco-friendly energy, reducing or eliminating the need for electric consumption. This enhances the demand of the central inverters market.
Growing Need for Power Generation
Due to the growing awareness of sustainable energy sources, the power industry has shifted its focus to large-scale electricity generation through renewable energy to meet demand. In the past few decades, the production of renewable energy has expanded at a rapid rate.
Additionally, it has consistently exceeded expectations, with new benchmarks set annually and more businesses committing to energy transitions. Consideration of renewable energy has made significant progress due to the changing consumer preference for a sustainable environment, the government's ambitious goals, and effective planning and policy. This contributes to the increased demand for central inverters market.
Market Restraints
Availability of Substitute Technologies for Power Generation
The global electricity demand has increased by nearly two-thirds of its current level. Increasing demand for distributed power and utility projects will stimulate the Central Inverters Market. The availability of natural gas in significant quantities at relatively low prices has increased natural gas-powered electricity generation. Increasing emphasis on electricity generation from cleaner sources and the depletion of coal reserves are expected to increase the proportion of gas-fired power generation in the global energy balance, restraining the growth of the market.
Market Opportunities
Technological advancements
Manufacturers of central inverters prioritized developing and optimizing their products for utility-scale applications. Manufacturers of central inverters continually invest in R&D to improve their products' efficacy, dependability, and performance. Among the technological advances were enhancements in power density, thermal management, and grid integration capacities. Some manufacturers began incorporating sophisticated features such as data analytics, remote monitoring, and grid support capabilities into central inverters. Due to this emphasis on product design and innovation, the Central Inverters Market size is expanding.
Market Scope
Report Metric
Details
Market Size by 2031
USD XX Million/Billion
Market Size in 2023
USD XX Million/Billion
Market Size in 2022
USD XX Million/Billion
Historical Data
2019-2021
Base Year
2022
Forecast Period
2023-2031
Report Coverage
Revenue Forecast, Competitive Landscape, Growth Factors, Environment & Regulatory Landscape and Trends
Segments Covered

Segment by Type

Roof-mounted
Ground-mounted

Segment by Application

Commercial PV System
Utility-scale PV Power Plants

Geographies Covered

North America
Europe
APAC
Middle East and Africa
LATAM

Companies Profiles

ABB
Sungrow
Siemens SINACON
Ingeteam
Gamesa Electric (Siemens Gamesa)
OCI Power (from KACO new energy GmbH)
SMA
Delta Group
KACO new energy
Ingetam
Segmental Analysis
Segment by Type
A central inverters mounted on the roof is a variety of power inverters used in solar photovoltaic (PV) systems. The primary function of a central inverters mounted on the roof is to reduce energy losses that can occur when DC power is transmitted over extended distances. In larger-scale solar PV systems, such as commercial or industrial installations, where many solar panels generate electricity, roof-mounted central inverters are usually used.
Ground-mounted central inverters are power inverters utilized in solar photovoltaic (PV) systems installed on the ground rather than on rooftops or buildings. Large-scale commercial or utility-scale solar installations typically utilize ground-mounted PV systems in situations with abundant available land.
Segment by Application
A business solar PV system gathers energy from the sun and turns it into electricity by putting solar panels on commercial buildings. Depending on how large the system is, its power can meet most of the company's energy needs and cut energy costs by a large amount.
Commercial structures such as malls, retail stores, offices, hospitals, and institutions are installing solar power systems for captive use. These industries require a continuous supply of electricity to operate without interruption. Commercial-grade solar panel inverters are for large-volume commercial applications. These central inverters, ranging in capacity from 30,000 to 500,000 watts, convert DC solar power to AC power efficiently and with minimal maintenance.
Utility-scale PV Power Plants
Utility solar systems are large-scale facilities that generate electricity for widespread use. The sun is a clean, free, and almost limitless energy source. Utility-scale solar photovoltaics (PVs) take advantage of this resource by using big arrays of PV panels to capture that energy and turn it into electricity. They work on a utility-scale like regular power plants, but their greenhouse gas emissions are much smaller.
Utility-scale solar has been generating dependable, environmentally friendly electricity at a stable cost for decades. Solar power facilities can be constructed to strike a balance between environmental protection, energy needs, and climate objectives. Developing utility-scale solar power is one of the quickest ways to reduce carbon emissions on the path to a future with clean energy.
Regional Analysis
North America
North America will have the highest growth rate due to increased research and development activities to innovate sustainable products with several new and more advanced features. This region's market growth is driven by the increasing demand for renewable energy sources, such as solar and wind power. In addition, technological advancements and rising investments in the renewable energy sector are anticipated to accelerate the growth of the central inverters market in the region.
Europe
Due to the presence of beneficial government initiatives and the provision of subsidies such as residential feed-in tariffs (FITs), which encourage consumers to invest in renewable energy, Europe will be experiencing significant growth in central inverters market. In combination with the high-tech nature of solar inverters, Germany is the first manufacturer of solar inverters. Therefore, German solar power companies have a competitive advantage over competitors.
Asia-Pacific
Asia-Pacific dominated the global Central Inverters Market with a substantial market share. The regional market growth can be attributed to accelerated urbanization and an ever-increasing awareness of environmental regulations, government support, and initiatives to promote renewable energy and reduce carbon emissions. The region's rapid economic growth and rising population will continue to drive Asia-Pacific market development.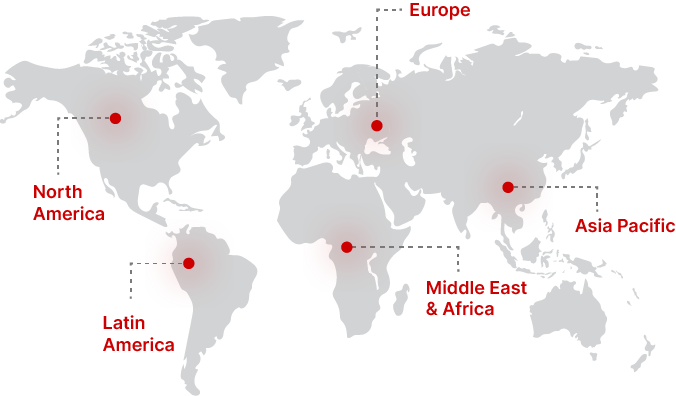 Regional Growth Insights
Download Free Sample
Key Players
ABB
Sungrow
Siemens SINACON
Ingeteam
OCI Power (from KACO new energy GmbH)
SMA
Delta Group
KACO new energy
Ingetam
Recent Developments
January 2022- At the World Future Energy Summit in Abu Dhabi, Sungrow introduced its new 1+X central modular inverter with a power output of 1.1MW. This 1+X modular inverter has a DC/ESS interface for integrating energy storage systems (ESS) and can be combined into eight units for a maximum output of 8.8MW.
Central Inverters Market Segmentations
Segment by Type
Roof-mounted
Ground-mounted
Segment by Application
Commercial PV System
Utility-scale PV Power Plants
Frequently Asked Questions