Market Overview
According to Reed Intelligence the Global Children Apparel Market Size will approximately grow at a CAGR of 5.9% during the forecast period.
Childrens apparel can be defined as clothing for 0-14 years old. The popularity of kid's fashion has grown significantly in recent years, with companies introducing appealing clothing options that align with current fashion trends for children. Children's apparel is primarily made from cotton due to its ease of washing, resistance to shrinking, and ability to prevent color fading. Demographic change plays a significant role in driving the children's clothing sector.
Market Dynamics
Market Drivers
The clothing preference of people changes according to the different lifestyles of people in urban and rural areas. The rapid growth of urban areas has resulted in an expansion of retail businesses, while the global e-commerce industry is also experiencing significant growth. Parents in urban areas are strongly inclined to purchase branded products for their children. This may be driven by increasing disposable income, media coverage, peer pressure, and growing awareness of kid's clothing brands among parents. All these factors play a vital role in increasing the growth of the market share of the Children's apparel market.
Market Restraints
The Fluctuating Prices Of Raw Materials
Price fluctuations in raw materials, such as cotton, wool, linen, fur, etc., are key components in producing children's clothing and can impede market growth. An increase in cotton demand cause fluctuations in yarn prices. These fluctuations are expected to continue. The yarn industry has faced a significant challenge since the beginning of the pandemic: rising prices. This price increase has caused disruptions in the textile value chain and impacted the final price of apparel products.
Market Opportunities
The Rising Influence Of Social Media On Parents
With the increasing social media activities, parents who utilize social media platforms often share photos of themselves and their children dressed in coordinating outfits. Parents get trapped in the various trends advertised by social media platforms like Facebook, Instagram, etc. This trend was inspired by major brands like Dolce & Gabbana, who created miniature and age-appropriate versions of adult clothing. The trend of partnering with children has become extremely popular in the market. Many celebrity parents took part in it and which was often followed by parents, leading to intensive purchases. Hence, the continuous use of social media and various digital marketing strategies can create growth opportunities for this market.
Market Scope
Report Metric
Details
Market Size by 2031
USD XX Million/Billion
Market Size in 2023
USD XX Million/Billion
Market Size in 2022
USD XX Million/Billion
Historical Data
2019-2021
Base Year
2022
Forecast Period
2023-2031
Report Coverage
Revenue Forecast, Competitive Landscape, Growth Factors, Environment & Regulatory Landscape and Trends
Segments Covered

Segment By Type

Gloves
Sandbags
Protective Gear

Segment By Application

Professional Use
Amateur Use

Geographies Covered

North America
Europe
APAC
Middle East and Africa
LATAM

Companies Profiles

Benetton Group SRL
Carters Inc.
Adidas AG
Nike Inc.
Dolce & Gabbana Luxembourg S.a R.L.
The Children's Place, Inc.
Inditex
Hennes & Mauritz Retail Pvt. Ltd
Cotton On Group
Mothercare
Gianni Versace S.r.l.
Burberry
Gerber Childrenswear
Segmental Analysis
Segment By Type
Cotton has been a popular choice for children's clothing for many years due to its numerous benefits. Cotton is widely regarded as the optimal fabric for baby clothes for various reasons: Cotton is known for its natural softness, making it an excellent choice for baby clothing as it is gentle on delicate skin and provides a comfortable feel.
Wool is commonly used to produce woolen yarns. These woolen yarns are commonly used for making gloves, hats, and sweaters. Wool is a versatile material commonly used to make a wide range of garments, including high-end suits consisting of coats and trousers. It is a popular choice for making children's clothing, such as sweaters and socks, because it provides warmth and protection against the cold.
Linen is a luxurious textile material naturally derived, known for its exceptional quality, offering comfort, breathability, and excellent moisture absorption properties. However, it is worth noting that linen can be relatively costly. Silk is a luxurious natural textile known for its softness and lustrous appearance. However, it is prone to wrinkling and may not be the best choice for children's activities that require a more durable fabric.
Segment By Application
The segmentation of Children Apparel Market based on its application considers various factors such as size chart, height, weight, etc. The size chart for older kids (7-14 years) clothing ranges from size XS to size XL for clothing and from size 10C to size 7Y for shoes. The size chart also provides the height, weight, chest circumference, waist circumference, hip circumference, inseam length, and foot length for each size category. This helps parents to select appropriate apparel for their kids.
One way to differentiate children's apparel is based on each age group's child development stages and characteristics. A 3-year-old child is more sociable, curious, and expressive, while a 4-year-old child is more adventurous, creative, and confident. A 5-year-old child is more responsible, logical, and eager to learn, while a 6-year-old child is more competitive, self-critical, and moody.
For this age group, parents may or may not focus more on their kid's apparel, brand, or fashion trends. An 18-month-old child is active, independent, and defiant, while a 2-year-old child is more cooperative, verbal, and imaginative.
Regional Analysis
North America (USA and Canada)
American multinational mass media and entertainment conglomerate like Disney World is a big part of this region. Certain brands, such as Weekender, have entered into agreements with Walt Disney and Warner Bros. These agreements allow the brands to incorporate popular cartoon characters into their apparel. The brand plans to incorporate beloved characters such as Mickey and Minnie Mouse and Tom and Jerry into their upcoming line of children's clothing. The name of this collection will be 'Toon World.' Consider the fanbase of these cartoons and parents willing to make these decisions regardless of the costs involved, ultimately driving the Children Apparel Market Growth.
Europe (Germany, the U.K., France, Russia, Italy, and the Rest of Europe)
Europe is widely regarded as a fashionable region. France, Italy, and Russia are renowned for their fashion scenes and are considered the fashion capitals of this region. Matching clothing has become popular among kids and parents due to its customization options, innovative designs, brand assurance, and affordability. Celebrities in the region endorse wearing matching outfits with their children. Child celebrities are embracing new fashion trends on popular social media platforms such as Instagram, Snapchat, and YouTube, captivating the attention of today's youth. Hence, market share growth is expected to increase in the upcoming days.
Asia-Pacific (China, Japan, South Korea, India, Southeast Asia, Rest of Asia-Pacific)
Asia-Pacific is the region that includes the country with the highest population, such as India and China. According to the United Nations International Children's Emergency Fund (UNICEF), India births 67,385 babies daily. This represents one-sixth of the total number of childbirths worldwide. The increasing global population of newborns has led to a higher demand for children's apparel, resulting in parents spending more on clothing for their kids. The significant progress in reducing child mortality has positively impacted the market's growth.
South America (Mexico, Brazil, and the Rest of South America)
In urban areas, most families consist of nuclear households where both parents are employed. These parents are willing to spend additional money to ensure their child is comfortable and has all the necessary conveniences. Moreover, children living in urban and semi-urban areas are increasingly exposed to media, leading to a greater awareness of brands targeting them. Nowadays, children are actively participating in the decision-making process when buying their clothes, much like their parents, which can drive the growth of this market in this region.
Middle East and Africa
Various organized retailers and foreign investors are collaborating to develop brands that specifically cater to the needs of parents and their children. They have attracted consumers by employing effective visual merchandising, offering a carefully selected product assortment, implementing strategic promotional strategies, and utilizing targeted advertising. This has helped gain more customers for children's apparel in this region.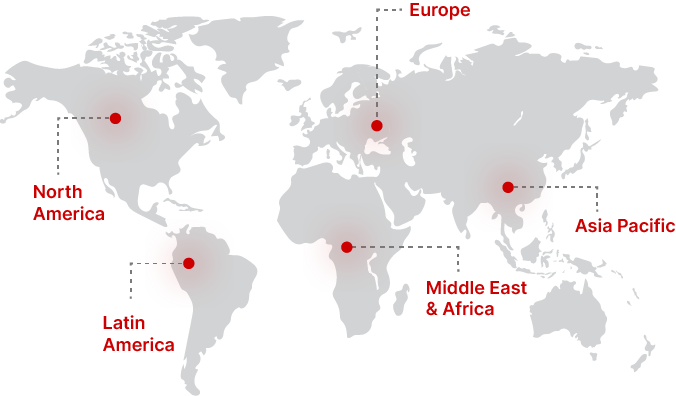 Regional Growth Insights
Download Free Sample
Key Players
Benetton Group SRL
Carters Inc.
Adidas AG
Nike Inc.
Dolce & Gabbana Luxembourg S.a R.L.
Inditex
Hennes & Mauritz Retail Pvt. Ltd
Cotton On Group
Mothercare
Gianni Versace S.r.l.
Burberry
Gerber Childrenswear
Children Apparel Market Segmentations
Segment By Type
Gloves
Sandbags
Protective Gear
Segment By Application
Professional Use
Amateur Use
Frequently Asked Questions