Market Overview
According to Reed Intelligence the Global Chlor-Alkali Membrane Market Size will approximately grow at a CAGR of 6.4% during the forecast period.
Chlor-alkali is an industrial electrolysis technique for sodium chloride (NaCl) solutions. It is the process used to create chlorine and sodium hydroxide (caustic soda), both of which are commodity chemicals needed by industry. This technique produces chlorine and sodium hydroxide, which are frequently used in the chemical industry.
Typically, the procedure is carried out on brine (an aqueous solution of NaCl), yielding sodium hydroxide (NaOH), hydrogen, and chlorine. When calcium chloride or potassium chloride is used, the products contain calcium or potassium rather than sodium. Related methods use molten NaCl to produce chlorine and sodium metal or condensed hydrogen chloride to produce hydrogen and chlorine.
In contrast to other markets, COVID-19 is expected to provide good news to chlor-alkali industries. This is owing to an unprecedented demand for disinfectant chemicals and spray bottles, which aid in sanitizing surfaces and items and breaking the chain of infection. India is a major manufacturer of alkali chemicals, including chlorine, bleaching solutions, and sodium hypochlorite, which is widely used in disinfection solutions.
Market Dynamics
Market Drivers
Widespread Use of Caustic Soda to Improve Market Growth Prospects
Caustic soda is a cheap and widely used strong alkali. It is widely utilized in the paper and pulp, textiles, soap and detergents, aluminum, organic and inorganic chemicals, and other industries. Its primary application is water treatment to prevent water and air pollution. The burgeoning textile sector adds to the demand for caustic soda. This can be ascribed to rising garment demand, increased retail establishments, higher disposable income, and growing urbanization. As a result of the thriving end-use industries such as chemical, textile, soaps, and detergents, demand for caustic soda is expected to expand during the forecast period.
Increased Demand From End-Use Segments to Benefit Market Growth
Because construction is the flat glass market's main income generator, any investment growth in the building industry will benefit the flat glass market. Furthermore, soda ash is a significant raw material in producing percarbonates, silicates, and phosphates, which are widely used in household cleaning products. It is a component of sodium tripolyphosphate (STPP), a main detergent builder. This increases the capability of soda ash manufacture. As a result, rising end-use demand for chlor-alkali products and capacity expansions are propelling the chlor-alkali chemical market.
Market Restraints
Environmental Regulations Will Slow Market Growth
India has vehemently opposed mercury-based chlor-alkali processes and firmly supports mercury-free MCBP technology. The plants must adhere to the various emission guidelines imposed by the Indian government. The energy-intensive chloralkali process stymies central governments' efforts to lessen their carbon impact. Governments are willing to collaborate with policymakers and planners to develop an energy policy that ensures sustainable, dependable, and competitive technology while using less electricity. As a result, the impact of toxic goods on the environment and government laws limit the chlor-alkali chemical industry.
Market Opportunities
The Use of Chlor-Alkali Products in Water Treatment
Chlor-alkali products such as chlorine, caustic soda, and soda ash have key applications in water treatment, lithium-ion batteries, and alumina. Chlorine is used in the chlorination process to improve water quality. Depending on the quality of the water, 1-16 mg/L of chlorine is added to it. The addition of chlorine eliminates the presence of parasites, bacteria, and viruses in water.
Market Scope
Report Metric
Details
Market Size by 2031
USD XX Million/Billion
Market Size in 2023
USD XX Million/Billion
Market Size in 2022
USD XX Million/Billion
Historical Data
2019-2021
Base Year
2022
Forecast Period
2023-2031
Report Coverage
Revenue Forecast, Competitive Landscape, Growth Factors, Environment & Regulatory Landscape and Trends
Segments Covered

Segmentation by Type

Caustic Soda
Chlorine
Soda Ash

Segmentation by Application

Pulp and Paper
Organic Chemical
Soap and Detergent

Geographies Covered

North America
Europe
APAC
Middle East and Africa
LATAM

Companies Profiles

Solvay SA
Olin Corporation
Axiall Corporation
Akzo Nobel NV
Bayer AG
Covestro AG
Tosoh Corporation
Tata Chemicals Ltd
Tronox Ltd
Xinjiang Zhongtai Chemical Co. Ltd
Segmental Analysis
Segmentation By Type
Because of the increasing need for caustic soda in various applications, the caustic soda type of Chlor-Alkali Membrane Market Share is growing. Caustic soda is utilized in various sectors such as pulp and paper, textiles, soap and detergents, and water treatment. Asahi Glass, DuPont, Gore, Ion Exchange Membranes, Koch Membrane Systems, Membrane Technology and Research, and Solvay are the leading participants in the caustic soda type of Chlor-Alkali Membrane. These firms invest in R&D to create new and revolutionary chlor-alkali membrane products. They are also increasing their manufacturing capacity to suit the increasing demand for chlor-alkali membranes.
The most common form of membrane used in the chlor-alkali business is the chlorine type of Chlor-Alkali Membrane. It is a cation-exchange membrane, which means it transports positively charged ions more efficiently. Polysulfone, polyamide, and cellulose acetate are some of the materials used to make chlorine type membranes. They are most commonly employed in membrane cell technology, which is more efficient and yields a higher purity of product than classic diaphragm cell technology. Chlorine membranes are utilized in a range of applications such as chlorine manufacturing, caustic soda manufacture, and water treatment. Other sectors that use them include electrodialysis and food processing.
This type of market segment that focuses on manufacturing soda ash using membrane cell technology. Soda ash is an important industrial chemical utilized in various applications such as glassmaking, soap and detergent production, and water treatment. Traditional diaphragm cell technology is less efficient and produces less pure soda ash than membrane cell technology. As a result, the market for soda ash Chlor-Alkali Membranes is rising faster than the entire market.
Segmentation By Application
Chlorine is used to bleach pulp, whereas caustic soda is used to manufacture paper. The growing use of membrane cell technology in the pulp and paper industry also propels the market forward. Traditional diaphragm cell technology is less efficient and provides less pure product than membrane cell technology. As a result, membrane cell technology is gaining traction in the pulp and paper industry, propelling the chlor-alkali membrane market growth forward.
These membranes are often more expensive than inorganic membranes, but they have several advantages, including stronger conductivity, more flexibility, and greater chemical resistance. Organic membranes are employed in various applications, including chlorine generation, the manufacturing of caustic soda, and water purification.
Laundry detergents, dishwashing detergents, and personal care products make up the market. In the soap and detergent business, laundry detergents are the most common application for chlor-alkali membranes. The second most common application for chlor-alkali membranes is dishwashing detergents. The third most common application for chlor-alkali membranes is personal care products.
Regional Analysis
The Global Chlor-Alkali Membrane Market is segmented by region as North America, Europe, Asia Pacific, Latin America, and Middle East and Africa.
Asia-Pacific
Regionally, Asia Pacific has the largest market share and is expected to keep that position for the foreseeable future. The region's large end-use industry base and rising paper and pulp sector distinguish it. These reasons have fueled chlorine demand. Likewise, the growing automobile industry is driving up demand for soda ash. Also, China is undergoing fast industrialization, which has resulted in greater capacity expansion. As a result, the demand for chlor-alkali in the region is increasing.
North America
North America has the second-largest market share, closely followed by Europe. North America is the world's leading exporter of chlor alkali goods. Over the next few years, the revived building industry will increase PVC manufacturing and chlorine consumption.
Europe
Europe's supply is limited, and the region is a leader in reaching green targets in the business. Due to modest growth in the end-use sectors, demand is likely to rise steadily over the projection period. Western European countries like Germany, France, the United Kingdom, Spain, and Italy monopolize the regional market.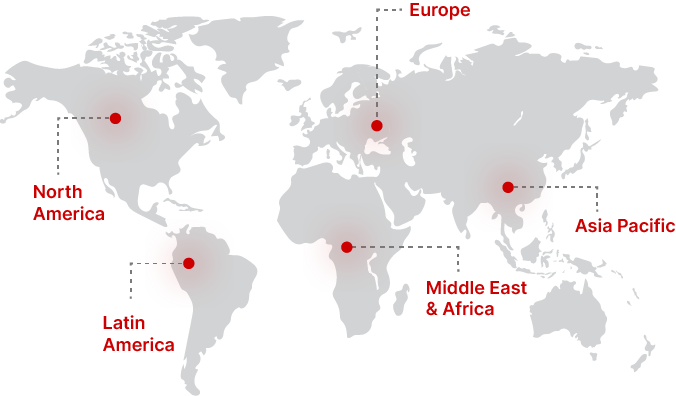 Regional Growth Insights
Download Free Sample
Key Players
Olin Corporation
Axiall Corporation
Akzo Nobel NV
Bayer AG
Covestro AG
Tosoh Corporation
Tata Chemicals Ltd
Tronox Ltd
Xinjiang Zhongtai Chemical Co. Ltd
Chlor-Alkali Membrane Market Segmentations
Segmentation by Type
Caustic Soda
Chlorine
Soda Ash
Segmentation by Application
Pulp and Paper
Organic Chemical
Soap and Detergent
Frequently Asked Questions