Market Overview
The Global Chocolate Premixes Market Size is projected to register a CAGR of approximately 5.5% during the forecast period.
In chocolate premixes, chocolate paste or powder is utilized. It is easy to use and doesn't need any additional equipment to prepare. All of the ingredients are melted and combined at once to create premixed chocolate. It is more stable than other products like cocoa powders and hot chocolates because this reduces the likelihood of cocoa butter fat blooming. Chocolate premixes are often used by restaurants and caterers in the food industry to improve the flavor of foods like brownies, chocolate cakes, pancakes, and cookie dough since they allow for mass production and product homogeneity.
The size of the whole market for chocolate premix was calculated using a market assessment approach. The market was then split up into many segments and sub-segments. To complete the overall market engineering and determine the accurate statistics for all segments and sub-segments, market breakdown and data triangulation techniques have been employed when suitable. The statistics have been triangulated by looking at different contributing factors and patterns observed on both the supply and demand sides of the various applications covered in the study. Additionally, the size of the world market for chocolate premix has been confirmed using both top-down and bottom-up techniques.
Market Dynamics
Market Drivers
Greater need for meals rich in energy, including chocolate cakes and pancakes.
Increasing Demand for Chocolate Premix from the Food and Beverage Industry.
Market Restraints
Competition is fierce on the market for premixed chocolate, where several companies provide a variety of commodities. Due to the fierce competition, it could be challenging for newcomers and smaller businesses to capture market share and distinguish themselves. It could be difficult for new businesses to get into the market since well-known companies sometimes have a strong foundation and a following of devoted customers.
Market Opportunities
Growing Demand for Chocolate Premixes from Confectioneries and Growing Interest in the Use of Households are Promoting Uptake and Popularity of Chocolate Premix.
Market Scope
Report Metric
Details
Market Size by 2031
USD XX Million/Billion
Market Size in 2023
USD XX Million/Billion
Market Size in 2022
USD XX Million/Billion
Historical Data
2019-2021
Base Year
2022
Forecast Period
2023-2031
Report Coverage
Revenue Forecast, Competitive Landscape, Growth Factors, Environment & Regulatory Landscape and Trends
Segments Covered

Segmentation by Type

Brownies
Chocolate Cake
Pancake
Cookie

Segmentation by Application

Hypermarket/Supermarket-Grocery Stores or Hypermarchés
Bakery Shop
Online Retail

Geographies Covered

North America
Europe
APAC
Middle East and Africa
LATAM

Companies Profiles

Puratos
Eazymix
The Pillsbury
Lindt & Sprungli
Conagra Brands
Swiss Bake Ingredients
Bakels Worldwide
ZION INTERNATIONAL FOOD INGREDIENTS
DeutscheBack
Peerless Foods
Master Martini
Mix Plant
Eurocas
Segmental Analysis
Segmentation By Type
Brownies By baking brownie batter, a kind of chocolate premix known as a brownie is produced. The three key ingredients that brownies must include are cocoa powder, melted chocolate, or a chopped chocolate bar. There is also usage of butter and sugar. The remaining ingredients are flour, corn syrup solids, salt, water, vanilla flavoring or extract derived from oil, and chocolate chunks.
Cocoa powder is used to make chocolate cake, which is a thick, rich, and moist cake. In order to offer a richer flavor and texture than other cakes that can be labeled "chocolaty," it includes chocolate in the form of unsweetened or sweetened dark chocolate along with other fats like butter and oil.
Pancakes are flat, often thin cakes that are cooked between two hot plates. They are made using an unleavened or fermented batter or dough. It may be either sweet or savory depending on whether it contains any sweet ingredients, such sugar. Additionally, it could include ingredients that are uncommon in other cakes, like chocolate cake, such as meat or eggs.
A cookie is a baked or fried food that often comprises flour and sugar. When the cookie dough is put in the oven, a rising agent, such baking soda, causes it to rise, giving the finished product its recognizable flat form. Cookies may be either soft or crunchy, depending on the ingredients and methods of production.
Segmentation By Application
Hypermarket/Supermarket-Grocery Stores or Hypermarchés
The greatest option for supermarkets and hypermarkets is pre-mixed chocolate. It expedites the production of chocolate by adding sugar, cocoa powder, and other ingredients, which is used in a range of confectionery goods including brownies, cakes, and pancakes that are easy to produce at home or in small bakeries.
Bakeries and other foodservice outlets use chocolate premixes to produce chocolate cakes, brownies, and other like items. Premixes like these are available as ready-to-use goods that don't need the addition of extra ingredients in stores or online. The fact that these premixes have a longer shelf life than products created from scratch is the principal benefit of using them.
Another application for chocolate premixes is in internet purchasing. The demand for foods or components that are available online has increased significantly during the last several years. This has led to a rise in sales at grocery stores and supermarkets that also offer a range of baked products. Additionally, online stores are always enhancing their product offerings in an effort to increase sales.
Regional Analysis
The Global Chocolate Premixes Market is segmented by region as North America, Europe, Asia Pacific, Latin America, and Middle East and Africa.
North America
The market for products made using pre-mixed chocolate is mostly dominated by North America, especially the United States and Canada. The acceptability of home brewing, the appeal of hot chocolate drinks, and the existence of well-known coffee shop chains are some of the elements encouraging the industry's expansion. Alternatives to chocolate premix that are more refined and distinctive are offered by local suppliers.
Europe
Markets for chocolate premixes have been established by the largest exporters in nations including Switzerland, Germany, and the UK. The market is expanding as a result of the region's enduring love of chocolate, café culture, and desire for easily available hot drinks. Supermarkets, specialized shops, and coffee shops provide a large choice of chocolate goods since Europeans like exquisite and delectable chocolate tastes.
Asia Pacific
The market for chocolate premixes has a lot of room to develop in this area. Hot beverage consumption is rising in nations like India, China, and Japan, in particular hot chocolate. The market is growing as a result of increasing urbanization, changing lifestyles, and the impact of Western food and beverage trends. In order to address the wide range of customer interests in this area, manufacturers modify their products and include regional preferences.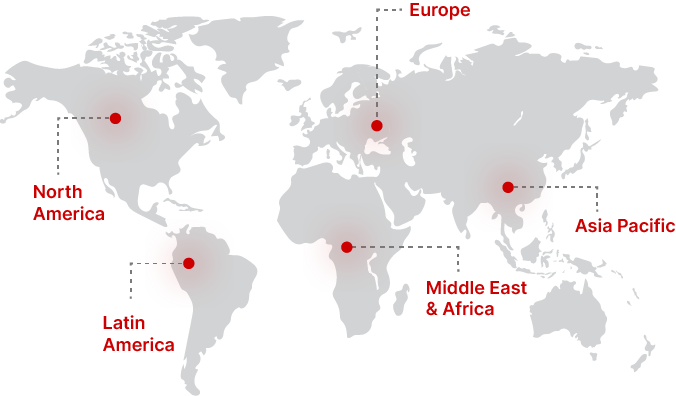 Regional Growth Insights
Download Free Sample
Key Players
Puratos
The Pillsbury
Lindt & Sprungli
Conagra Brands
Swiss Bake Ingredients
Bakels Worldwide
ZION INTERNATIONAL FOOD INGREDIENTS
DeutscheBack
Peerless Foods
Master Martini
Mix Plant
Eurocas
Recent Developments
Due to their exquisite taste and straightforward preparation, chocolate premixes are becoming more and more popular.
Premixes that are organic and gluten-free are causing demand to increase.
Chocolate Premixes Market Segmentations
Segmentation by Type
Brownies
Chocolate Cake
Pancake
Cookie
Segmentation by Application
Hypermarket/Supermarket-Grocery Stores or Hypermarchés
Bakery Shop
Online Retail
Frequently Asked Questions