Market Overview
The Global Detasseler Market Size is projected to grow at CAGR of approximately 7.2% during the forecast period.
Detasseling is the process of removing the tassels from the tops of maize stalks and lowering them to the ground. It is a type of pollination control used to cross-breed, or hybridize, two types of corn. Two types of corn are planted in detasseled corn fields. Removing the tassels from all the plants of one type allows the grain that is developing on those plants to be fertilized by the tassels of the other, resulting in a hybrid form.
Detasseling is the procedure of removing a corn plant's male reproductive organs to create hybrid corn. It is usually done manually by agricultural employees, and it can be a time-consuming and labor-intensive procedure.
The detasseling market refers to the different businesses and groups engaged in the manufacturing and dissemination of hybrid corn grain seeds via the detasseling procedure. This includes seed corn businesses, labor providers, equipment makers, and other associated sectors. The detasseling market is an important element of the agriculture industry because hybrid maize kernels are an essential component of contemporary farming output.
Market Dynamics
Market Drivers
Strong demand for High-quality hybrid corn seeds
There is a strong demand for high-quality hybrid corn seeds. The detasseling industry is driven by the demand for hybrid maize seeds that can generate high harvests, fight bugs and diseases, and withstand drought conditions. Demand for high-quality hybrid corn seeds continues to rise as producers seek methods to increase crop output and revenue.
Sophisticated detasseling technologies
In recent years, the seed business has seen consolidation, with bigger firms purchasing lesser ones. Because bigger businesses can engage in more sophisticated detasseling technologies and equipment, this consolidation has resulted in more effective and streamlined detasseling operations.
Other factors driving market growth
Agricultural methods, workforce supply, weather conditions, seed industry consolidation, and the regulatory climate all have a large impact on the detasseling business. Understanding these drivers can help businesses in the sector make more informed choices and adjust to market shifts.
Also, Regulations regulating hybrid seed use and the detasseling procedure may affect the business. Regulation changes can have an impact on the demand for detasseling services as well as the industry's general revenue.
Market Restraints
Detasseling is a time-consuming procedure that necessitates a big workforce. The expense and availability of detasseling services can be influenced by the supply of Labor, especially youthful employees eager to work long hours in the fields.
Detasseling is a labor-intensive procedure that necessitates a large workforce, which can be difficult to locate and retain, particularly in low-unemployment regions. Labor constraints can cause delays in the detasseling process, affecting crop quality generally.
Impact of weather conditions
Detasseling is usually done in the summer when the weather is sweltering. Extreme weather conditions, such as heatwaves or thunderstorms, can make it difficult for employees to complete the detasseling process, reducing agricultural output and quality.
There may be regulations in place that govern when and how detasseling can be done, which can affect the process's timing and expense. Some states, for example, require detasseling to be performed at specific times of the day or with specific tools, which can increase the expense of detasseling.
Market Opportunity
Providing detasseling services and knowledge
The market possibilities for detasseling are dependent on farmers' viewpoints. farming business, there may be chances to provide detasseling services to other farmers who do not have the means to do it themselves. This could be a method to produce extra revenue during the detasseling season.
There may also be chances to provide detasseling-related instruction or education, such as, provide seminars or training to teach employees the best techniques for detasseling maize stalks, or you could counsel producers who want to improve their detasseling process
Market players could look into developing technology or instruments that make the detasseling procedure more quick or cost-effective. For example, the manufacturer could create a detasseling machine that eliminates the need for manual labor and could create a tool that allows employees to detassel maize plants swiftly and precisely.
Market Scope
Report Metric
Details
Market Size by 2031
USD XX Million/Billion
Market Size in 2023
USD XX Million/Billion
Market Size in 2022
USD XX Million/Billion
Historical Data
2019-2021
Base Year
2022
Forecast Period
2023-2031
Report Coverage
Revenue Forecast, Competitive Landscape, Growth Factors, Environment & Regulatory Landscape and Trends
Segments Covered

Segment by Type

4-Row
6-Row
Others

Segment by Application

Residential
Commercial

Geographies Covered

North America
Europe
APAC
Middle East and Africa
LATAM

Companies Profiles

Hagie
Oxbo Corp
Frema
John Deere
Castrix
Segmental Analysis
Segment by Type
4-row Detasseler is designed to detassel four rows of maize at once; they are small and affordably priced. It is the best choice for smaller farms.
6-Row Detasseler machines are larger and costlier than 4-row machines, but they are less time-demanding and a good choice for larger farms.
Segment by Application
It is usually used for homes and other non-agricultural purposes but is irrelevant in residential. This machine is large and heavy.
Commercial
Its purpose is to enhance the efficiency and safety of business operations, but it has nothing to do with detasseling or hybrid production. Detasseling is also not relevant in the commercial area.
Regional Analysis
The Global Detasseler Market is segmented by region as North America, Europe, Asia Pacific, Latin America, and Middle East and Africa.
North America
The detasseling industry in North America is substantial. The maize belt region of the United States, which contains states such as Iowa, Illinois, and Indiana, is the main location for grain production. Detasseling is a labor-intensive procedure, and many farms in the area depend on seasonal employees to complete it during the summer.
North American detasseling businesses provide a wide range of services, including detasseling, seed extraction, and seed processing. These businesses frequently collaborate with seed firms to ensure that the proper varieties of maize are planted and detasseled.
Asia Pacific
Corn market development in the area is being driven by quickly growing demand from the regional poultry and cattle industries, as well as industrial animal feed. In India, the majority of industrial feed is aimed at chicken and aqua farms, where maize is a key component in livestock feed. Maize is primarily used for livestock fodder in China. The rapid rise in demand for China's livestock products in the area and around the globe has boosted the development of the market, due to which the Detasseler market is growing.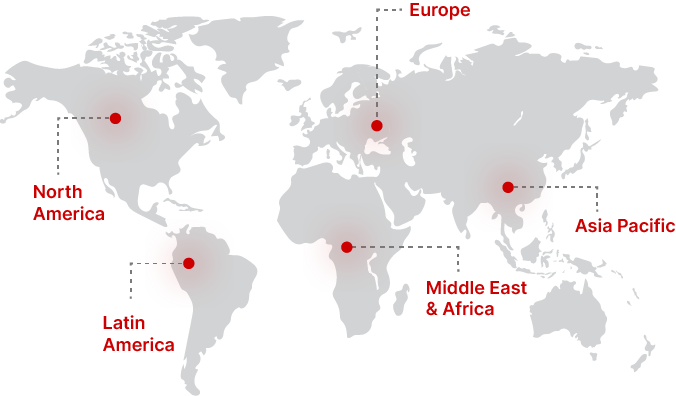 Regional Growth Insights
Download Free Sample
Key Players
Oxbo Corp
Frema
John Deere
Castrix
Detasseler Market Segmentations
Segment by Type
Segment by Application
Frequently Asked Questions