Market Overview
The Global Dye transfer inhibitors Market Size is projected to grow at a CAGR of approximately 4.2% during the forecast period.
The market for dye transfer inhibitors has been expanding significantly due to the rising need for efficient methods to stop colour bleed and preserve garment appearance throughout the laundering process. Dye transfer inhibitors are essential for minimizing colour bleeding, keeping colour brightness, and inhibiting colour transfer between materials. These inhibitors come in various forms, including liquids, powders, and sheets, and are frequently included in laundry detergents or sold separately.
They function as a barrier to lessen colour transfer by catching and immobilizing loose dyes in the wash water. The dye transfer inhibitor market is influenced by major players in the laundry detergent and household cleaning product industries. The demand for efficient colour protection products is rising as consumers become more knowledgeable about clothing maintenance and want to maintain the quality of their apparel. Product innovation and sustainability are being fuelled by technological developments and the usage of environmentally friendly ingredients. Manufacturers in this industry must adhere to legal regulations and standards for environmental impact and safety. The market for dye transfer inhibitors is anticipated to expand overall as consumers look for trustworthy options for colour protection during laundry operations.
Market Dynamics
Market Drivers
Demand For Detergents and Laundry Care Items Is Rising
The need for detergents and laundry care products has expanded as a result of the expanding population, increasing disposable income, and shifting lifestyle trends. Inhibitors of dye transfer are a crucial part of these solutions since they aid to stop colour bleed during washing. The increased demand for detergents and laundry care products directly influences the need for dye transfer inhibitors.
Textile Industry Expansion
The textile industry is expanding significantly globally. The demand for efficient colour protection and preservation is expanding along with textile production and consumption. Due to their ability to stop colour bleed and guarantee colour fastness, dye transfer inhibitors are essential in the textile industry. The rising textile sector mostly drives the dye transfer inhibitors market growth.
Market Restraints
Limited Consumer Awareness
Although there is a growing awareness about fabric care, many consumers are still not fully aware of the benefits and importance of using dye transfer inhibitors. Lack of knowledge and understanding about these products can hinder market growth, as consumers may not actively seek out or prioritize the use of dye transfer inhibitors.
Market Scope
Report Metric
Details
Market Size by 2031
USD XX Million/Billion
Market Size in 2023
USD XX Million/Billion
Market Size in 2022
USD XX Million/Billion
Historical Data
2019-2021
Base Year
2022
Forecast Period
2023-2031
Report Coverage
Revenue Forecast, Competitive Landscape, Growth Factors, Environment & Regulatory Landscape and Trends
Segments Covered

Segmentation by Type

PVP Polymers
Chromabond Polymers

Segmentation by Application

Industrial Printing and Dyeing
Daily Washing

Geographies Covered

North America
Europe
APAC
Middle East and Africa
LATAM

Companies Profiles

Vertellus
BASF
Clariant
Ashland
Colour Synthesis Solutions
Segmental Analysis
Segmentation By Type
Many laundry detergents and laundry additives use PVP (Polyvinylpyrrolidone) polymers as dye transfer inhibitors. Due to the high binding abilities of these polymers, free dyes in the wash water can be captured and immobilized, preventing them from migrating to other fabrics. PVP polymers are renowned for their ability to successfully stop colour bleed during the laundry process.
Chromabond polymers are one kind of dye transfer inhibitor available on the market. These polymers are specially made to stop colour bleeding and transfer in washing applications. Between fabrics and dyes, chromabond polymers provide a barrier that prevents colour migration and ensures colour retention.
Segmentation By Application
Industrial Printing and Dyeing
In the industrial printing and dyeing industry, dye transfer inhibitors are widely used. They are utilized in this application to stop unintended dye transfer during the printing and dyeing operations. With the use of dye transfer inhibitors, the desired colors can be kept on the intended cloth or material without fading or spreading to adjacent surfaces. This use is frequently observed in the production of textiles, the printing of fabrics, and industrial dyeing procedures.
In daily washing or laundry applications, colour transfer inhibitors are frequently used. In order to stop colour bleed or transfer between various clothing or materials, they are employed as independent laundry additives, laundry detergent additives, or laundry pod additives. Consumers can safely wash mixed-colour loads or stop colours from transferring to lighter clothing by adding dye transfer inhibitors to laundry detergents. This preserves the quality and look of their clothing.
Regional Analysis
The Global Dye transfer inhibitors Market Analysis is segmented by region as North America, Europe, Asia Pacific, Latin America, and Middle East and Africa.
North America
The dye transfer inhibitors is established and developed in North America. There is a sizable laundry care market in the US and Canada, and there is a strong need for efficient color protection products. The market is being pushed by rising consumer awareness of garment maintenance and the desire to preserve apparel quality and look when doing laundry. To meet the changing needs of consumers, manufacturers in this area place a strong emphasis on product development, innovation, and marketing techniques.
Europe
Inhibitors of dye transfer have a sizable market in Europe. The laundry care businesses are highly established in nations like Germany, the UK, and France. Strict guidelines for textile production and the usage of eco-friendly materials are what are driving the market in Europe. In this region, customers place a high priority on efficient and sustainable laundry solutions. To satisfy these consumer aspirations, European manufacturers place a strong emphasis on product performance, quality, and environmental considerations.
Asia-Pacific
The dye transfer inhibitor market is expanding in the Asia-Pacific region. The textile and apparel manufacturing industries are booming in nations with vast populations, such as China, Japan, South Korea, and India. The need for laundry care products with good color protection is growing due to rising disposable incomes, urbanization, and changing lifestyles. Manufacturers in the area prioritize product accessibility, personalization, and adherence to regional tastes.
South America
The market for dye transfer inhibitors in South America has a promising future. A rising middle class with a booming textile sector can be found in nations like Brazil, Argentina, and Colombia. Growing consumer awareness of proper garment care and rising demand for high-quality laundry products are the main factors driving market expansion. To provide unique and affordable dye transfer inhibitor solutions, manufacturers in the area are investing in research and development.
Middle East and Africa
The market for dye transfer inhibitors is expanding in the Middle East and Africa more slowly than in other regions. Countries with developing textile industries and rising consumer interest in garment care include South Africa, the United Arab Emirates, and Saudi Arabia. The market is expected to develop as a result of the growing urban population, rising disposable incomes, and evolving laundry preferences. Manufacturers in the area strive to offer efficient color protection options that are adapted to cultural tastes and environmental factors.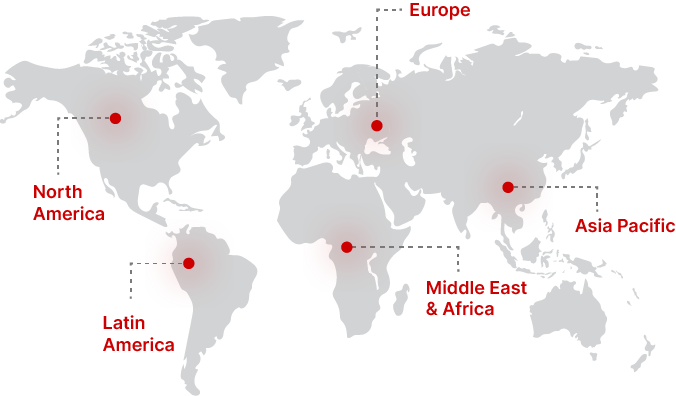 Regional Growth Insights
Download Free Sample
Key Players
BASF
Clariant
Ashland
Colour Synthesis Solutions
Recent Developments
Jan-22, Vertellus, a prominent manufacturer of specialty materials catering to diverse industries such as personal care, performance coatings, polymer additives, healthcare, and food & beverage markets, unveiled its acquisition of Polyscope Polymers B.V. ("Polyscope").
With this acquisition, Vertellus secures a stronger foothold in the European market and enhances its ability to meet the growing demands of its customers across various sectors.
Dye Transfer Inhibitors Market Segmentations
Segmentation by Type
PVP Polymers
Chromabond Polymers
Segmentation by Application
Industrial Printing and Dyeing
Daily Washing
Frequently Asked Questions