Market Overview
According to Reed Intelligence the Fixed Refrigerant Detectors Market Size will approximately grow at a CAGR of 5.9% during the forecast period.
Fixed refrigerant detectors help to detect the presence of refrigerant gases in a specific location, such as an industrial facility, a commercial building, or a refrigeration system. These detectors are designed to give early warning and detect refrigerant leaks, which helps in ensuring worker safety, protecting the environment, and preventing equipment damage.
These detectors can detect a variety of refrigerant gases, including common ones like CFCs (chlorofluorocarbons), HCFCs (hydrochlorofluorocarbons), HFCs (hydrofluorocarbons), and HFOs (hydrofluoric olefins).
Fixed refrigerant detectors activate alarms, such as audible and visual sirens, or relay signals to a centralized monitoring system when a refrigerant leak is detected. These alerts inform personnel to take appropriate actions, such as vacating the area if necessary and taking care of the leak as soon as possible. Some fixed refrigerant detectors can log data on gas concentrations, alert events, and system performance. This information can be examined, structures identified, and reports generated for compliance.
Building management systems (BMS) or other monitoring systems are frequently integrated with fixed refrigerant detectors. This integration allows for centralized monitoring, remote access, and detector control, improving facility management capabilities.
Many countries have established restrictions and guidelines to reduce environmental damage and protect the ozone layer from depletion. These rules can require the installation of fixed refrigerant detectors in some applications, which will drive Fixed Refrigerant Detectors Market demand. The increased awareness of environmental issues, particularly those involving high-GWP refrigerants, has resulted in a higher emphasis on leak detection and prevention. Fixed refrigerant detectors are essential for detecting leaks and reducing environmental impact.
Market Dynamics
Market Drivers
Environmental concerns have an impact on the Fixed Refrigerant Detectors market. Fixed refrigerant detectors are devices used to monitor and detect leaks of refrigerant gases in various commercial applications, such as HVAC systems, refrigeration units, and industrial processes. These detectors are crucial in preventing environmental pollution and ensuring personnel safety.
There is a growing emphasis on reducing greenhouse gas emissions and improving energy efficiency in HVAC and refrigeration systems. Many businesses and industries are adopting environmentally responsible practices and prioritizing sustainability. Using fixed refrigerant detectors demonstrates a commitment to environmental stewardship by actively monitoring and managing refrigerant leaks. All these factors drive the demand of Fixed Refrigerant detectors.
Technological Advancements
Fixed refrigerant detectors have increased their ability to detect due to technological advancements. New sensor technologies and algorithms enable the detection of refrigerant gases to be more accurate and sensitive, even at low concentrations. This improves safety by providing early warning of refrigerant leaks and related risks. Modern fixed refrigerant detectors can communicate with building management systems, enabling centralized monitoring and control.
Integration with a BMS allows for real-time data gathering, remote monitoring, and automated reaction mechanisms, which improves overall system efficiency and lowers maintenance costs. Data on refrigerant gas levels, trends, and patterns can be collected and analysed by advanced stationary refrigerant monitors. This information can be utilized to plan preventive maintenance, identify possible problems, optimize system performance, and comply with environmental standards.
Market Restraints
Fixed refrigerant detectors' high costs may limit their adoption and affordability, reducing Fixed Refrigerant Detectors Market size. The higher the price, the fewer customers or enterprises investing in these detectors, potentially limiting market demand.
If the cost of detectors remains high, firms may choose alternate options or prolong their investment in fixed refrigerant detectors. Due to their high cost, fixed refrigerant detectors might be positioned as premium items aimed at high-end clients or businesses with tougher regulatory requirements. In such circumstances, the Fixed Refrigerant Detectors Market could appeal to customers willing to pay a premium for greater features, accuracy, or adherence to specified standards.
Market Scope
Report Metric
Details
Market Size by 2031
USD XX Million/Billion
Market Size in 2023
USD XX Million/Billion
Market Size in 2022
USD XX Million/Billion
Historical Data
2019-2021
Base Year
2022
Forecast Period
2023-2031
Report Coverage
Revenue Forecast, Competitive Landscape, Growth Factors, Environment & Regulatory Landscape and Trends
Segments Covered

Segment by Type

Halide
Electronic

Segment by Application

Commercial
Industrial

Geographies Covered

North America
Europe
APAC
Middle East and Africa
LATAM

Companies Profiles

Danfoss
Emerson
MSA
Bacharach
CAREL
Critical Environment Technologies
Manning Systems
Segmental Analysis
Segment by Type
A halide refrigerant detector is a device that operates using flame to detect leakage of chlorine-containing refrigerants. The detector works by absorbing air into the flame via a hose. If any chlorine-containing refrigerant is present in the air, it will react with the flame, causing it to change colour. While blue to green is the most typical colour change, some detectors may change to yellow or orange.
In HVAC and refrigeration systems, halide refrigerant detectors are used. They also play an important role in some industrial applications that use chlorine-containing refrigerants. They are affordable and simple to use. They are capable of detecting breaches in the range of 20 ppm. They can only detect refrigerants containing chlorine. They are susceptible to other gases, such as ammonia, which might result in incorrect readings. They can be harmful if not used appropriately.
An electronic refrigerant detector is a device used to detect leaks in refrigerant systems. This is done by detecting the presence of refrigerant gases, which are typically halogenated hydrocarbons. Electronic refrigerant detectors are classified into two types. Infrared detectors and heated diode detectors. Hot diode detectors ionize the air using a hot diode.
When refrigerant gas is present, the ionization process gets interrupted, leading the detector to warn. Infrared detectors detect the presence of refrigerant gases using an infrared sensor. When refrigerant gas is present, it absorbs infrared radiation and causes the sensor to heat up. This heat is then sensed by the detector, resulting in an alarm. HVAC experts and other professionals that work with refrigerant systems use electronic refrigerant detectors. They may be used to rapidly and easily find leaks, which can help to avoid equipment damage.
Segment by Application
Fixed refrigerant detectors are usually found in large-scale refrigeration systems in supermarkets and grocery stores. These detectors detect refrigerant leaks from display cases, walk-in coolers, Commercial Refrigerators & Freezer, and other refrigeration equipment early, enabling dangerous gases to escape and protecting the safety of consumers and employees.
Food processing, they help detect refrigerant leakage used to chill and preserve perishable food items. Early detection of leaks can help to prevent product contamination and reduce potential health risks. Precision cooling systems are used in data centres to ensure appropriate temperature and humidity conditions for sensitive electronic equipment.
Fixed refrigerant detectors monitor these systems and provide early notice of any refrigerant leaks that might harm the data centre infrastructure's integrity and functionality. Fixed refrigerant detectors are used in manufacturing plants that use refrigeration systems in industries such as cold storage, pharmaceuticals, chemical processing, and electronics manufacture for safety and compliance.
Fixed refrigerant detectors are important in the manufacturing and process industries that depend on refrigeration systems. These detectors are found in manufacturing facilities where refrigeration is required for storage, cooling, or processing. They help detect refrigerant leakage, protecting workers, equipment, and products.
Refrigeration systems are essential for keeping perishable products in the food and beverage industries. It is essential in pharmaceutical manufacturing facilities and laboratories for preserving sensitive medications, chemicals, and biological samples. Refrigeration systems are used in cold storage facilities and warehouses that keep perishable and frozen items.
Regional Analysis
North America
The North American Ready-to-Drink Beverages Market is growing at a 5.6% CAGR. Ready-to-drink beverages, such as energy drinks and electrolyte drinks, are high in protein, carnitine, and other immune-related nutrient mixes that help to improve energy after or before a workout or any physical activity. This motivates people to drink beverages that must be stored in a refrigerator.
In the United States, businesses use refrigerators on an extensive basis. The plant-based food and beverage business in Canada is expanding at a faster pace. This industry's products require the use of a refrigerator for cold storage. This is growing the Fixed Refrigerant Detectors Market in Canada and other North America.
Europe
The frozen food market in Europe is growing at a 6.7% CAGR. Countries' rapid urbanization, such as Germany, the Netherlands, and others, has raised demand for convenience foods such as frozen foods, which may be produced in less time and stored longer.
European consumers' busy lifestyles drive the need for convenience food, as they want on-the-go snacks and meals in their regular diet. Frozen foods are also becoming more popular due to their longer shelf life and simple storage. The United Kingdom dominates Europe's frozen food market. Market participants focus on offering child-centric frozen meals to grow their consumer base. These factors contribute to the region's demand for refrigerator detectors.
Asia-Pacific
The Fixed Refrigerant Detectors Market in India is expected to grow at a strong CAGR of 9.8%. Refrigerator sales are being driven by rising urbanization. People who live in cities have quite different consuming habits than those who live in rural areas. The Fixed Refrigerant Detectors Market in China is expanding due to the region's use of refrigerators for industrial and commercial uses. The overall rise in demand is attributed to the population awareness, high spending capacity, and rising businesses. The fixed refrigerator detector is an essential component of refrigerators, so the market will likely expand in the coming years.
South America
The Latin America Frozen Food Market is expected to grow at a 7% CAGR. Brazil is one of the leading countries in Latin America in terms of economic growth and attracting the most FDI. Imports provide a large portion of their demand for food and industrial items. Frozen food will be needed in this location to keep the items from spoiling. These factors drive the region's demand for refrigerators and Fixed Refrigerant Detectors, which will likely rise in the coming years.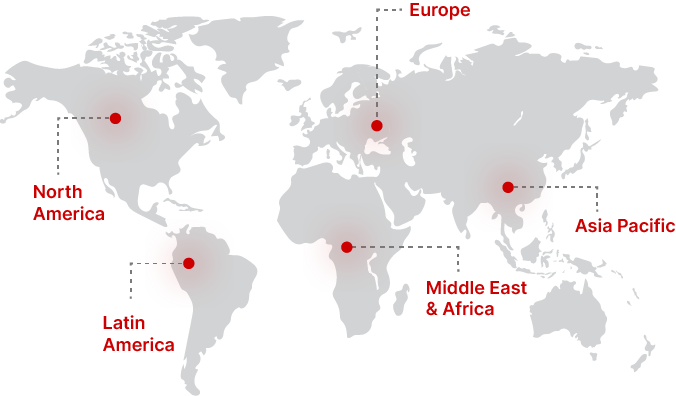 Regional Growth Insights
Download Free Sample
Key Players
Danfoss
Emerson
MSA
Bacharach
CAREL
Manning Systems
Fixed Refrigerant Detectors Market Segmentations
Segment by Type
Segment by Application
Frequently Asked Questions