Market Overview
The Global Flashlight and Headlamp Market Size is expected to grow at a CAGR of approximately around 5.3% during the forecast period of 2023-2031.
Headlamps, unlike hand-held lamps, can be worn. Modern models may include powerful LEDs and rechargeable batteries or solar panels for cordless use. An adjustable beam mechanism like a reflector or parabolic mirror focuses headlamp light, which people usually put close to their eyes while working in dark environments. These devices use AA alkaline batteries. Flashlights have a reflector, light bulb, cover, switch, battery, and casing. The term 'flashlight' comes from the early style torches that did not project light consistently but rather were required to be flashed on and off due to the lack of power available from the battery and the type of switch used.
Headlamps are a combination of lighting and a spotlight. They are used for various purposes, including outdoor camping, trekking, and industrial tasks such as electrician work. Headlamps have existed for decades; however, due to the increasing prevalence of portable power sources (such as lithium-ion batteries) that can be carried on one's person at all times, headlamp technology has advanced significantly in recent years.
Market Dynamics
Market Drivers
Increasing Product Application In Industrial And Outdoor Activities
The demand for products used in outdoor recreational activities such as hunting, camping, fishing, and scuba diving is increasing as the youthful population engages in night hiking and camping most frequently. Therefore, manufacturers focus primarily on developing flashlights and headlamps with ergonomic designs and water resistance, ideal for camping, hunting, and other activities.
Market Restraints
Limited Awareness About The Availability of Modern Flashlights
Lack of awareness and comprehension among potential consumers regarding the advantages of modern flashlights for various applications has been a significant barrier to the development of the flashlight industry. In addition, introducing substandard lighting devices with limited product lifetimes and the misconception that modern lighting solutions are more expensive than fuel-based lighting create a bias among consumers against using advanced illumination products. These factors have impeded the development of the illumination market significantly.
Market Opportunities
Technological Advancements
Important participants have shifted from traditional to online sales networks to expand their customer base and boost flashlight sales nationwide. Advanced technologies such as AI, ML, and big data, used to create collaborative websites and mobile applications and to generate a customized shopping experience for consumers, contribute to the growth of online sales channels. To entice more customers to purchase their products, flashlight market companies offer home delivery, returnability, and online transaction services.
Market Scope
Report Metric
Details
Market Size by 2031
USD XX Million/Billion
Market Size in 2023
USD XX Million/Billion
Market Size in 2022
USD XX Million/Billion
Historical Data
2019-2021
Base Year
2022
Forecast Period
2023-2031
Report Coverage
Revenue Forecast, Competitive Landscape, Growth Factors, Environment & Regulatory Landscape and Trends
Segments Covered

Segmentation by Type

Flashlight
Headlamp

Segmentation by Application

Household & Individuals
Industrial and Commercial

Geographies Covered

North America
Europe
APAC
Middle East and Africa
LATAM

Companies Profiles

SureFire
LED Lenser
Pelican
NovaTac
Maglite
Eagle Tac
Supfire
Fenix
Nitecore
Olight
Ocean's King
Wolf Eyes
Nextorch
Segmental Analysis
Segmentation By Type
The flashlight is a small, battery-powered electric light that can be held in the palm. It typically includes a light bulb protected by a glass or plastic lens and a reflector placed behind the bulb. The reflector may have a flat or convex shape. When the user presses a button, current flows from the battery to the light bulb, illuminating the bulb.
A headlamp is a battery-powered, headband-mounted electric light that frees the wrists. An adjustable beam mechanism, such as a reflector or parabolic mirror, focuses the light from a headlamp, which people typically hold close to their eyes when working in dark locations because it frees up both hands.
Segmentation By Application
Flashlights and headlamps are essential components of any home defense kit. They can be used to illuminate dark areas during disruptions and power outages. Also beneficial for search and rescue operations are flashlights. Department of Homeland Security personnel often use flashlights to investigate suspicious packages or devices.
Headlamps offer hands-free illumination, allowing users to use both hands for cooking, setting up tents, overcoming obstacles, or caring for pets. A headlamp is an essential instrument for any home inspector. It is used to inspect dark, difficult-to-see areas with the unaided eye. Additionally, a flashlight can search for evidence of water damage, mold, and other issues that may not be visible during the day.
Industrial and Commercial
There are numerous industrial applications for headlamps and flashlights, including maintenance labor and product inspection. Without headlamps, it would be hazardous or inconvenient for workers to enter dark or obscured areas where they are required to work. The high-intensity light these devices provide enables employees to inspect machinery components, access crawl spaces, and even remove broken glass from warehouse floors while wearing protective gear. Headlamps can also enable employees with limited mobility due to injury or disability to safely perform their duties on an assembly line with minimal assistance from their coworkers.
Regional Analysis
The Global Flashlight and Headlamp Market Analysis is segmented by region as North America, Europe, Asia Pacific, Latin America, and Middle East and Africa.
North America
The expanding market in North America for flashlights and headlamps can be attributed to a number of factors, including the availability of efficient infrastructure in developed nations, which has allowed manufacturing companies to investigate the limits of science, technology, and business. Military and marine operations, law enforcement, oil and gas industries, and mining, among other industries, are adopting LED-based flashlights at a rapid rate due to the development of lighting technologies and the enhancement of materials. This factor contributes to expanding the illumination and headlamp markets in North America.
Europe
France, Germany, Italy, the United Kingdom, and Russia are significant European economies. Increased penetration of light-emitting diode lighting in Europe, bolstered by government support, is anticipated to fuel the Europe flashlight market. This is primarily due to the declining prices of LEDs and the increasing technological advancements in this field. The phasing out of incandescent and fluorescent lighting in Europe as a result of the increasing demand for energy-efficient lighting is fuelling the demand for LED lighting in the region.
Asia-Pacific
Asia-Pacific is anticipated to hold the greatest market share for flashlights and headlamps. This is due to the large number of engineering firms, military organizations, and financial institutions. As a result of a rise in the manufacturing and construction sectors, the Asian market has witnessed a tremendous expansion of products. Therefore, illumination products, such as flashlights and light bulbs, are increasing. China is one of the leading countries with a considerable market share in the flashlight industry due to the expansion of commercial goods.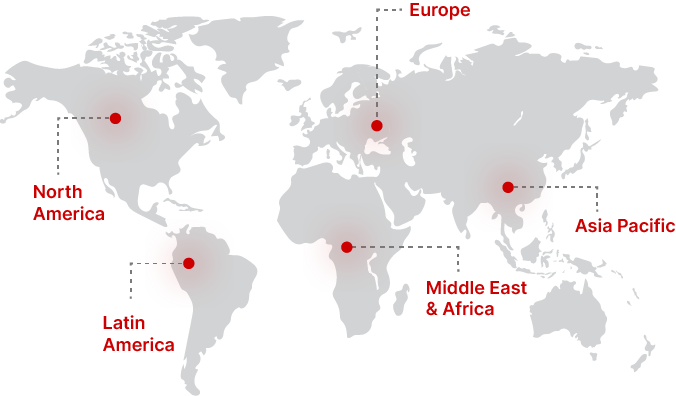 Regional Growth Insights
Download Free Sample
Key Players
LED Lenser
Pelican
NovaTac
Maglite
Eagle Tac
Supfire
Fenix
Nitecore
Olight
Ocean's King
Wolf Eyes
Nextorch
Flashlight and Headlamp Market Segmentations
Segmentation by Type
Segmentation by Application
Household & Individuals
Industrial and Commercial
Frequently Asked Questions