Market Overview
According to Reed Intelligence the Food Texturants Powder Market Size will approximately grow at a CAGR of 5.7% during the forecast period.
Customers are moving away from products with unclear labelling and artificial additives as the need for prepared meals rises. As a consequence, the powdered food texturants industry is growing significantly globally. For a range of foods, including ice cream and confectionary, powdered food texturants, such cellulose derivatives and gums, provide a texture, consistency, and overall sensory experience that are especially advantageous.
One of the key factors driving the market's growth is the increase in demand for prepared meals. As urbanization and hectic lifestyles become more prevalent, consumers are searching for quick meal alternatives with constant quality and lengthy shelf lives. Powdered food texturants, which consistently retain the proper mouthfeel and texture required for customer acceptance, provide prepared meals with their essential functional components.
People are more inclined to pick meals with straightforward and natural ingredients because of the drive for clean labeling. Two examples of plant-based food texturants that are perfect for this trend are gums and cellulose derivatives. As clean-label alternatives to synthetic chemicals, they provide food manufacturers the chance to appeal to consumers who are concerned about their health and the environment.
Market Dynamics
Market Drivers
Food compositions that use powdered food texturants benefit from their improved texture, higher stability, ability to replace fat, and water-binding qualities, among other things. These characteristics are crucial for a number of culinary applications, such as bread, dairy, confectionery, and convenience foods, where the success of the process relies on creating a product with the proper mouthfeel and texture.
Market Restraints
Some food additives, particularly those manufactured from allergenic sources or those that contain excessive amounts of them, have the potential to cause allergic reactions in those who are already sensitive to specific foods. Furthermore, improper or excessive texturant application may degrade the completed food product's sensory attributes, including flavor and texture.
Market Opportunities
The creation of innovative food texturants in powder form may be a consequence of ongoing study into the science of food and processing techniques, innovation in technology, and product development. Manufacturers can consider using cutting-edge extraction methods and components to create flavors that are more widely consumed.
Market Scope
Report Metric
Details
Market Size by 2031
USD XX Million/Billion
Market Size in 2023
USD XX Million/Billion
Market Size in 2022
USD XX Million/Billion
Historical Data
2019-2021
Base Year
2022
Forecast Period
2023-2031
Report Coverage
Revenue Forecast, Competitive Landscape, Growth Factors, Environment & Regulatory Landscape and Trends
Segments Covered

Segmentation By Type

Cellulose Derivatives
Gums

Segmentation By Application

Ice Creams
Confectionery

Geographies Covered

North America
Europe
APAC
Middle East and Africa
LATAM

Companies Profiles

FMC Corp.
Lonza Group
Tic Gums
Premium Ingredients
Puratos
Riken Vitamin Co., Ltd.
DSM
Taiyo Kagaku
DuPont
Fiberstar
Tate & Lyle
Archer Daniels Midland
Cargill
Segmental Analysis
Segmentation By Type
Plant cell walls include cellulose, a naturally occurring polymer. A group of food additives are called cellulose derivatives. This group of derivatives includes methylcellulose, carboxymethylcellulose (CMC), hydroxypropyl cellulose (HPC), and others. Cellulose derivatives are great for enhancing texture and stability in a range of meals since they have a tendency to thicken and bind water. To enhance the smoothness and consistency of meals like ice cream and pastries, they are often employed in powder form.
Gums are a unique category of exudate-based powdered food additives that come from seeds or plants. Common gums used in the food industry include guar gum, xanthan gum, locust bean gum, and gum arabic. Gums have excellent stabilizing, emulsifying, and thickening properties and are exceedingly adaptable. Powdered gums are often used in ice cream and confectionery to provide smooth textures, prevent ice from crystallizing, and extend shelf life.
Segmentation By Application
The use of food texturants in powder form is particularly important to the ice cream industry. Gums and cellulose-based products are essential components in ice cream recipes because they maintain creaminess, give the dessert the ideal texture, and prevent the formation of ice crystals. These ingredients give ice creams the creamy, smooth texture that consumers want while enhancing the whole sensory experience.
The confectionery industry often employs food texturants in powder form to create a range of products, including gummies, candies, chocolates, and jellies. Gums and cellulose derivatives are employed as stabilizers and thickeners in confectionery applications to lower moisture content, improve consistency, and provide the perfect texture.
Regional Analysis
The Global Food Texturants Powder Market is segmented by region as North America, Europe, Asia Pacific, Latin America, and Middle East and Africa.
North America
Due to the region's well-established processed food industry and rising consumer demand for ingredients with clean labels and natural origins, North America is a sizable market for food texturants in powder form. To improve the quality and sensory qualities of their goods, food producers mostly rely on the US and Canada as their key marketplaces for food texturants. Plant-based powdered texturants such starches, gums, and cellulose derivatives have more opportunities now that the industry is focusing on vegan and plant-based alternatives.
Europe
The demand for food texturants is mostly driven by industrialized nations like Germany, France, and the United Kingdom. The acceptability of natural and clean label food texturants in powder form has been impacted by the region's rigorous regulation of food additives as well as the clean label initiatives. As customer worries about the quality and safety of their food increase across Europe, the industry is expanding.
Asia-Pacific
The market for food texturants powder is expanding quickly in the Asia-Pacific region as a result of the expanding food and beverage sector in the area as well as the rising demand for processed meals. Food texturants are in high demand in nations like China, Japan, India, and South Korea to meet the different gastronomic tastes of its inhabitants. Locals want fast meals with wholesome ingredients, therefore they utilize powdered food additives more often.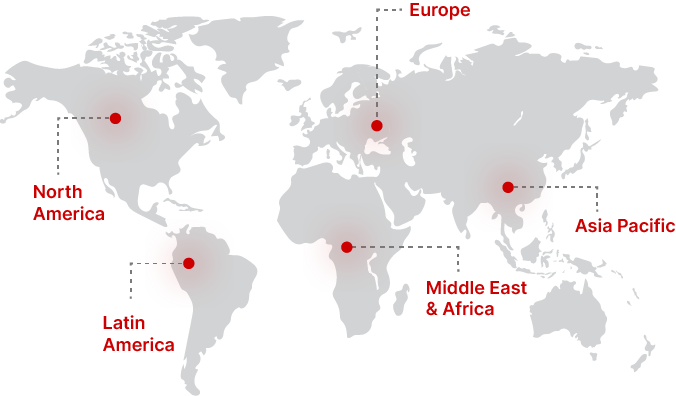 Regional Growth Insights
Download Free Sample
Key Players
FMC Corp.
Tic Gums
Premium Ingredients
Puratos
Riken Vitamin Co., Ltd.
DSM
Taiyo Kagaku
DuPont
Fiberstar
Tate & Lyle
Archer Daniels Midland
Cargill
Recent Developments
The emergence of creative plant-based texturants like hydrocolloids made from algae, rice starch, and pea protein isolate is one of the most recent trends in the market for food texturants powder. These developments are meant to satisfy customer demand for plant-based ingredients and provide food producers useful substitutes for conventional texturants.
Food Texturants Powder Market Segmentations
Segmentation By Type
Cellulose Derivatives
Gums
Segmentation By Application
Frequently Asked Questions