Market Overview
The Global Frozen Tart Shells Market Size is projected to register a CAGR of approximately 5.3% during the forecast period.
The "Frozen Tart Shells Market" segment of the baking and pastry industry's primary activity is the sale of pre-made, frozen, and ready-to-use tart shells. One of these pie shells may be used in place of a homemade tart crust by both inexperienced bakers and seasoned cooks. The market offers a wide range of frozen tart shell substitutes in various sizes, shapes, and flavors to cater to the wide variety of customer preferences.
The primary factor driving the market for frozen tart shells is the rising need for quick and straightforward solutions in the culinary sector. Customers want quick methods for creating delicious desserts due to their busy schedules and lack of time for baking and cooking. Since utilizing frozen tart shells is fast and simple, consumers have more time to try out various contents and flavors.
The growing interest in baking and pastry, which has been driven by culinary programs, social media trends, and the demand for handmade sweets with a gourmet flare, has also led to a rise in the popularity of frozen tart shells. Home bakers, novices, and even professionals may show their creativity while maintaining the highest standards of use and quality when using frozen tart shells.
The market for frozen tart shells will benefit from the increase in demand for sweet foods and desserts. In tarts and other similar desserts, fruits, custards, chocolates, and other ingredients may all be utilized. Tarts are alluring because of their delicious taste, alluring appearance, and customizability. Frozen tart shells are becoming more and more well-liked since they make making tarts easier for both amateur and experienced cooks.
Market Dynamics
Market Drivers
An rise in the demand for items that are already prepared for usage An rise in the demand for ready-to-use and convenient food items is being driven by an increase in the demand for busy lives and changing customer tastes. Because they provide a hassle-free technique for manufacturing a range of sweets that are based on tarts, frozen tart shells are able to satisfy this requirement and make it possible to meet it.
Market Restraints
When compared to handmade tart shells, frozen tart shells are not capable of providing the same number of chances for personalization or modification as their created equivalents. Customers who desire sizes, forms, or flavors of tart shells that are unique to them or that are customized may prefer that you create the tart shells from home rather than purchasing ones that have already been manufactured.
Market Opportunities
Expanding Opportunities in the Foodservice Industry All of the facilities that are included in the classification of the foodservice sector often purchase frozen tart shells. Some examples of companies that are included in this classification include bakeries, cafés, and restaurants. As the food service industry expands on a global scale, the market may be able to give these businesses with things that are exceptional as well as practical. One such item is tart shells, which have all of these qualities.
Market Scope
Report Metric
Details
Market Size by 2031
USD XX Million/Billion
Market Size in 2023
USD XX Million/Billion
Market Size in 2022
USD XX Million/Billion
Historical Data
2019-2021
Base Year
2022
Forecast Period
2023-2031
Report Coverage
Revenue Forecast, Competitive Landscape, Growth Factors, Environment & Regulatory Landscape and Trends
Segments Covered

Segmentation by Type

Rolls
Flat

Segmentation by Application

Online
Retail

Geographies Covered

North America
Europe
APAC
Middle East and Africa
LATAM

Companies Profiles

Better Bakeries
Trader Joe's
Wholly Wholesome
Pillsbury
Mrs. Smith's
Marie Callender's
Dutch Ann Food
Immaculate Baking
Bake Friend
Hubei Angel Yeast Co., Ltd.
Shanghai Fengwei Industrial
Hefei Qige Food
Segmental Analysis
Segmentation By Type
Rolls The cross-section of this specific frozen tart shell is often formed like a circle, and it may be purchased as a roll or a tube. Tarts that are frozen may be created using the shell. When it comes to molding the tart shell to meet specific needs, rolls provide a great degree of variation and freedom in the process. As a result, it is possible to alter the pie's size and form in line with the client's specific requirements.
Conches with an exterior shell that is flat The phrase "flat frozen tart shells" refers to frozen tart shells that are offered in a flat, rectangular, ready-to-use shape. These are the shells referred to as "flat frozen tart shells." They might be round, rectangular, or square in form, and each one is offered in a variety of sizes from which the buyer can choose. In comparison to their rounder counterparts, flat shell preparation may be more quickly accomplished. This is as a result of the lack of necessity for shaping or pressing the dough before baking. As a result of this, they get a higher degree of usefulness.
Segmentation By Application
The "online" application section specifies that frozen tart shells may be sold and distributed via e-commerce sites and other online distribution channels. Customers may quickly and easily get frozen tart shells from a shop online, and after placing their orders, the frozen tart shells will be delivered right to their homes. This service is intended for customers who either prefer the ease of online purchasing or who, owing to physical or other restrictions, are unable to visit traditional retail stores. Both of these groups are eligible to participate in the competition. It was developed as a method of catering to the needs of people who find themselves in such situations.
Selling frozen tart shells via legitimate retail establishments including supermarkets, quick stops, and specialty stores is recognized as a retail use. Customers who shop via retail channels might get frozen tart shells on store shelves. Both individual customers and businesses that favor in-person shopping and big purchases, including bakeries and restaurants, are catered to by this service.
Regional Analysis
The Global Frozen Tart Shells Market is segmented by region as North America, Europe, Asia Pacific, Latin America, and Middle East and Africa.
North America
Market trends for frozen tart shells are expected to continue through 2030 in China, India, Japan, South Korea, Indonesia, South East Asia, and the rest of the Asia Pacific. The demand for fresh product launches is greater since customers continue to value unique and varied things highly. Conversely, the Zero-Covid policy maintains the supply chains in Mainland China under urgent stress. The medium- to long-term outlook for China and other Asian nations is remains optimistic, however.
Europe
The market for frozen tart shells in Europe will see considerable growth in 2023 as companies examine their investment goals. Demand for frozen tart shells has significantly changed as a result of the conflict between Ukraine and Russia across all of Europe. Because of this, most companies are focusing on their core competencies and revenue-generating areas. In order to help organizations navigate the frozen tart shells industry trends from 2023 to 2030, the report provides a view on the Europe Frozen Tart Shells market across kinds and applications. The Frozen Tart Shells study also looks at other European countries including Italy, the UK, France, Germany, and Spain.
Asia Pacific
upcoming developments for enterprises in China, India, Japan, South Korea, Indonesia, South East Asia, and the rest of the Asia Pacific, as well as the prospects for the markets for Frozen Tart Shells through 2030. Because customers continue to place a high value on unique and diversified products, there is an increased demand for new product launches. On the other hand, the Zero-Covid policy continues to put short-term pressure on supply chains in Mainland China. However, the medium- to long-term outlook remains optimistic for China and other Asian economies.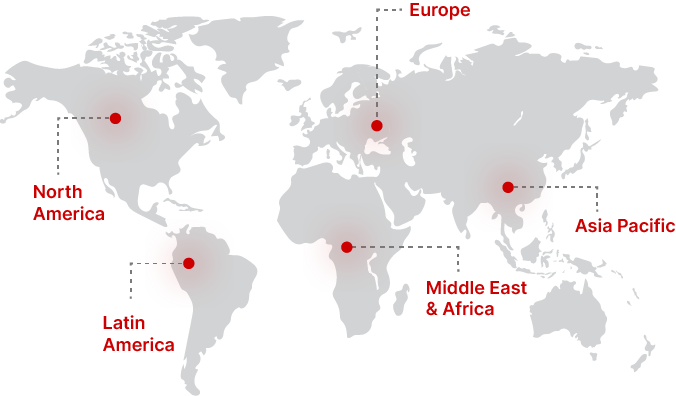 Regional Growth Insights
Download Free Sample
Key Players
Better Bakeries
Wholly Wholesome
Pillsbury
Mrs. Smith's
Marie Callender's
Dutch Ann Food
Immaculate Baking
Bake Friend
Hubei Angel Yeast Co., Ltd.
Shanghai Fengwei Industrial
Hefei Qige Food
Recent Developments
The market for frozen tart shells is one that can be found within the food business. This market is reflective of the need for environmentally friendly packaging and food components, which can be seen. Recent developments have included the acquisition of sustainable components and the use of eco-friendly packaging materials. These developments were made to meet the demands of customers for items that are kind to the environment.
Frozen Tart Shells Market Segmentations
Segmentation by Type
Segmentation by Application
Frequently Asked Questions