Market Overview
According to Reed Intelligence the Frozen Uncooked Pizza Market will approximately grow at a CAGR of 5.1% during the forecast period.
Since people have become more interested in quick and simple meals, the market for frozen, uncooked pizza has grown dramatically. Uncooked, frozen pizzas provide convenience, simple storage, and the flexibility to adjust the toppings and ingredients to fit personal preferences. They are currently a popular alternative for those looking for fast and easy dinner options.
The customers' hectic and fast-paced lives are one of the major market drivers. Frozen uncooked pizzas provide a convenient choice that can be made and served in a matter of minutes when quick supper options are required and time is of the essence. Consumer desire for customized meals and the rising popularity of home cooking have fueled business expansion. Customers may customize their pizza experience by adding their own toppings, experimenting with tastes, and buying frozen uncooked pizzas.
However, there are several limitations on the market. The competition from readily accessible ready-to-eat or ready-to-cook substitutes is one of the major obstacles. Frozen dinners, fast food, and delivery services are just a few of the simple meal alternatives available to customers. Uncooked, frozen pizzas have a difficult time competing with fresh options and gaining customers.
Market Dynamics
Market Drivers
Consumers' increasing need for quick, straightforward meals, especially in congested cities, is one of the key market drivers. Thanks to the ease of frozen uncooked pizzas, customers may now enjoy a freshly baked pizza in the comfort of their own homes without needing complicated preparation or specialized culinary skills. The affordability of frozen pizzas compared to options for takeout or delivery may be a factor in their appeal.
Market Restraints
The industry must, however, get through a number of obstacles and challenges. One of the biggest obstacles is competition from other ready-to-eat meal options, such as frozen meals and fast-food substitutes. Customers want ongoing innovation in flavor profiles, product features, and packaging given the abundance of accessible options if they are to remain interested and devoted.
Market Opportunities
Despite these obstacles, there are several opportunities for the company to succeed. Organic, gluten-free, and low-fat frozen pizza varieties have been created in response to growing consumer demand for better frozen pizza substitutes. The makers claim that using high-quality ingredients and modern cooking methods enhances the taste and texture of frozen uncooked pizzas. Additionally, expanding distribution networks, especially online sales channels, have created new potential for market expansion.
Market Scope
Report Metric
Details
Market Size by 2031
USD XX Million/Billion
Market Size in 2023
USD XX Million/Billion
Market Size in 2022
USD XX Million/Billion
Historical Data
2019-2021
Base Year
2022
Forecast Period
2023-2031
Report Coverage
Revenue Forecast, Competitive Landscape, Growth Factors, Environment & Regulatory Landscape and Trends
Segments Covered

Segmentation By Type

10 inches
14 inches
16 inches

Segmentation By Application

Online
Retail
Dealer

Geographies Covered

North America
Europe
APAC
Middle East and Africa
LATAM

Companies Profiles

Schwan
General Mills
Parlermo Villa
Bernatello's
Pinnacle Foods
Amy's Kitchen
Dr. Oetker
Screamin' Sicilian
Newman's Own
California Pizza Kitchen
Table 87
Freschetta
Segmental Analysis
Segmentation By Type
The 10-inch pizzas are smaller and often perfect for single meals or smaller appetites. They are ideal for those who prefer personal-sized pizza or are alone. Small dining parties and lone diners may easily consume the somewhat larger 12-inch pizzas. They provide one or two people the proper compensation.
The next size up, 14-inch pizzas, are ideal for large gatherings or families. Typically, three to four people gather for a filling dinner. These pizzas are excellent for gatherings, parties, and communal dinners.
The largest pizza size offered is a 16-inch pie. Providing services to larger audiences or hosting events with greater attendance rates are suitable with this scale. It could easily feed four to six people, depending on each person's appetite. The 16-inch pizza is often chosen for special events, family get-togethers, or sharing with friends.
Segmentation By Application
Online application refers to the distribution and sale of frozen, uncooked pizzas via e-commerce platforms or websites. Customers may rapidly browse a range of pizza options, place orders, and have the pizzas delivered straight to their homes by using online ordering. The internet channel has been gaining popularity because to how simple it is to use, how many items are available, and how successfully it can reach a broader audience.
Physical retail outlets including supermarkets, grocers, and convenience stores sell frozen and uncooked pizzas. These establishments provide a selection of frozen food choices, including pizza, and let consumers see the goods before purchasing. Due to the convenience of quick accessibility and the advantages of in-store marketing, customers may purchase frozen, uncooked pizzas in retail establishments.
Dealer application" refers to the process of giving frozen, uncooked pizzas to dealers or distributors so they may resale them to other foodservice companies. Between the makers or suppliers of frozen, uncooked pizza and the final consumers, such as restaurants, coffee shops, hotels, and other catering businesses, dealers act as a middleman. By providing restaurants with a range of frozen, uncooked pizza substitutes, dealers simplify the supply chain.
Regional Analysis
The Global Frozen Uncooked Pizza Market is segmented by region as North America, Europe, Asia Pacific, Latin America, and Middle East and Africa.
According to a geographic analysis, market growth and consumer preferences may vary depending on the location. Frozen, uncooked pizzas have gained popularity in large part due to the convenience-seeking customer base in North America and Europe as well as the strength of their existing distribution networks.
The Asia-Pacific area is rapidly expanding as a consequence of urbanization, changing lifestyles, and the importation of Western eating habits. As customers look for quick lunch choices, demand for frozen, uncooked pizzas is increasing throughout Latin America, the Middle East, and Africa.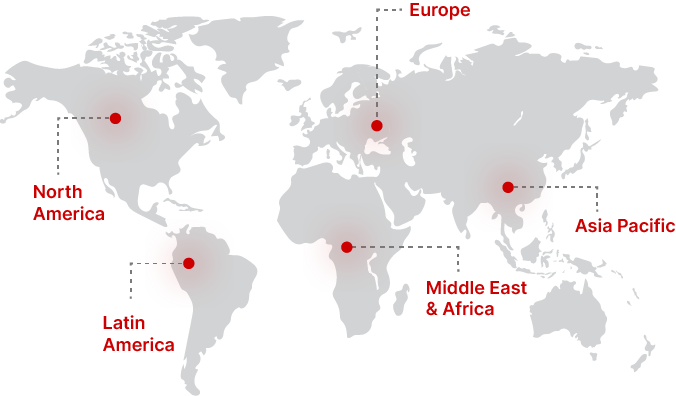 Regional Growth Insights
Download Free Sample
Key Players
General Mills
Parlermo Villa
Bernatello's
Pinnacle Foods
Amy's Kitchen
Dr. Oetker
Screamin' Sicilian
Newman's Own
California Pizza Kitchen
Table 87
Freschetta
Recent Developments
To accommodate the diverse consumer tastes, more toppings and flavors have lately joined the market. Businesses employ contemporary packaging and freezing methods to improve the quality and shelf life of frozen, uncooked pizzas. In order to meet increased consumer demand for eco-friendly products, there is an increasing emphasis on ecologically friendly packaging solutions.
Frozen Uncooked Pizza Market Segmentations
Segmentation By Type
10 inches
14 inches
16 inches
Segmentation By Application
Frequently Asked Questions