Market Overview
The Global Ground Antennas Market size is projected to register a CAGR of approximately 8.1% during the forecast period 2023-2031.
The ground antennas market is a component of the global satellite communication industry that is concerned with the design, building, and implementation of ground-based antenna systems for satellite transmission. Because they link the ship to network devices on the ground, ground antennas are essential components of satellite communication networks.
A satellite dish is a type of transmission instrument used to receive electromagnetic information. It is widely used for data dissemination and transmission. It converts microwave waves into electric signs that laptop computers and televisions can use. The market for satellite antennas is expanding as a result of technological advancements in the sector, which have increased transmission bandwidth and reduced the cost of placing satellites for both commercial and defense purposes. A satellite antenna is a device in space that transmits data between numerous transmitting locations. Active communications and passive communications are the two kinds of spacecraft used for such transfer.
Market Dynamics
Market Drivers
One of the primary factors driving the development of the Satellite Antenna Market is the expansion of the space sector. As a consequence of an increase in space study initiatives, low-cost satellite launch operations, and other factors, the industry is expanding.
Increased demand for satellite-assisted combat, and enhanced small satellite deployment. Furthermore, as demand for cellular and mobile access increases, so does demand for satellite antennas in the telecoms industry.
Market Restraints
The cost of ground antennas is often high due to the need for specialized equipment and materials. This can make it difficult for smaller organizations or individuals to afford and limit market demand.
Ground antennas typically have a limited range compared to other communication technologies, which may make them less desirable in certain applications where longer range is required.
Ground antennas can be affected by environmental factors such as weather conditions, geographic location, and interference from other signals, which can limit their effectiveness and reliability.
Infrastructure Limitations
Ground antennas require a significant amount of supporting infrastructure, including towers, cabling, and power sources. This can be difficult to install and maintain in certain areas, limiting market accessibility.
The use of ground antennas may be subject to regulatory constraints, such as licensing requirements or restrictions on the frequency bands that can be used, which can limit market opportunities.
Market Opportunities
Increased Demand for Communication and Broadcasting Services
The demand for communication and broadcasting services, including satellite TV, internet, and radio, is increasing rapidly, leading to a growing need for ground antennas. Ground antennas are essential for receiving and transmitting signals, which makes them an integral part of the communication and broadcasting industry.
Growth In The Satellite Industry
The satellite industry is growing at a rapid pace, and ground antennas are essential for receiving and transmitting signals to and from satellites. The demand for ground antennas is expected to increase as more satellites are launched into orbit to provide a range of services, including telecommunications, remote sensing, and navigation.
Advancements In Technology
The development of new technologies, such as 5G and the Internet of Things (IoT), is creating new opportunities for the ground antenna market. Ground antennas are essential for these technologies to function effectively and are critical for providing high-speed internet connectivity and enabling smart devices to communicate with each other.
Increasing Demand for Defense and Military Applications
Ground antennas play a crucial role in defense and military applications, including communication, surveillance, and navigation. As defense budgets increase, the demand for ground antennas is expected to grow significantly.
Growth In The Aviation Industry
The aviation industry is experiencing significant growth, and ground antennas are essential for providing communication and navigation services to aircraft. As the number of aircraft in operation continues to increase, the demand for ground antennas is expected to grow as well.
Market Scope
Report Metric
Details
Market Size by 2031
USD XX Million/Billion
Market Size in 2023
USD XX Million/Billion
Market Size in 2022
USD XX Million/Billion
Historical Data
2019-2021
Base Year
2022
Forecast Period
2023-2031
Report Coverage
Revenue Forecast, Competitive Landscape, Growth Factors, Environment & Regulatory Landscape and Trends
Segments Covered

Segmentation by Type

VHF Ground Antenna
HF Ground Antenna
Distress Beacon
GPS

Segmentation by Application

Military
Civil

Geographies Covered

North America
Europe
APAC
Middle East and Africa
LATAM

Companies Profiles

ASC SIGNAL
CLAMPCO SISTEMI
EASAT ANTENNAS
HITEC LUXEMBOURG
STT-System Technik
T-CZ
TACO ANTENNA
TECOM Industries
TELERAD
Segmental Analysis
Segmentation By Type
VHF Ground Antennas Used for airplane transmission, ground-based contact, and navigation systems.
These antennas operate in the high-frequency range and are commonly used for long-distance transmission, such as military and commercial maritime contact.
These antennas are used for search and rescue operations, maritime and aviation emergency communication, and personal tracking signals.
Used to receive GPS transmissions, these antennas are commonly used for tracking, surveillance, and timing.
Segmentation By Application
Tactical contact, combat surveillance, and satellite transmission are all military applications for ground antennas. Ground antennas designed for military use are strong, sturdy, and impervious to harsh circumstances.
Transmission, distant sensing, and guiding are all civil applications for ground antennas. In the public sector, ground antennas are used for satellite-based internet services, TV and radio broadcasting, weather monitoring, and precision gardening.
Regional Analysis
The Global Ground Antennas Market is segmented by region as North America, Europe, Asia Pacific, Latin America, and Middle East and Africa.
North America
With established satellite communication facilities and a high rate of adoption of satellite-based communication options, North America has a stable market for ground antennas. The area has a thriving aerospace sector as well as a sizable market for military and security uses. The United States is the region's biggest market, followed by Canada and Mexico.
Europe
The growing use of satellite transmission systems for a wide range of uses such as television, maritime, and aircraft is propelling the European ground antenna sector. There are a number of major ground antenna market participants in the area, including Airbus Defence and Space, as well as a well-developed satellite transmission system. Germany, France, and the United Kingdom are the region's main marketplaces.
Asia Pacific
Due to the increasing adoption of satellite communication solutions for a variety of uses such as remote sensing, weather tracking, and disaster management, the Asia Pacific ground antenna market is expected to develop considerably in the coming years. Several emerging nations, including China, India, and Japan, are making substantial investments in satellite transmission infrastructure. The major marketplaces in this sector are China, India, and Japan.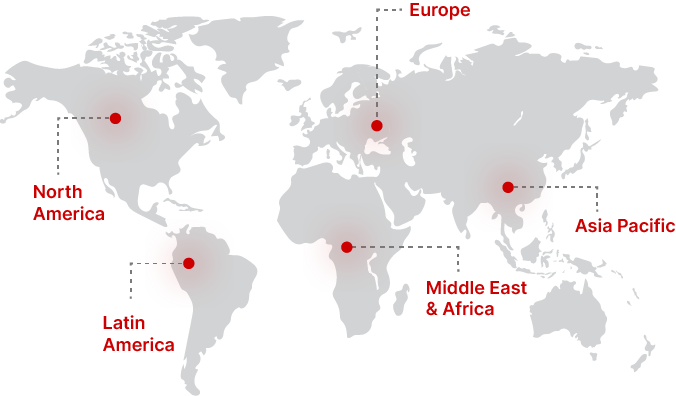 Regional Growth Insights
Download Free Sample
Key Players
CLAMPCO SISTEMI
EASAT ANTENNAS
HITEC LUXEMBOURG
STT-System Technik
T-CZ
TACO ANTENNA
TECOM Industries
TELERAD
Ground Antennas Market Segmentations
Segmentation by Type
VHF Ground Antenna
HF Ground Antenna
Distress Beacon
GPS
Segmentation by Application
Frequently Asked Questions