Market Overview
The global LED Skincare Gadgets Market Size is projected to grow at a CAGR of 6.8% during the forecast period.
Light source that glows on (and penetrates into) the skin. Various light wavelengths can be used, with red and blue being the most common. The major goals of LED light treatment are inflammation reduction and anti-aging benefits on the skin. One of the alleged advantages is a rise in collagen levels in the skin, which can reduce wrinkles and other signs of aging.
Collagen is stimulated by red LED light, which is crucial for the healing of wounds. After having surgery for skin resurfacing, patients received red LED light therapy. According to studies, this type of light treatment reduces inflammation, bruising, and swelling while hastening the healing process.
The technology-driven skin-care practice is one of the most current developments in the beauty industry. The availability of tools, equipment, and gadgets to produce outcomes on par with those of professionals while one is comfortable at home has increased over the past several years. These LED skincare gadgets help people make their homes into centres of therapy and get the job done with very little or no recovery time, replacing the need to visit a dermatologist for skin clearing, anti-wrinkle treatments, and complexion plumping therapy. As a result, they act as an infusion to the market for LED skincare devices.
The market for LED skincare devices presents hurdles for the cosmetics sector. As LED light treatment is still a relatively new technology in the cosmetics sector, adhering to the numerous rules and requirements for safety and efficacy is one problem. Also, because of the market's intense competition, cosmetic firms will need to keep innovating and creating new goods in order to survive.
Market Dynamics
LED Skincare Gadgets Market Drivers
Rising demand for at-home skincare products
The market is driving for market players due to LED skincare products is promising and expanding quickly due to the rising demand for at-home skincare products, increased knowledge of the advantages of LED treatment, and continued research and development of new LED skincare products by top brands and manufacturers. Therapy has been used in professional skincare treatments for a long time, but in past few years, the market for LED therapy for at-home usage has grown as consumers become more aware of its advantages.
Market drives due to social media influencers and advance technology
Social media influencers and advanced technology are two other factors driving the market growth for LED skincare devices. LED skincare devices have become increasingly popular due to product reviews, tutorials, and recommendations, especially in the beauty and skincare industries. Smaller, more affordable LED skincare devices that are equally as effective as bigger, more expensive ones have been made possible by advancements in LED technology.
Consumers' Growing attention to their physical appearance
The demand for LED Skincare Gadget is being driven by consumers' growing attention to their physical appearance as a result of their developing exposure to social media. The development of the industry is also helped by advance technical developments in this field, such as skin-lightening and skin-tightening laser procedures that produce immediate, satisfying, and more permanent effects.
LED Skincare Gadgets Market Restraints
Not helpful for serious or complicated skin disorders
LED skincare products have a limited market because, while they are useful for many skin issues, they might not be as successful for more serious or complicated skin disorders. This can make them less appealing to customers searching for more complete skincare treatments due to which market players may face hurdles in market growth.
Other skincare options available and lack of consumer trust as limited research is done
While there are other skincare options available, LED skincare devices provide a practical and non-invasive approach to address a variety of skin issues. Customers could decide to spend their money on different skincare treatments or products, which would reduce the potential market for LED skincare devices. Research on the long-term effectiveness and safety of at-home LED skincare devices is still in its infancy. Consumer trust in the technology might be impacted, which would restrict adoption.
Side effect of LED skincare gadgets may affect the market growth
Despite the fact that this kind of therapy is normally highly safe, side effects might nevertheless happen. Those who get light treatment may experience anxiety, headaches, eye strain, sleep problems, and insomnia. Minor visual side effects are common but soon fade, which will hamper the market growth of LED skincare gadgets.
LED Skincare Gadgets Market opportunity
Technology development and growing market in new market
As LED skincare is developing advance technology, it is expected that new and more efficient LED skincare products will be created. As a result, the market for LED skincare products has the potential to expand into new countries, such as emerging nations where the need for skincare products is growing.
Demanding innovative skincare solutions
Cleansing tools will also expand at the third-fastest rate throughout the projection period. The need for clear, flawless skin has caused beauty companies to work continuously on performing Innovative activities and releasing products that guarantee age-resistant skin. Also, the younger, more tech-savvy consumers aren't satisfied with the traditional beauty routines and are demanding innovative skincare solutions that are age-appropriate, which is boosting the sales of smart LED skincare market.
Market Scope
Report Metric
Details
Market Size by 2031
USD XX Million/Billion
Market Size in 2023
USD XX Million/Billion
Market Size in 2022
USD XX Million/Billion
Historical Data
2019-2021
Base Year
2022
Forecast Period
2023-2031
Report Coverage
Revenue Forecast, Competitive Landscape, Growth Factors, Environment & Regulatory Landscape and Trends
Segments Covered

Segment by Type

Cleansing Brushes
LED Masks
Light Therapy Massagers
Regeneration Tools
Muscle Stimulators
Exfoliators

Segment by Application

Pharmaceutical Industry
Personal Care Industry
Cosmetics Industry

Geographies Covered

North America
Europe
APAC
Middle East and Africa
LATAM

Companies Profiles

FOREO
LightStim
Neutrogena
Skin, Inc
Jade Roller Beauty
ORA
ReFa
NuFace
Segmental Analysis
Segment by Type
By gently scrubbing and removing makeup, grime, and other impurities from your face using facial cleansing brushes, overnight skin-care regimen can be improved.
LED light mask therapy include treating acne, regulating natural oil production, boosting collagen and elastin and minimising redness and wrinkles.
Treatment has several more applications in addition to its generally pro benefits. LEDs help to promote tissue healing, circulation, and skin texture and clarity.
An efficient and non-invasive tool that uses mild microcurrents to tighten, firm, and brighten skin, define facial features, and reduce the appearance of wrinkles
Muscle stimulator can be used to relieve pain and repair damaged, weakened, or ill muscles. The electrical currents may activate the muscle fibers or neurons and enhance blood flow.
Exfoliation is the process of removing dead skin cells and collected dirt from the top layer of skin.
Segment by Application
Pharmaceutical businesses can offer customers skincare treatments that are supported by scientific research and clinical studies by combining LED light therapy into their products.
In order to create more effective and efficient skincare products and gadgets, personal care firms are utilizing the advantages of LED skincare gadgets. Personal care firms may offer skincare solutions to customers by using LED skincare Gadgets in their products.
Cosmetic industries are utilizing the advantages of LED light therapy to create more effective and efficient skincare products and technologies.
Regional Analysis
The Global LED Skincare Gadgets Market is segmented by region as North America, Europe, Asia Pacific, Latin America, and Middle East and Africa.
North America
Contributed High Disposable Income and Increased spending on Cosmetic Operations and Equipment
North America is expected to have the greatest market share for beauty devices in 2022, approximately 40%. This is mostly likely to have contributed to the high disposable income and increased spending on cosmetic operations and equipment. Also, a growing number of salons that provide hair removal services and an increase in the number of persons with hormone issues support the need for the related therapies in the area.
Also, there are now more prospects for players to invest in Canada due to the growing usage of innovative technology in LED skincare gadgets. For instance, technology platform provider, uses augmented reality (AR) and artificial intelligence (Al) to let customers visually test out cosmetics, such as lipsticks, on Amazon.com.
Even with market for LED skincare devices in North America's significant growth and opportunities, there are specific difficulties. One difficulty is the market's intense competition, with many brands and goods fighting for customers' attention. The regulatory environment, where compliance with many rules and standards for safety and efficacy is required, is another difficulty.
Asia Pacific
The growing prevalence of skin illnesses
The largest growth rate is expected in the Asia pacific market. The main driving forces behind the expansion of the sector in the area are the growing prevalence of skin illnesses, technical breakthroughs, expanding young appearance consciousness, and changing preference for at-home cosmetic products. Also, the accessibility of famous brands and the development of less priced LED skincare gadgets in the region encourage consumers to use these goods for a variety of grooming needs. The simple availability of branded creative tools via internet channels, particularly on a shared site, furthers the regional spread.
Europe
Home to some of the top dermatological research facilities in the world
Europe is also home to a number of top skincare companies and gadget producers, which has driven innovation in the LED skincare device industry. Consumer demand for these businesses' extremely effective and cutting-edge LED skincare products is considerable. Also, the area is home to some of the top dermatological research facilities in the world, which is influencing the creation of cutting-edge LED skincare devices.
Market hurdles for LED Skincare Gadgets Market
The European market for LED skincare gadgets also faces certain difficulties. The market's intense regulation, with its stringent rules and standards for effectiveness and safety, presents one difficulty. It may be challenging for new and rising brands to join the market and compete with major companies as a result.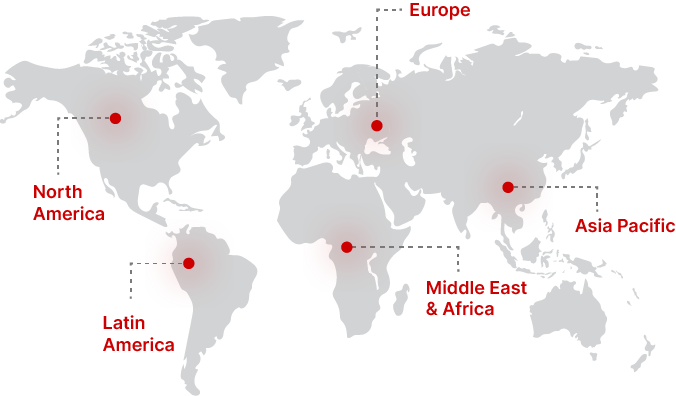 Regional Growth Insights
Download Free Sample
Key Players
FOREO
LightStim
Neutrogena
Skin, Inc
Jade Roller Beauty
ORA
ReFa
LED Skincare Gadgets Market Segmentations
Segment by Type
Cleansing Brushes
LED Masks
Light Therapy Massagers
Regeneration Tools
Muscle Stimulators
Exfoliators
Segment by Application
Pharmaceutical Industry
Personal Care Industry
Cosmetics Industry
Frequently Asked Questions