Market Overview
The Global Molecular Microbiology Market Size is expected to grow at a CAGR of approximately around 7.5% during the forecast period of 2023-2031.
Molecular microbiology is the molecular study of microorganisms. This entails understanding the function and interaction of individual microbes and their role in disease. The techniques used by molecular microbiologists to study these organisms include DNA sequencing and gene expression analysis. Molecular microbiology is a subfield of microbiology that focuses on the molecular mechanisms and physiologic processes of microorganisms and their use in the production of essential substances. Biotechnology and pharmaceuticals as immunizations and booster injections.
The market expansion is attributable to the rising demand for quantitative PCR detection diagnostic kits, diagnostic kits for diagnosing pathogenic microorganisms, and human and veterinary applications. North America, Europe, Asia-Pacific, Latin America, the Middle East, and Africa dominate the market for molecular microbiology.
Market Dynamics
Market Drivers
Increasing adoption of diagnostic kits
The measurable PCR detection diagnostic kits and the diagnostic kits for pathogenic microorganisms are primarily utilized for the early detection of numerous diseases. These diagnostic devices enable market participants to provide efficient and successful results for users. Also, the adoption of molecular microbiological methodologies by multiple end-user industries, such as hospitals, diagnostic laboratories, and research institutes, is anticipated to propel the market growth during the current and forecasted time frame. In addition, PCR kits are anticipated to increase the market share of molecular microbiology.
Increasing awareness of diseases
The increasing incidence of infectious diseases, coupled with the rising demand for early detection and reporting of microorganisms, acts as a catalyst for the market's growth, and this trend is likely to continue. Also, altering procedures for early disease diagnosis is the talk of the market because they are a revelation. The prevalence of STls, such as HIV and HPV, is increasing, which is expected to increase the product's demand among the target population. Additionally, the growing awareness of infectious diseases and their potentially fatal health consequences is anticipated to bolster the growth of the market.
Market Restraint
Lack of Qualified Professionals to Manage Products Restrains Market Expansion
The complexity of developing and managing the products necessitates a high level of skill and accuracy, as is the case with vaccine developments and improvements in the speed and accuracy of molecular tests. Also, a lack of these professionals hinders advancements in molecular microbiology, impedes the market's ability to keep up with the latest trends and developments, and prevents it from providing consumers with the best products. This eventually results in consumers preferring competitors' products, reducing the market's overall growth.
Market Opportunities
Enhanced Application of In Situ Hybridization (ISH) for Cancer Detection
ISH technique is primarily an application that supports the comprehension of pathogenic mechanisms and molecular testing for cancer diagnosis, monitoring, and treatment. Also, market leaders have established a pattern of adopting ISH technology. It locates and identifies mRNA in cancer tissue samples that have been preserved. In addition, increases in the geriatric population, who are more likely to have cancer, increase demand for the product. As the human population grows, this market segment is expected to experience market expansion shortly.
Market Scope
Report Metric
Details
Market Size by 2031
USD XX Million/Billion
Market Size in 2023
USD XX Million/Billion
Market Size in 2022
USD XX Million/Billion
Historical Data
2019-2021
Base Year
2022
Forecast Period
2023-2031
Report Coverage
Revenue Forecast, Competitive Landscape, Growth Factors, Environment & Regulatory Landscape and Trends
Segments Covered

Segmentation by Type

Quantitative PCR Detection Diagnostic Kits
Pathogenic Microorganisms Diagnostic Kits

Segmentation by Application

Human
Veterinary

Geographies Covered

North America
Europe
APAC
Middle East and Africa
LATAM

Companies Profiles

Roche
Qiagen
Illumina
Abbott
Hologic
BioMerieux
Danaher (Cepheid)
Myriad Genetics
DAAN Gene
Agilent
Genomic Health
B.D.
Foundation Medicine
Segmental Analysis
Segmentation By Type
Quantitative PCR Detection Diagnostic Kits
PCR Quantitative Detection Diagnostic Equipment Molecular Microbiology is a type of molecular biology that amplifies specific DNA sequences from a sample using polymerase chain reaction (PCR). This method can detect pathogenic microorganisms or their DNA in a sample. PCR Quantitative Detection Diagnostic Equipment Molecular microbiology is also utilized to diagnose human and animal diseases.
Pathogenic Microorganisms Diagnostic Kits
Diagnostic Kits for Pathogenic Microorganisms used for the study of pathogenic microorganisms and the diseases they cause is Molecular Microbiology. Pathogenic microorganisms can infect humans and other animals. Pathogenicity quantifies the ease with which a pathogen infects its host.
Segmentation By Application
Molecular diagnostic tests can identify the microorganisms responsible for an infection, allowing physicians to select the most effective treatment. Molecular diagnostic assays also monitor treatment efficacy and identify drug resistance. The study of human genetics also employs molecular microbiology. By comparing the genetic composition of various individuals, scientists can identify genes linked to particular diseases. This information can be used to develop novel disease treatments and identify individuals at risk for developing particular diseases.
Molecular microbiology also develops new vaccines and therapies for animal diseases. Molecular techniques have been used to develop a vaccine against bovine tuberculosis. To its diagnostic and therapeutic applications, molecular microbiology is also used to investigate the epidemiology of animal diseases. This information can be used to monitor the spread of diseases and devise control measures.
Regional Analysis
The Global Molecular Microbiology Market is segmented by region as North America, Europe, Asia Pacific, Latin America, and Middle East and Africa.
North America
North America is the dominant region in the market for molecular microbiology due to its strong market penetration and ability to meet market demands. Also, Increasing contagious infections and chronic diseases in this region will influence the market to create more effective molecular microbiology products through research and development. Primarily, widespread awareness of these disorders is well-established, stimulating market expansion as consumers take more precautions. The introduction of expansion into targeted therapies is expected to boost market growth.
Europe
Germany is the greatest market in Europe, accounting for over 20.0% of the global molecular diagnostics market. The expanding elderly population and technological advances in molecular diagnostics drive the sector toward profitable expansion. The U.K. is an emerging market in this field with a lucrative development forecast over the coming years. A well-developed healthcare infrastructure, rising disposable income, and rising awareness among individuals for the early diagnosis of life-threatening diseases, such as cancer and HIV, are accelerating growth.
Asia-Pacific
The molecular microbiology market demand in Asia-Pacific is highly competitive. The dominant players continually innovate and develop new products to satisfy customer demands. In addition, new participants are anticipated to enter the market in the coming years. China, India, Japan, South Korea, and Australia are home to many hospitals, clinical laboratories, and research institutes, which drive the regional demand for molecular microbiology products and services.
South America
The healthcare landscape in South America is diverse, with varying healthcare infrastructure, regulatory frameworks, and economic conditions between countries. Government initiatives, healthcare expenditures, research and development activities, and the presence of key market participants can influence the market for molecular microbiology in specific South American nations.
Middle East and Africa
In the Middle East and Africa, the healthcare industry, which includes molecular microbiology research and diagnostics, has experienced significant growth. Increasing population heightened awareness of infectious diseases and an improved healthcare infrastructure contribute to this expansion.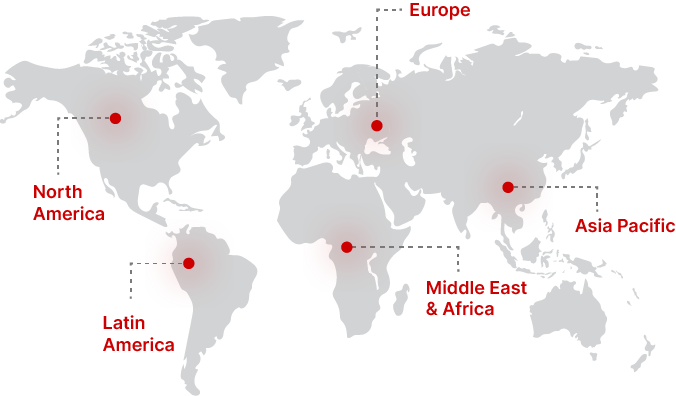 Regional Growth Insights
Download Free Sample
Key Players
Roche
Qiagen
Illumina
Hologic
BioMerieux
Danaher (Cepheid)
Myriad Genetics
DAAN Gene
Agilent
Genomic Health
B.D.
Foundation Medicine
Recent Developments
January 2022 - Seegene Enterprises began manufacturing its newly developed Allplex SARS-CoV-2 Fast PCR Assay. This version of the molecular test has a new and enhanced measurable time, providing results within 60 minutes of the test being administered. This makes it ideal for mass and group tests, such as those conducted in airports and quarantine facilities.
Molecular Microbiology Market Segmentations
Segmentation by Type
Quantitative PCR Detection Diagnostic Kits
Pathogenic Microorganisms Diagnostic Kits
Segmentation by Application
Frequently Asked Questions