Market Overview
According to Reed Intelligence the Global Octamethyl Cyclotetrasiloxane Market Size will approximately grow at a CAGR of 9.8% during the forecast period.
Octamethyl Cyclotetrasiloxane is colorless, flammable, and insoluble in water. However, it is soluble in organic solvents such as benzene, etc. It can synthesize organic silicon polymer via acid or alkaline catalysis to produce silicone oil, rubber, etc. It can also be used as a direct treating agent for rubber filling and as a cosmetic's raw material. Increasing demand for silicone fluids in various end-use industries and rising demand for octamethyl cyclotetrasiloxane as a precursor for silicone elastomers are among the main factors driving the growth of this market. In addition to fermentation processes, instant coffee production, paper coating and sizing, diet soft drinks, waste yeast tanks, food washing solutions adhesive, textiles, deasphalting, boilers treatments, detergents, and cleaning solutions, octamethyl cyclo tetra siloxane is used in a variety of other applications.
Market Dynamics
Market Drivers
Increasing Demand In The Cosmetics And Personal Care Industry
Octamethyl Cyclotetrasiloxane is an odorless, colorless liquid. It is soluble in water, diethyl ether, and acetone. Octamethyl cyclo tetra siloxane has applications in the cosmetics industry for producing cleansers, hair conditioners, and deodorants, among other cosmetic products. Cyclopentasiloxane's principal function is to act as a moisturizer. It can also impart a silky feel to products, allowing them to glide smoothly and uniformly distribute active ingredients. It is also a solvent to deliver active ingredients to the epidermis or hair. In contrast to other silicones, Cyclopentasiloxane is volatile, evaporating, and dries rapidly when applied to the skin. Numerous anti-frizz and detangling products contain Cyclopentasiloxane because it creates a protective barrier on the skin and hair. Moreover, it is water-resistant.
Growing Application In Medical Devices
Silicones have numerous medical applications due to their chemical inertness. The FDA may approve silicone-based medical devices for permanent or transient implantation. Examples of silicone-formed consumable medical devices include catheters, tubing, gastric bags, drains, and endoscopic apertures. Breast implants, stents, and prostheses are examples of silicone-formed permanent implants. Silicone rubber permitted for use in FDA-approved devices for permanent implantation differs significantly from that used in medical consumables, as Octamethyl Cyclotetrasiloxane is a fundamental component in the production of silicon. Thus, the widespread use of silicone rubber in medical equipment increases the demand for octamethyl cyclotetrasiloxane.
Market Restrains
Stringent restrictions on silicone polymer applications are expected to inhibit market expansion. For example, EU regulators are contemplating a REACH limitation proposal for placing Octamethyl Cyclotetrasiloxane(D4) in the Consumer and Professional Markets as chemicals. Silicone polymers in the European market would be subject to restrictions. In addition, the lack of global regulations governing the production and use of silicone polymer is expected to impede market growth. In each country, the use of silicone polymer is governed by different regulations. Companies struggle to comply with these national regulations, discouraging market investment and restraining market growth. It adversely impacted the Octamethyl Cyclotetrasiloxane market.
Market Opportunities
Increasing Demand For Silicone Polymer
Silicone is a polymer made of inorganic material. Silicone's exceptional characteristic properties are responsible for the growing demand for silicone polymers in various industries, including industrial processes, medical, pharmaceutical, personal care, electronics, etc. Due to their atomically stable structure, silicon polymers are used extensively in semiconductors. Silicone polymers can both obstruct and conduct electricity, making them an ideal material for the semiconductor industry. In addition, the market for silicone polymers is experiencing high demand from the electronics potting sector, as silicone polymers have high dielectric strength, thermal stability, and water resistance. Silicon's water-repellent property is increasing the demand for silicone polymers in the paint and coatings industry. This wide usage of silicon in different industries increases the market of Octamethyl Cyclotetrasiloxane.
Rise In Demand For Electric Vehicles
In recent years, the global demand for electronic vehicles has increased. Consequently, the demand for silicon in electrical vehicle components has increased. Silicon elastomers protect electric vehicle components against dissipating battery heat and electromagnetic interference. Silicon compounds have advantageous properties, such as weather ability, water resistance, flame retardancy, and dielectric properties. Global demand for electric vehicles has created growth opportunities for the silicone market, ultimately increasing Octamethyl Cyclotetrasiloxane production.
Market Scope
Report Metric
Details
Market Size by 2031
USD XX Million/Billion
Market Size in 2023
USD XX Million/Billion
Market Size in 2022
USD XX Million/Billion
Historical Data
2019-2021
Base Year
2022
Forecast Period
2023-2031
Report Coverage
Revenue Forecast, Competitive Landscape, Growth Factors, Environment & Regulatory Landscape and Trends
Segments Covered

Segment By Purity

Content 99%
Content 98%

Segment by Application

Silicone Rubber
Silicone Oil

Geographies Covered

North America
Europe
APAC
Middle East and Africa
LATAM

Companies Profiles

Dow Corning
Bluestar
Momentive
WACKER
Dongyue Group
Tangshan Sanyou
Shin Etsu
Hoshine Silicon
Shandong Jinling
Zhongtian Fluorine Silicon
Segmental Analysis
Segment By Purity
99% of Octamethyl Cyclotetrasiloxane refers to the chemical with the highest purity. The remaining 1% of a 99% concentration of Ocyamethyl Cyclotetrasiloxane contains minimal impurities and contaminants. For the production of a variety of chemical-based products, businesses favor compounds with a high purity level. All of the product's original qualities are present in the results of the purest chemical processing. The impurities may include residue monomers, water, or other organic compounds.
Compounds with 98% Octamethyl Cyclotetrasiloxane have a lower concentration of purified material than those with 99% content. This compound is composed of 98% chemical purity and 2% impurities. 2% of impurities affect the outcome. This increase in impurity percentage modifies the ultimate product's composition. Whether or not 98% purity is still acceptable depends on demand and application requirements.
Segment by Application
Octamethyl Cuclotetrasiloxane is one of the key components used to produce silicon rubber. Silicon Rubber is a synthetic elastomer (a polymer with elastic properties) that possesses both plastic and rubber characteristics. Silicone rubber is an elastomer with an uncommon combination of properties. These properties include resistance to high temperatures, durability, exceptional electrical insulation properties, and transparency. Octamethyl Cyclotetrasiloxane is utilized as a monomer in producing polymers based on silicon polymers.
Octamethyl Cyclotetrasiloxane (OMCT) is a clear, odorless liquid that produces silicone oil. Low volatility and high stability make it an ideal lubricant for various uses. Due to the unique properties of the chemical bonds between silicon and oxygen in the polymer chain, silicone polymers exhibit remarkable thermal stability compared to some organic polymers.
Regional Analysis
North America (United States, Canada, and Mexico)
Due to the high demand for silicone additives in plastics and composites, manufacturing chemicals, paints and coatings, and food and beverages, North America is one of the leading markets for silicone additives. In addition, the region has a high growth potential for medical-grade silicones due to the healthcare industry's high demand and the presence of several large manufacturers, which results in increased manufacturing of the Octamethyl Cyclotetrasiloxane compound market.
Europe (Germany, UK, France, Italy, Russia, and Spain, etc.)
Expanding the construction industry in countries such as Germany, the United Kingdom, France, Russia, and Spain is anticipated to drive product demand. In addition, the expanding use of silicone in the renewable energy sector for applications in turbines and solar panels, as well as the healthcare sector for aesthetic implants, is anticipated to contribute to the expansion of the silicone market. This increases the demand for the Octamethyl Cyclotetrasiloxane market across European countries. It raises the demand for the Octamethyl Cyclotetrasiloxane market in Europe.
Asia-Pacific (China, Japan, Korea, India, Australia, and Southeast Asia, etc.)
The Asia-Pacific region dominated the global octamethyl cyclotetrasiloxane market. As a result of rapid industrialization, rising population, and rising per capita income levels in emergent economies such as China and India, Asia Pacific is anticipated to be the fastest-growing region. In addition to the growth of the automotive industry and construction activities, the expansion of these industries is anticipated to drive demand over the forecast period.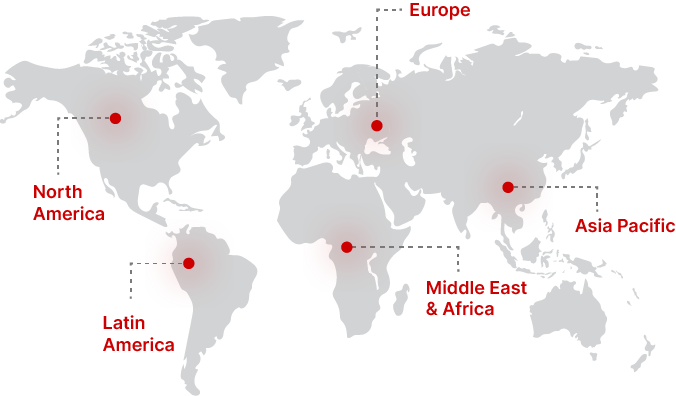 Regional Growth Insights
Download Free Sample
Key Players
Dow Corning
Bluestar
Momentive
WACKER
Dongyue Group
Tangshan Sanyou
Hoshine Silicon
Shandong Jinling
Zhongtian Fluorine Silicon
Octamethyl Cyclotetrasiloxane Market Segmentations
Segment By Purity
Segment by Application
Silicone Rubber
Silicone Oil
Frequently Asked Questions