Market Overview
The Global Perovskite Photovoltaics Market Size is anticipated to touch at a CAGR of approximately 6.4% during the forecast period.
Perovskite photovoltaics was a developing technology with tremendous potential in the solar energy industry. Perovskite is a class of minerals having a special crystal structure that can be utilized to make solar cells. Perovskite photovoltaics have gained popularity due to their high efficiency, low-cost manufacturing procedures, and flexibility on flexible substrates.
Perovskite solar cells can achieve high conversion efficiencies equivalent to classic silicon-based solar cells, low production costs, and the potential for flexible and lightweight applications. Also, perovskite solar cells may be manufactured utilizing solution-based techniques, allowing for scalability and integration with building materials and other consumer items.
The perovskite photovoltaics market is expanding, and some hurdles must be overcome before widespread commercialization. Some of these obstacles include worries regarding toxicity and the long-term reliability of the cells, as well as stability issues related to the degradation of perovskite materials in environmental settings.
Market Dynamics
Market Drivers
High Efficiency Potential
Over the last decade, perovskite solar cells have achieved amazing progress in power conversion efficiency (PCE). They can attain efficiencies comparable to, if not higher than, those of standard silicon-based solar cells, which now dominate the Perovskite Photovoltaics Market Growth.
Perovskite photovoltaics are an appealing choice for generating electricity from sunlight because of their increased efficiency, which improves the amount of energy that can be captured from a given area of solar panels. This driver is especially important because it allows perovskite solar cells to compete with other solar technologies while increasing overall energy output.
The potential for low-cost manufacturing is another important driver for the perovskite photovoltaics market. Solution-based processes, such as spin coating or inkjet printing, can process perovskite materials, which are relatively affordable and suitable for large-scale production.
Perovskite solar cells are, therefore, less expensive than silicon-based solar cells, which need complicated and expensive production procedures such as high-temperature vacuum deposition. Perovskite photovoltaics low-cost manufacturing potential makes them appealing for reaching mass adoption and lowering overall solar energy costs.
Market Restraints
Perovskite solar cells have demonstrated extraordinary efficiency in laboratory conditions, frequently outperforming standard silicon-based solar cells. However, their stability and durability in real-world situations pose a substantial barrier. Perovskite materials are sensitive to moisture, heat, and UV radiation, which can cause degradation over time, lowering the cells' total lifespan and efficiency.
The Perovskite Photovoltaics Market is actively studying and developing solutions to improve the stability and endurance of perovskite solar cells, such as enhanced materials engineering and encapsulating techniques. Overcoming this limitation is critical to ensuring perovskite photovoltaic technology's long-term viability and reliability.
Market Opportunities
Versatility and Design Flexibility
Researchers can adapt the properties of perovskite materials to specific uses and settings by synthesizing them with varying compositions and architectures. They can be utilized to make lightweight, flexible, and even semi-transparent solar cells, making them appropriate for incorporation into various products and surfaces, such as building facades, windows, and wearable gadgets. The design flexibility of perovskite photovoltaics opens up new avenues for embedding solar energy generation into a wide range of common objects and infrastructure.
Market Scope
Report Metric
Details
Market Size by 2031
USD XX Million/Billion
Market Size in 2023
USD XX Million/Billion
Market Size in 2022
USD XX Million/Billion
Historical Data
2019-2021
Base Year
2022
Forecast Period
2023-2031
Report Coverage
Revenue Forecast, Competitive Landscape, Growth Factors, Environment & Regulatory Landscape and Trends
Segments Covered

Segment by Type

Normal Structure
Inverted Structure

Segment by Application

BIPV
Utilities
Automotive

Geographies Covered

North America
Europe
APAC
Middle East and Africa
LATAM

Companies Profiles

GreatCell Solar
Oxford PV
Saule Technologies
Fraunhofer ISE
FrontMaterials
CSIRO
Microquanta Semiconductor
Solaronix
Solar-Tectic
Solliance
Segmental Analysis
Segment by Type
Normal Organization Perovskite Photovoltaics, known as regular or conventional perovskite solar cells, are perovskite-based solar cells. Perovskite is a class of materials with a certain crystal structure named after the mineral perovskite, which has the same structure. Perovskite solar cells have a standard structure consisting of several critical layers, each of which plays a specific role in generating electricity from sunlight.
The "inverted structure" refers to the arrangement of the different layers within the Perovskite Photovoltaics solar cell. A transparent conducting oxide (TCO) layer, a compact electron transport layer (ETL), a perovskite absorber layer, a hole transport layer (HTL), and a metal electrode are typical components of a standard perovskite solar cell. The Perovskite Photovoltaics Market has witnessed significant growth in recent years, with advancements in technology and increasing focus on renewable energy sources.
Segment by Application
Perovskite Photovoltaics can be manufactured as thin, lightweight, and flexible films, allowing them to be integrated into various architectural materials, including glass, concrete, and even fabric. This adaptability allows for various design possibilities and seamless integration into various architectural aspects. They can also be made semi-transparent, allowing visible light to pass through while gathering solar energy. Because of this, they are perfect for applications such as solar windows, skylights, and curtain walls, where aesthetic appeal and visual comfort are critical.
Perovskite solar cells can generate electricity in utility-scale solar power facilities. Perovskite materials' high light absorption efficiency enables efficient energy conversion, potentially resulting in increased power output per unit area compared to typical silicon-based solar cells. This could help to expand renewable energy generation while decreasing dependency on fossil fuels.
Perovskite Photovoltaics solar cells can be manufactured in various colors and shapes, providing greater design versatility. This property makes them appealing for incorporating solar panels into the outside of cars, such as roofs, hoods, or windows, without sacrificing visual appeal.
Regional Analysis
North America
Because of the potential benefits of perovskite solar cells, such as high efficiency, cheap manufacturing costs, and the ability to be made on flexible substrates, the Perovskite Photovoltaics Market in North America was witnessing substantial growth. Across North America, numerous research and development activities were underway in academic institutions, public laboratories, and private companies to improve Perovskite Photovoltaics technology's efficiency, stability, and scalability.
Funding and investments were being made in North America to assist the development and commercialization of Perovskite Photovoltaics technology. Private investors and government agencies recognized the potential of perovskite solar cells and offered funding to research initiatives and start-up businesses.
Europe
There is a rising interest and research activity in developing perovskite photovoltaics market in Europe. Several European countries, including the United Kingdom, Germany, Switzerland, and the Netherlands, have launched research programs and financing initiatives to encourage the progress of perovskite solar cell technology.
The European Union has also recognized the promise of perovskite photovoltaics, incorporating it into its strategic research and innovation agenda. The "Perovskite Solar Cell Consortium" and the "Perovskite X" initiative, both supported by the EU, aim to accelerate the commercialization of perovskite solar cells and stimulate collaboration among.
Asia-Pacific
Several Asian Pacific countries, including China, Japan, South Korea, and Australia, have invested significantly in perovskite photovoltaic research and development. These countries have developed government programs, research facilities, and cooperation with industrial actors to speed up the commercialization of perovskite solar cells. China has been a key player in the perovskite photovoltaics market in particular.
The Chinese government has contributed significantly to developing and deploying perovskite solar cells. Chinese firms have achieved major perovskite technology advances and actively participated in large-scale manufacturing and commercialization activities.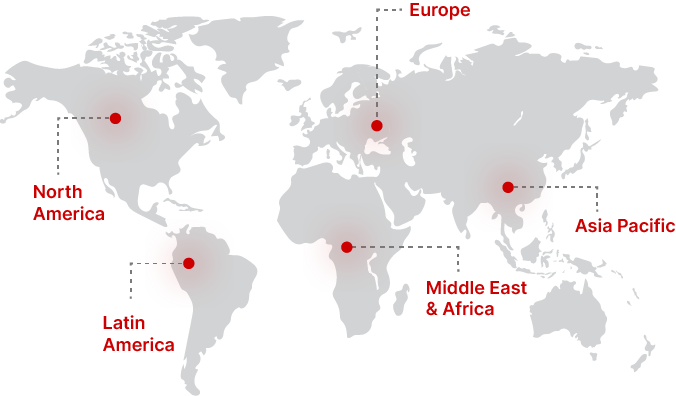 Regional Growth Insights
Download Free Sample
Key Players
GreatCell Solar
Saule Technologies
Fraunhofer ISE
FrontMaterials
CSIRO
Microquanta Semiconductor
Solaronix
Solar-Tectic
Solliance
Recent Developments
March 2021: Saule Technologies announced a deal with Skanska, a leading construction and development firm, to develop and market perovskite-based solar panels for building-integrated photovoltaics.
Perovskite Photovoltaics Market Segmentations
Segment by Type
Normal Structure
Inverted Structure
Segment by Application
BIPV
Utilities
Automotive
Frequently Asked Questions