Market Overview
According to Reed Intelligence the Global Pulp Cells Market Size will approximately grow at a CAGR of 8.2% during the forecast period.
The pulp cells of fruits play a crucial role as they serve as the primary reservoir for the fruit's nutritional content, flavor profile, and overall essence. Pulp cells have gained significant recognition in the food and beverage industry due to their widespread application in a diverse range of products, such as juices, baked goods, and other consumables. These fragrant substances are commonly utilized in various cosmetic products, such as creams, facewashes, lipsticks, and other similar merchandise, owing to their appealing fruity and fresh aroma. The market for pulp cells is experiencing substantial growth due to increasing awareness among individuals regarding their inherent value.
Market Dynamics
Market Drivers
The Increasing popularity of Natural and Durable Materials is an important pattern in the Current Market
The growing consumer interest in natural and environmentally friendly additives in food and products is a notable trend that warrants attention. Consumers actively engage in the exploration of products that align with their personal well-being and environmental sustainability, driven by a genuine apprehension regarding the potential ecological ramifications of their choices. There is an emerging trend observed in various governments where restrictions are being implemented on the utilization of synthetic chemicals in the domains of cosmetics and food. The current market landscape indicates a significant surge in the demand for natural and sustainable choices. Ongoing research efforts are being undertaken to ascertain the potential advantages associated with the utilization of sustainable and natural products. The ongoing investigation has yielded promising outcomes in terms of the development of novel goods and applications associated with these chemicals. The market for pulp cells is expected to witness growth in response to the increasing demand for natural and environmentally friendly materials. Pulp cells, a renewable and naturally occurring resource, exhibit a multitude of applications across various industries. The product/service in question demonstrates a high level of compatibility with the current growth trajectory of the market.
Rising Consumption of Healthy Foods and Beverages
There is a growing trend among consumers to seek out food and beverage options that provide additional health benefits beyond mere nutritional value. The individual is actively seeking products that possess the potential to enhance their holistic health and well-being. The current market landscape is witnessing a notable surge in the availability of functional foods and beverages. The development of these products is being undertaken by both established food and beverage companies and emerging start-ups in the industry. Regulatory support is noteworthy that governments are increasingly acknowledging the potential advantages associated with functional foods and beverages. The aforementioned trend is driving the formulation of novel regulatory frameworks aimed at facilitating the expansion of this particular market. The expanding consumer demand for functional foods and beverages is anticipated to drive the growth of the pulp cells market. Pulp cells have the potential to contribute to the enhancement of flavor, texture, and stability in functional foods and beverages. In addition to their primary applications, it is noteworthy that these substances have been found to potentially confer various health advantages. These include but are not limited to bolstering the immune system, enhancing gut health, and promoting cognitive functions.
Market Restraints
Limited Availability Of Raw Materials And Competition From Other Product
The global supply of raw materials required for the production of pulp cells, particularly citrus fruits, is subject to certain limitations in specific regions. The potential for market expansion may be constrained by this factor. Pulp cells encounter formidable competition from alternative offerings in the market, including juice concentrates and powders. The affordability and convenience of these products often render them more appealing to a subset of consumers.
Market Opportunities
Use Of Pulp Cells In Dietary Supplements And Cosmetics
The incorporation of pulp cells in dietary supplements is being identified as a promising avenue for potential health advantages. Based on our comprehensive analysis, it has been ascertained that the product exhibits a noteworthy plenty of antioxidants, vitamins, and an array of essential nutrients. The application of pulp cells has exhibited considerable potential in augmenting the visual attributes of the dermis. The presence of antioxidants in this specific source has garnered significant attention due to their well-established ability to counteract skin damage through the process of neutralizing detrimental free radicals.
Market Scope
Report Metric
Details
Market Size by 2031
USD XX Million/Billion
Market Size in 2023
USD XX Million/Billion
Market Size in 2022
USD XX Million/Billion
Historical Data
2019-2021
Base Year
2022
Forecast Period
2023-2031
Report Coverage
Revenue Forecast, Competitive Landscape, Growth Factors, Environment & Regulatory Landscape and Trends
Segments Covered

Segment by Type

Orange
Lemon
Grapefruit
Pineapple
Lime

Segment by Application

Food Industry
Cosmetic Industry

Geographies Covered

North America
Europe
APAC
Middle East and Africa
LATAM

Companies Profiles

Citrus Products of Belize Ltd.
Citromax Flavors, Inc.
Ciprex Food AB
Lemon Concentrate S.L.
Skypeople Fruit Juice Inc.
Sun Impex International Foods LLC.
Prima Food Ingredients Ltd.
Segmental Analysis
Segment by Type
Oranges, a widely recognized citrus fruit known for its succulent taste, are utilized in the production of orange pulp cells. The utilization of orange pulp cells extends beyond mere garnishing, as they serve as a valuable ingredient in the production of fruit juices, beverages, jams, jellies, and sweets. The utilization of these substances results in the infusion of a tangy and piquant taste profile into the respective culinary preparations.
The cellular composition of lemon pulp can be attributed to its origin from lemons, which are a type of citrus fruit known for their distinctively robust and acidic taste. Lemon pulp cells are utilized in a diverse range of products, including but not limited to lemonades, lemon-flavored beverages, cocktails, salad dressings, marinades, desserts, and baked items. When employed, these substances contribute a uniquely tart and palatable flavor profile to various products.
Grapefruits, scientifically known as Citrus paradisi, are commonly utilized for the extraction of the specialized cells responsible for the production of grapefruit juice. This particular citrus juice is characterized by its distinctively sour and mildly bitter taste profile. Grapefruit pulp cells find their application in a variety of consumables, including grapefruit juice, beverages infused with citrus flavors, cocktails, marmalades, and desserts. The incorporation of grapefruit pulp cells in the finalized products imparts a discernible and invigorating taste profile.
Pineapples are widely favored among consumers due to their delectable tropical flavor profile, which exhibits a pleasant sweetness. This characteristic has contributed to their popularity, particularly within the realm of tropical fruits. Pineapple pulp cells are obtained through the extraction process from pineapples. Pineapple pulp cells serve as a key ingredient in a diverse range of consumable products, including fruit juices, smoothies, cocktails, tropical drinks, desserts, and fruit salads. The products under consideration offer a distinct taste profile characterized by a combination of sweet and sour flavors.
Beverages that possess a distinct lime flavor, such as limeades, lime-infused water, cocktails, and mocktails, are typically crafted using lime pulp cells. Moreover, these versatile ingredients have the potential to be utilized in the production of lime-flavored ice cream, pies, tarts, and sorbets. The flavor profile of the final products is augmented by the delightful and invigorating taste imparted by the lime pulp cells.
Segment by Application
Within the realm of the food industry, it is commonplace to employ pulp cells as a means to augment the sensory attributes of various culinary preparations, namely flavor, texture, and visual appeal. The flavor generated within these Pulp cells possesses the potential to be harnessed for the development of genuine culinary flavors. Citrus fruits possess the potential to enhance the taste profile of various culinary preparations, owing to their characteristic mild and tangy lemon-like flavor. The sensory experience of food can be enhanced by introducing variations in texture within the pulp cells. These additives have the potential to enhance the texture of food by introducing either a desirable chewiness or a pleasing smoothness to various culinary preparations.
The stability of these Pulp cells can be effectively maintained through the strategic incorporation of various ingredients. One potential application of food preservation techniques is the prevention of food disintegration or excessive liquidity.
The intrinsic characteristics of pulp cells, coupled with their potential benefits in the realm of skincare and beauty products, render them highly suitable for incorporation into the cosmetics industry. The pulp cells contain a variety of chemicals that possess the potential to be harnessed for the production of cosmetics. These substances have been found to possess properties that facilitate the process of wound healing, exhibit potential in retarding the aging process, and contribute to the maintenance of skin hydration. The carriers of these Pulp cells have the potential to be utilized for the transportation of supplementary aesthetic components. These compounds have the potential to facilitate the introduction of additional substances into the skin. The utilization of pulp cells for the production of scaffolding holds promises in the field of tissue engineering. The utilization of scaffolds holds significant potential in the field of tissue engineering, as they offer a promising approach for repairing or regenerating damaged tissue. These scaffolds serve as a structural support system that can facilitate the restoration or formation of new tissue.
Regional Analysis
North America (United States, Canada and Mexico)
The increasing preference for plant-based diets, healthy foods, and heightened concern for animal welfare and environmental sustainability among individuals in North America has positioned this region as a prominent market for pulp cells. The US pulp cell market has experienced substantial growth in recent years. Food manufacturers are actively engaged in the development and production of plant-based meat substitutes, which are gaining significant traction in the market. These innovative products are designed to mimic the taste, texture, and nutritional profile of traditional meat, while being entirely derived from plant sources. Moreover, food manufacturers are forging strategic partnerships with fast-food outlets and dining establishments to expand the availability and accessibility of these plant-based alternatives to a wider consumer base. This collaborative approach aims to cater to the growing demand for sustainable and healthier food options, while also capitalizing on the rising popularity of plant-based diets. In Canada, there has been a notable surge in the demand for plant-based meat alternatives. Consequently, this trend has led to a corresponding increase in expenditures allocated towards the development and enhancement of such products.
Europe (Germany, UK, France, Italy, Russia and Spain etc.)
Europe has emerged as a substantial market for pulp cells, primarily driven by various factors. The expansion of vegetarian and flexitarian diets, along with growing concerns regarding the environmental impact of animal agriculture, has significantly contributed to this trend. Furthermore, advancements in plant-based protein technology have further bolstered the demand for pulp cells in the European market. The market has experienced substantial growth in various countries, such as the United Kingdom, Germany, and France, where prominent food retailers and manufacturers have introduced a range of plant-based meat alternatives. The expansion of the market can be attributed, in part, to the various initiatives and regulations implemented by the European Union (EU) aimed at promoting sustainable food production and reducing greenhouse gas emissions. These measures have played a significant role in driving the growth of the market.
Asia-Pacific (China, Japan, Korea, India, Australia and Southeast Asia etc.)
The rapid expansion of the pulp cell market in the Asia-Pacific region can be attributed to multiple factors. Firstly, consumers in this region are experiencing an increase in disposable income, enabling them to allocate more funds towards their dietary choices. Additionally, there is a growing awareness among individuals regarding the advantages associated with plant-based diets, not only in terms of personal health but also in terms of environmental sustainability. Consequently, these factors have collectively contributed to the swift growth of the pulp cell market in the Asia-Pacific region. China has emerged as a substantial market for pulp cells, primarily driven by its vast consumer base, government-led initiatives promoting the production of nutritious foods and reducing meat consumption, and the implementation of extensive government programs. The market expansion in India, Japan, and South Korea has been notable due to strategic collaborations with foreign businesses and the emergence of local plant-based meat brands.
Middle East & Africa (South Africa, UAE and Saudi Arabia etc.)
The Middle East and Africa region is experiencing a growing interest in the market. This can be attributed to various factors, including changes in eating habits, the influence of international food trends, and a heightened awareness of environmental and health concerns. Plant-based meat alternatives are experiencing a notable surge in availability and popularity within the United Arab Emirates, South Africa, and Israel. The observed phenomenon can be attributed to the market penetration of both local and international brands.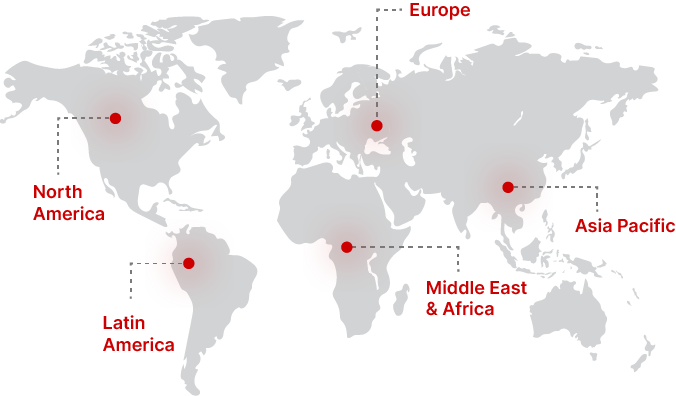 Regional Growth Insights
Download Free Sample
Key Players
Citrus Products of Belize Ltd.
Citromax Flavors, Inc.
Ciprex Food AB
Skypeople Fruit Juice Inc.
Sun Impex International Foods LLC.
Prima Food Ingredients Ltd.
Pulp Cells Market Segmentations
Segment by Type
Orange
Lemon
Grapefruit
Pineapple
Lime
Segment by Application
Food Industry
Cosmetic Industry
Frequently Asked Questions