Market Overview
The Global Recreational Scuba Diving Equipment Market Size is projected to register a CAGR of 7.5% during 2023-2031.
Equipment used in recreational scuba diving activities, such as leisure diving, open water diving, and underwater photography, is called recreational scuba diving equipment. Scuba diving masks, fins, wetsuits, regulators, buoyancy control devices (BCDs), dive computers, and other accessories are among the many products available in this industry.
Scuba diving is becoming increasingly popular as a recreational activity, particularly in areas like North America, Europe, and the Asia Pacific, which is driving the industry. Also, the growth of e-commerce and online purchasing has made it simpler for customers to acquire and buy scuba diving equipment, fueling the market's expansion.
Market Dynamics
Market Drivers
Growing Popularity of Scuba Diving
Over the past few decades, scuba diving has become a popular leisure activity, with millions of people now partaking in it annually. There are several reasons for this rise in popularity, including the following:
Improving accessibility and knowledge Scuba diving has expanded in popularity and visibility because of the growth of social media and online platforms. It is also simpler for people to learn how to scuba dive because of the numerous training and certification programs offered by scuba diving organizations and schools.
Technological Advancement
Technology developments have created premium scuba diving gear that is safer, more comfortable, and more effective. The following are some instances of technological developments in scuba diving gear:
Computerized diving: These gadgets offer real-time data on various data points, including depth, dive time, and decompression stops. Also, they use the diver's profile to determine safe dive times and depths, preventing decompression sickness.
Regulators: Contemporary regulators are more effective and long-lasting than older types, giving the diver a steady airflow even at varying depths.
Buoyancy Control Devices (BCDs): With features like integrated weights, quick-release mechanisms, and adjustable buoyancy, BCDs have also progressed.
Overall, improvements in technology have made scuba diving equipment safer.
Market Restraints
Equipment for scuba diving can be quite expensive, especially high-end items like dive computers, regulators, and BCDs. This might be a considerable entry hurdle for some customers, especially those with lesser finances or just getting into the sport. Also, as insurance policies frequently do not cover scuba diving equipment, users are responsible for paying for all equipment purchases and maintenance.
Scuba diving can be risky if sufficient safety precautions are not performed. Using top-notch tools, getting the right instruction and certification, and following safety regulations all fall under this category. Customers may decide not to participate in the activity due to safety worries.
Market Opportunities
Increasing Consumer interest in Marine Conservation
As consumers' understanding of the value of marine conservation grows, they may be more inclined to select environmentally friendly scuba diving gear with a low environmental impact. As a result, producers and merchants can create and promote ecologically friendly scuba diving gear that satisfies consumer demand.
The scuba diving equipment industry is not an exception to various businesses' growing trends towards sustainability and environmental friendliness. The environmental effects of consumer behavior are rising to the forefront of consumers' minds, and many are looking for ways to reduce their ecological footprint. Because of this, producers and merchants have a significant opportunity to create and promote eco-friendly scuba diving gear that satisfies the demands and preferences of consumers who care about the environment. By doing this, they can encourage the recreational scuba diving equipment market to flourish sustainably.
Market Scope
Report Metric
Details
Market Size by 2031
USD XX Million/Billion
Market Size in 2023
USD XX Million/Billion
Market Size in 2022
USD XX Million/Billion
Historical Data
2019-2021
Base Year
2022
Forecast Period
2023-2031
Report Coverage
Revenue Forecast, Competitive Landscape, Growth Factors, Environment & Regulatory Landscape and Trends
Segments Covered

By Type

Open Respiratory System
Closed Respiratory System

By Application

Individual
Commercial

Geographies Covered

North America
Europe
APAC
Middle East and Africa
LATAM

Companies Profiles

Aqualung
Johnson Outdoors
Head
Poseidon
Tusa
American UnderwaterProducts
Saekodive
Cressi
Sherwood Scuba
Beuchat International
IST Sports
Search
Dive Rite
Aquatec-Duton
Zeagles Systems
H2Odyssey
Atomic Aquatics
Segmental Analysis
The global recreational scuba diving market is segmented into Type, Application, and region.
The market is further bifurcated based on Type into Open Respiratory Systems, Closed Respiratory Systems.
The open respiratory system is the dominant segment due to its less expensive and easy-to-handle nature. Moreover, they can provide advantages like longer dive periods and lower gas use; highly skilled and specialized divers often utilize rebreathers.
Based on Application
The market is sub-segmented as Individual, Commercial.
Since individual divers are the main consumers of scuba diving equipment such as wetsuits, fins, masks, snorkels, and regulators, the individual sector typically represents the higher revenue portion of the recreational scuba equipment market. Individual divers often acquire these products for their usage because they are required to conduct recreational diving activities safely and with enjoyment.
Even though it remains a key area of attention for many suppliers and manufacturers of scuba diving equipment, the commercial segment typically accounts for a lesser revenue percentage of the industry. This is because commercial diving frequently involves using specialized and more pricey equipment, such as diving bells, saturation systems, and underwater cutting instruments, typically purchased by diving firms or organizations rather than individual divers.
Regional Analysis
The Global Recreational Scuba Diving Equipment Market Size is segmented by region as North America, Europe, Asia Pacific, Latin America, and Middle East and Africa.
Depending on the region, the market is analyzed in North America, Asia-Pacific, Europe, and LAMEA. North America dominates the market.
North America has historically dominated the market for recreational scuba diving equipment. One of the main causes is the region's large population of scuba diving enthusiasts, which has led to strong demand for scuba diving gear. Also, North America is home to some of the world's top scuba diving equipment producers, which has contributed to the region's market supremacy. Government policies that foster water sports activities are also credited with North America's market supremacy. For instance, the US government has implemented several initiatives to encourage the growth of aquatic sports, such as scuba diving. These actions include enhancing access to waterways, establishing marine reserves, and funding the construction of recreational amenities. Such activities have strengthened North America's position as the industry leader by dramatically increasing demand for scuba diving gear.
Due to the rising interest in scuba diving as a recreational activity, the expansion of the tourist sector, and rising disposable income in nations like China and India, the Asia-Pacific area was predicted to experience the largest growth rate throughout the projection period.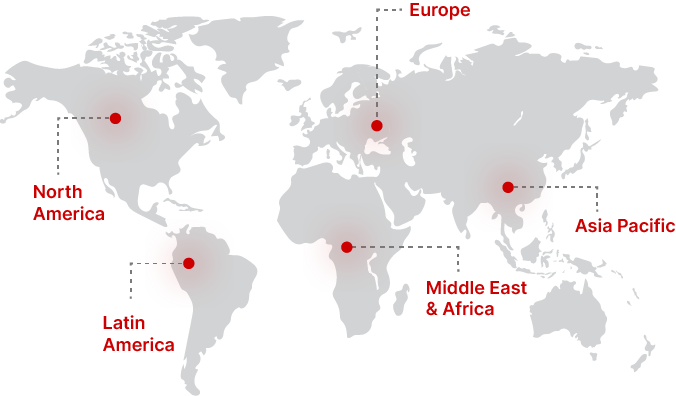 Regional Growth Insights
Download Free Sample
Key Players
Johnson Outdoors
Head
Poseidon
Tusa
American UnderwaterProducts
Saekodive
Cressi
Sherwood Scuba
Beuchat International
IST Sports
Search
Dive Rite
Aquatec-Duton
Zeagles Systems
H2Odyssey
Atomic Aquatics
Recent Developments
In 2020, The LEG3ND series, a new line of high-performance scuba diving regulators from Aqua Lung with cutting-edge breathing technology, was unveiled.
Recreational Scuba Diving Equipment Market Segmentations
By Type
Open Respiratory System
Closed Respiratory System
By Application
Frequently Asked Questions