Market Overview
The Global Scuba BCDs Market Size is projected to register a CAGR of 7.2% during the forecast period 2023-2031.
Buoyancy Control Devices, or Scuba BCDs, are buoyancy correctors used for scuba diving. Scuba BCDs are essential diving gear because they help divers maintain buoyancy control and a secure diving position.
Over the past few years, the scuba BCDs market has grown steadily, propelled by the rising demand for scuba diving as a recreational activity, technological developments in BCD design, and the travel and tourism sector expansion. The market for scuba diving BCDs is expected to develop as awareness of the various fitness benefits of scuba diving increases.
Also, the numerous global programs and initiatives that encourage entrepreneurs to start and build their scuba diving enterprises would moderate the growth of the scuba BCDs market. However, the market for scuba diving equipment is expected to experience growth challenges over the timeframe due to a rise in deadly diving accidents.
In the upcoming years, the market for scuba diving equipment may also experience expansion due to the expanding research and development of big hydroelectric power plants. However, shortly, the market for scuba diving BCDs may face additional challenges due to rising costs.
Market Dynamics
Market Drivers
Growing Popularity of Scuba Diving
Scuba diving has become a well-liked pastime as people worldwide look for more interesting and daring activities to enjoy in their spare time. Due to the availability of beginner-friendly diving classes and dive shops, scuba diving is now accessible to a wider spectrum of individuals, increasing demand for scuba diving gear like BCDs. The scuba BCDs market is expanding since more people are taking up scuba diving as a pastime, making it a more widespread sport.
Growth in the Tourism Industry
Demand for scuba diving activities has increased due to the tourism sector's expansion, particularly in coastal areas, and this trend is projected to continue to fuel scuba BCDs market demand. Scuba BCD rental and sales industries are expanding due to divers who go to dive sites to bring their gear or rent scuba BCDs from dive shops. Moreover, there is now more potential for the Global Scuba BCDs Market growth due to the rise in dive resorts, liveaboards, and other diving-related tourism activities.
Market Restraints
The high price of these goods is one of the major obstacles for potential clients entering the scuba BCDs market. Due to the materials and techniques employed in their manufacturing, scuba BCDs can be quite pricey. Also, novice divers might favor renting gear over purchasing it entirely, which could make it more challenging for manufacturers to attract new clients. Scuba BCDs may not be as affordable for customers on a tight budget, which would reduce demand and restrict industry expansion.
Concerns about the environmental impact of diving activities may reduce demand for scuba BCDs and other scuba diving equipment as scuba diving's popularity continues to rise. Scuba diving stresses delicate and vulnerable marine ecosystems in many places, raising awareness of the need for safe diving techniques.
Several environmental organizations have urged restrictions on diving activities to lessen the harm done to these ecosystems, which might reduce the need for scuba BCDs in impacted areas. By creating more environmentally friendly items and promoting sustainable diving techniques, manufacturers may need to address these problems.
Market Opportunities
In developing nations like China and India, the scuba diving market is growing quickly, creating a sizable opportunity for the worldwide scuba BCDs market. Due to China's expanding middle class and growing interest in outdoor sports, scuba diving is becoming increasingly popular there. Chinese scuba divers are anticipated to increase from 1.1 million in 2016 to 3 million by 2022, per a survey by Daxue Consulting.
Similarly, India's scuba diving sector is expanding significantly due to the nation's extensive coastline, abundant marine life, and growing interest in adventure travel. As a result, producers and merchants of scuba diving gear are increasingly focusing on these developing nations to meet the rising demand for scuba diving gear, especially BCDs. Governments in these nations are also investing in infrastructure and tourist attractions to draw in more visitors, which is anticipated to increase demand for scuba diving gear, especially BCDs.
Market Scope
Report Metric
Details
Market Size by 2031
USD XX Million/Billion
Market Size in 2023
USD XX Million/Billion
Market Size in 2022
USD XX Million/Billion
Historical Data
2019-2021
Base Year
2022
Forecast Period
2023-2031
Report Coverage
Revenue Forecast, Competitive Landscape, Growth Factors, Environment & Regulatory Landscape and Trends
Segments Covered

By Type

Jacket-style
Back-inflate

By Application

Recreational Diving
Professional Diving

Geographies Covered

North America
Europe
APAC
Middle East and Africa
LATAM

Companies Profiles

Johnson Outdoors
Head
Poseidon
Tusa
American Underwater Products
Saekodive
Cressi
Sherwood Scuba
Mares
Scubapro
Segmental Analysis
Based on Type
The jacket-style BCD segment dominates the worldwide scuba BCD market in market share. Since they are simple to operate and provide superior stability and control, jacket-style BCDs are preferred by novice and intermediate divers. Also, various sizes and kinds of jacket-style BCDs are readily available to accommodate various diving tastes.
Due to its benefits in buoyancy control, comfort, and mobility, the back-inflate BCD category is expanding more quickly than the jacket-style BCD segment. Experienced divers that need more flexibility and mobility during their dives frequently use back-inflate BCDs.
Based on Application
The scuba BCDs market is dominated by the recreational diving sector, which covers a wide range of pursuits like leisure diving, open water diving, and underwater photography. People of all ages enjoy recreational diving, frequently regarded as a pleasant and thrilling method to discover the underwater world.
Commercial diving, military diving, and scientific diving all fall under professional diving, the second-largest market for scuba BCDs. Professional divers use BCDs for various activities, including scientific research, underwater construction, and salvage operations. Professional divers need specialist gear, such as BCDs, that can resist the difficulties of deep-water situations and offer the diver the greatest level of safety and functionality.
Regional Analysis
The Global Scuba BCDs Market Size is segmented by region as North America, Europe, Asia Pacific, Latin America, and Middle East and Africa.
The vast number of scuba divers and a thriving scuba diving sector in North America drive the demand for scuba BCDs in the region. The region is home to some of the Caribbean, Mexico, and Hawaii, three of the world's most well-known scuba diving locations. Many companies that produce and sell scuba diving gear are based in the United States, making it the largest market in North America for scuba BCDs.
With popular scuba diving sites, including France, Italy, Spain, and the UK, Europe is the second-largest market for scuba BCDs. A robust infrastructure for scuba diving tourism exists in the area, along with many scuba diving clubs and schools offering divers instruction and certification.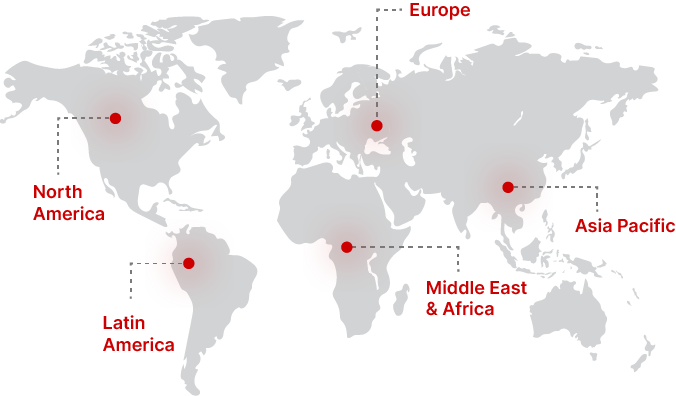 Regional Growth Insights
Download Free Sample
Key Players
Johnson Outdoors
Poseidon
Tusa
American Underwater Products
Saekodive
Cressi
Sherwood Scuba
Mares
Scubapro
Recent Developments
In 2020, The LEG3ND series, a new line of high-performance scuba diving regulators from Aqua Lung with cutting-edge breathing technology, was unveiled.
Scuba BCDs Market Segmentations
By Type
Jacket-style
Back-inflate
By Application
Recreational Diving
Professional Diving
Frequently Asked Questions