Market Overview
The Global Redox Flow Cells Market Size is slated to grow substantially at a CAGR of approximately 14.3% during forecast period.
With the objective of enhancing the functionality, effectiveness, and economics of Redox Flow Cells Market Growth, rapid scientific progress is being made in this area, notably in electrode materials, electrolyte formulations, and system designs. Redox flow cells are being used more often as a result of these developments in a range of applications, such as grid-scale energy storage, renewable energy integration, and industrial power backup.
To assist them accomplish their goals for clean energy and lower carbon emissions, governments and regulatory agencies from all over the globe are pushing the development and usage of energy storage technology. Favorable regulations, financial incentives, and support for energy storage projects are all contributing to the company's expansion. The growth of the smart grid infrastructure and the increase of financial assistance for renewable energy projects benefit redox flow cell suppliers and manufacturers.
Market Dynamics
Market Drivers
Solar, wind, and other renewable energy sources must be integrated into the electrical grid using redox flow cells. They provide a means of storing surplus energy generated during bursts in the generation of renewable energy and releasing it when output is low or demand is high. As a consequence, it is feasible to create a more reliable and balanced power supply, which promotes the use of renewable energy sources.
Thanks to advancements in technology, redox flow cell technologies, including electrode materials, electrolyte formulations, and system designs, are now more effective, reliable, and long-lasting. Redox flow cells now have more adaptability, attracting investment and encouraging the sector's growth.
Market Restraints
The high initial cost of the redox flow cell systems includes the cost of materials, manufacture, and installation. The initial capital expense may be a significant barrier that limits market development and adoption, particularly for large-scale commercial installations.
Because they have a lower energy density than other forms of energy storage, including lithium-ion batteries, redox flow cells are technologically constrained. They could also have a weaker cycle capacity and a lower power density. If redox flow cells are to stay competitive in the energy storage market, several technological issues must be solved.
Market Opportunities
Due to the growing number of renewable energy installations, including solar and wind power, redox flow cells may provide efficient and reliable energy storage options. Redox flow cells may be used to address the intermittent nature of renewable energy sources, which may also help with their seamless integration into the electrical grid.
Performance, effectiveness, and affordability of redox flow cell technologies are always being enhanced. To open up new possibilities and promote industrial development, it would be possible to modify electrode materials, electrolyte formulas, and system designs.
Market Scope
Report Metric
Details
Market Size by 2031
USD XX Million/Billion
Market Size in 2023
USD XX Million/Billion
Market Size in 2022
USD XX Million/Billion
Historical Data
2019-2021
Base Year
2022
Forecast Period
2023-2031
Report Coverage
Revenue Forecast, Competitive Landscape, Growth Factors, Environment & Regulatory Landscape and Trends
Segments Covered

Segmentation by Type

Electrode Area <0.001 m²
Electrode Area <0.01 m²
Electrode Area <0.1 m²

Segmentation by Application

All Vanadium Flow Battery
Lithium Ion Flow Battery

Geographies Covered

North America
Europe
APAC
Middle East and Africa
LATAM

Companies Profiles

ElectroCell A/S
Reichert Technologies (AMETEK, Inc)
KNAUER Wissenschaftliche Gerate GmbH
Bioanalytical Systems, Inc
C-Tech Innovation
Antec Scientific
EL-Cell GmbH
Segmental Analysis
Segmentation By Type
This section examines the electrode areas of redox flow cells with less than 0.001 square meters. These smaller electrode surfaces are often utilized when a lesser energy capacity is necessary or when space is at a premium. They are appropriate for low-power or miniaturization-sensitive applications.
Redox flow cells having electrode surfaces less than 0.01 square meters are included in this section. These cells have a greater energy capacity since their electrode area is a little bit bigger than the section before it was. They are often used in small- to medium-sized applications with little needs for energy storage. Due to their adaptability, these cells are used in both portable and stationary energy storage systems.
Redox flow cells having electrode surfaces less than 0.1 square meters are included in this section. These cells are ideal for medium- to large-scale applications since they have a higher capacity compared to the earlier segments. In addition to load balancing and the inclusion of renewable energy into stationary energy storage systems, they are often employed in grid-scale applications. These cells have the ability to produce more energy and store it for a long time.
Segmentation By Application
All Vanadium Flow Battery
The All Vanadium Flow Battery is one use for vanadium-based electrolytes. Vanadium flow batteries have received a lot of attention for their excellent efficiency, scalability, and protracted cycle life. Among other stationary energy storage applications, they are widely utilized in emergency power systems, grid-level energy storage, and the incorporation of renewable energy sources. These batteries provide rapid reaction times, deep cycle capabilities, and the capacity to simultaneously discharge and recharge, among other benefits.
Flow batteries and the advantages of lithium-ion technology are integrated in this application field. These flow batteries benefit from a high energy density, high efficiency, and a compact design since they employ lithium-based electrolytes. Both fixed and portable energy storage systems, including those that utilise renewable energy, provide a network for recharging electric vehicles, and provide mobile power solutions, employ lithium ion flow batteries. In comparison to conventional lithium-ion batteries, they are renowned for their quicker reaction times, higher power outputs, and longer cycle lives.
Regional Analysis
The Global Redox Flow Cells Market Analysis is segmented by region as North America, Europe, Asia Pacific, Latin America, and Middle East and Africa.
North America
Due to the rise of renewable energy projects and the expanding need for energy storage solutions, North America now represents a substantial market for redox flow cells. The growing use of renewable energy in countries like the United States and Canada benefits redox flow cells. The development of this business is influenced by governmental policies, financial assistance programs, and research initiatives that encourage energy storage technology.
Europe
The continent also controls the majority of the redox flow cell market. Demand for redox flow cells is increasing as a consequence of investments made in grid-scale energy storage systems and renewable energy programs by countries like Germany, the UK, and the Netherlands. Redox flow cell providers and manufacturers profit from the favorable environment created by the European Union's commitment to sustainable energy objectives and initiatives, as well as by beneficial legislation and financial plans.
Asia Pacific
This region is seeing rapid growth in the redox flow cell industry. Countries like China, Japan, South Korea, and Australia are heavily investing in renewable energy sources and energy storage technology to meet their expanding energy demands and decarbonization goals. Given the importance placed on creating sustainable energy technologies, as well as the backing of the government and favorable regulations, redox flow cells have a lot of promise in this field.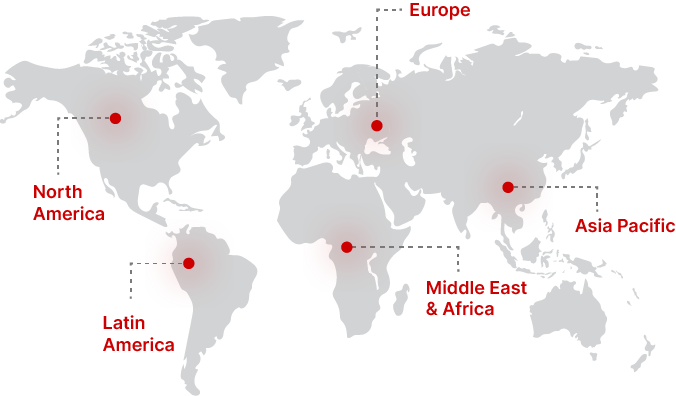 Regional Growth Insights
Download Free Sample
Key Players
ElectroCell A/S
Reichert Technologies (AMETEK, Inc)
KNAUER Wissenschaftliche Gerate GmbH
Bioanalytical Systems, Inc
Antec Scientific
EL-Cell GmbH
Recent Developments
The focus of recent research has been on improving the electrolyte chemistry of redox flow cells. This calls for investigating innovative electrolyte materials, such as organic and inorganic compounds, in order to enhance durability and performance.
Redox Flow Cells Market Segmentations
Segmentation by Type
Electrode Area <0.001 m²
Electrode Area <0.01 m²
Electrode Area <0.1 m²
Segmentation by Application
All Vanadium Flow Battery
Lithium Ion Flow Battery
Frequently Asked Questions