Market Overview
The Global Smart Shopping Trolley Market Size is projected to grow at CAGR of approximately 6.8% during the forecast period.
The market refers to the market for shopping carts with various technological components designed to improve the purchasing experience for consumers. RFID scanners are among the devices that include a scanner and a digital monitor.
The market for customized shopping carts is quickly expanding, as is the demand for personalized shopping trolleys. Customers can use these trolleys to receive personalized suggestions and deals based on their purchasing history and tastes.
Market Dynamics
Market Drivers
The introduction of new clever purchasing trolley models, as well as a rising desire for increased security, the growing e-commerce sector in developing nations like India and China is anticipated to boost the projected growth rate.
Rising demand for small-sized trolleys as single-person households increase, particularly in the United States, Japan, and China, is anticipated to drive development during the forecast period.
Strong customer spending on advanced cart versions with enhanced safety features is anticipated to drive development during the forecast period.
Market Restraints
The technology used in trolleys requires regular upkeep and updates to ensure peak performance. This can be a time-consuming and costly procedure for stores, and failing to maintain technology up to current may result in real issues and decreased customer satisfaction.
There are concerns about the security of customer data and the potential of data breaches when RFID readers and other sensors are used. Retailers must implement stringent security steps to protect client information and maintain their trust.
Limited Integration with Existing Systems
Smart buying trolleys may be difficult to integrate with existing store systems such as merchandise administration and POS systems. Retailers who wish to implement these technologies may encounter additional work and expenses as a result.
Market Opportunities
Increased Productivity and Efficiency
Smart purchasing trolleys can simplify the purchasing process and reduce the amount of time consumers spend in-store. Retailers can use the technology to monitor product amounts, enhance shop layouts, and better handle their supply chains.
By investing in smart buying trolleys, retailers can distinguish themselves from rivals and draw consumers looking for a more creative and technologically advanced purchasing experience.
Market Scope
Report Metric
Details
Market Size by 2031
USD XX Million/Billion
Market Size in 2023
USD XX Million/Billion
Market Size in 2022
USD XX Million/Billion
Historical Data
2019-2021
Base Year
2022
Forecast Period
2023-2031
Report Coverage
Revenue Forecast, Competitive Landscape, Growth Factors, Environment & Regulatory Landscape and Trends
Segments Covered

Segmentation By Type

Zigbee
RFID
Bar Code

Segmentation By Application

Supermarket
Shopping Malls

Geographies Covered

North America
Europe
APAC
Middle East and Africa
LATAM

Companies Profiles

International Business Machines Corp
Fujitsu Ltd
Toshiba Corp
Microsoft Corp
V-Mark
Enterprise Limited
SK Telecom Co Ltd
Oracle Corp
Compaq Computer Corp
Media Cart Holdings Inc.
The Japan Research Institute Ltd.
Amazon
Segmental Analysis
Segmentation By Type
Zigbee is a low-power digital emitter wireless system. In the worldwide uncontrolled industrial, scientific, and medical (ISM) radio frequencies, Zigbee operates at around 900 MHz, allowing for approximately two-thirds of all global bandwidth. It has been optimized to work with low-power hardware such as battery-powered light switches and sensors, making it ideal for Internet of Things applications such as smart shopping trolleys, where a large number of devices communicate wirelessly over short distances without using Wi-Fi networks or mobile phone data plans
RFID is the wireless transmission of data using electromagnetic fields to automatically recognize and track tags affixed to objects. An RFID tag is a tiny piece of equipment that can be attached to or incorporated into an object, animal, or person in order to identify radio waves.
A bar code is a machine-readable data encoding that shows information about a product. Previously, barcodes were printed directly on products or their packaging to identify them. As technology advances, businesses are embedding data in the form of an optical machine-readable symbology that can be recognized with a laser beam and read by shop computers.
Segmentation By Application
One of the most important factors anticipated to drive the development of the smart shopping cart market during the forecast period is the growing use of smart shopping carts in supermarkets. The growing demand for convenience, as well as other factors such as the need to reduce physical efforts, provide personalized services, optimize storage space, and reduce the time required for grocery shopping, are some of the primary reasons why supermarkets in various regions prefer to use these devices.
Shopping malls are a one-stop store for all types of retail goods and services, with a huge selection to meet everyone's requirements. Everything from food to clothes can be found under one dome, thanks to the mall. The smart purchasing cart is extremely useful because it is simple to use.
Regional Analysis
The Global Smart Shopping Trolley Market is segmented by region as North America, Europe, Asia Pacific, Latin America, and Middle East and Africa.
North America
Due to the fact that the United States of America is the most technologically advanced country in the world, it is also the most technologically advanced. The United States is the largest market in North America, accounting for a substantial portion of the regional business. Customers' increasing desire for customized and convenient purchasing encounters is propelling the industry forward.
Europe
As retailers in the region boost their use of smart purchasing carts, the European market is expected to grow considerably. The industry is being driven by the presence of large retail chains, high disposable income, and changing consumer buying behavior. The United Kingdom, Germany, France, and Italy are the largest.
Asia Pacific
The Asia Pacific market is expected to expand at the fastest rate due to increasing technological adoption and altering customer behavior in the region. The presence of large stores, as well as the increasing demand for personalized buying experiences, are propelling the industry. In the Asia-Pacific area, the following nations are expected to grow the most: China, India, and South Korea. The increasing use of smart shopping trolleys in emerging nations such as China and India is expected to fuel market growth in this sector.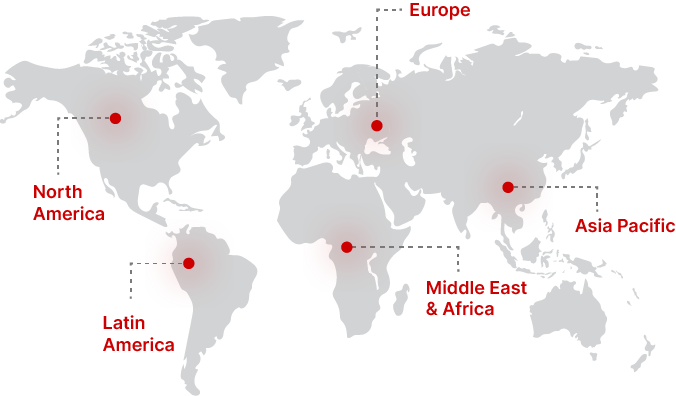 Regional Growth Insights
Download Free Sample
Key Players
International Business Machines Corp
Toshiba Corp
Microsoft Corp
V-Mark
Enterprise Limited
SK Telecom Co Ltd
Oracle Corp
Compaq Computer Corp
Media Cart Holdings Inc.
The Japan Research Institute Ltd.
Amazon
Smart Shopping Trolley Market Segmentations
Segmentation By Type
Segmentation By Application
Supermarket
Shopping Malls
Frequently Asked Questions