Market Overview
The Global Smart Substation Market Size is expected to grow at a CAGR of approximately around 7.6% during the forecast period of 2023-2031.
A smart substation utilizes data from intelligent electronic devices to control and automate substations and power system devices via remote user commands. Smart substation uses advanced technology and digital integrated facilities which operate automatically without human intervention. Specific software, specialized sensors, and apparatus that facilitate two-way communication are required to automate the electricity substations.
In addition, intelligent electronic devices like protective relays, programmable logical control, and digital transducers are utilized. This apparatus facilitates the monitoring and management of substation equipment. Additionally, this apparatus reduces the frequency and duration of power outages. A smart substation enhances transmission and distribution line efficiency, safety, durability, and performance and saves time.
Market Dynamics
Market Drivers
Increase Electricity Demand
Like air and water, electricity has become increasingly important in daily living. Roughly one-third of the country's electricity is used by residential, commercial, and industrial consumers. Household electrical items such as fans, coolers, kitchen equipment, etc., raise the demand for energy in the residential sector. Lighting, heating, ventilation, and air conditioning are the sole power uses at the substation in the business sector. During operating business hours, commercial areas must have electricity. Due to the global increase in electricity demand, smart substations are becoming increasingly necessary.
Market Restraints
The initial phase of substation automation is capital-intensive, which may hinder the global smart substation market expansion. The rising use of advanced technologies such as microprocessors and service-oriented architecture (SOA), as well as the increasing need to embed multiple IEDs in substations, have increased the price of these substations. Investing heavily in the effective installation of smart substations could add to the government's financial burden. After installation, high operational and maintenance costs are also a concern for utility providers.
Market Opportunities
Rising Demand for Renewable Energy Projects
Renewable energy sector will soon begin a new growth phase, primarily driven by rising customer demand, cost competitiveness, innovation, and collaboration. The reduced generation cost of renewable energy sources, the rising capacity factors of renewable energy sources, and the rising competitiveness of battery storage are among the most important factors driving the expansion of renewable energy initiatives. Solar and wind are presently the predominant energy options, with most countries generating over 20% of their electricity from solar and wind power. This factor will increase smart substation market demand.
Market Scope
Report Metric
Details
Market Size by 2031
USD XX Million/Billion
Market Size in 2023
USD XX Million/Billion
Market Size in 2022
USD XX Million/Billion
Historical Data
2019-2021
Base Year
2022
Forecast Period
2023-2031
Report Coverage
Revenue Forecast, Competitive Landscape, Growth Factors, Environment & Regulatory Landscape and Trends
Segments Covered

Segment by Type

11 KV
132 KV
220 KV

Segment by Application

New
Retrofit

Geographies Covered

North America
Europe
APAC
Middle East and Africa
LATAM

Companies Profiles

ABB
General Electric
Siemens
Schneider Electric
Eaton
Rockwell Automation
Segmental Analysis
Segment by Type
The components of a high voltage Smart Substation are high voltage switchgear, medium voltage switchgear, high voltage equipment and transformers, auxiliaries, control system, protective equipment, etc. The 11kv substation's primary function is to collect the energy sent at a high voltage from the producing station. It subsequently lowers the voltage to an appropriate level for local distribution and provides the amenities for switching. This Smart Substation electrical infrastructure includes an isolator, lightning arrester, step-down transformer, capacitor bank, and CT metering.
The electrical power transmission from the generating station to the Smart Substation typically utilizes 132kV cables. The rating of the step-down transformer, which has a primary voltage of 132kV, is 132kV. Typically, these transformers are utilized in transmission substations where the voltage must be reduced for further distribution. High-voltage power lines use 132kV cables. These cables have stronger tensile strength, lower weight per unit length, and better insulation. Because they can transport more power over long distances than lower voltage cables, these cables are typically used to deliver electricity from distant producing plants to local substations.
The 220 kilovolt-ampere-second (kV) substation is the power-capability utilized by the step-down transformer in the substation, and it indicates the highest apparent power that a step-down transformer can provide. This Smart Substation will have a receiving voltage level of 220kV at its disposal. The construction of this substation facility will require around 25 acres of land.
Segment by Application
New substation refers to installing a smart substation line with automated components incorporated into their structure. The new substation features advanced monitoring and sensors, an intelligent control system, artificial intelligence, and cyber security. The market for new installations is expanding as the demand for new power stations and smart grids in numerous cities increases swiftly. New installations offer greater reliability, functionality, and operational safety and require minimal maintenance, which drives the Smart Substation Market Share.
Retrofitting substation installation refers to adapting advanced technology into an existing substation's infrastructure. Smart grids are implemented by integrating modern technologies into substations and power networks. It enhances the functionality and efficacy of the existing substation line. Innovative grid communication technology provides predictive data and power management recommendations to utilities, suppliers, and consumers. One must analyze and manage comprehensive data from transmission network substations to achieve the intelligent grid. The Smart Substation Market is driven by the trends of upgrading and retrofitting old conventional substations and introducing new modern substations.
Regional Analysis
North America
The expansion of Smart Substation in North America might be attributed to the numerous financial schemes initiated by the governments of the United States and Canada to modernize electrical systems. The governments of North America are combining their resources to support the commercialization of innovative technology within the energy and power industries. This will likely encourage a transition in the region toward a stronger, more intelligent, and more cost-effective electrical grid system.
Europe
The European renewable aim is for more than fifty percent of the power generated to come from renewable energy sources (RES), the majority of which will be connected to the medium-voltage and low-voltage networks. In addition, the regulations created by the EU to meet the flexible demand have encouraged the development of electricity generation, electric vehicles, and energy storage. As a direct result, the European smart substations market also demonstrates lucrative growth.
Asia-Pacific
There are high expectations that the Asia-Pacific market would enhance its share of the smart substation industry. Rising investments are anticipated to fuel market expansion, and these investments will be made to boost manufacturing operations across growing economies in this region. In addition, advantageous policies implemented by the governments of China, India, and Japan are anticipated to increase demand for Smart Substation automation in the region.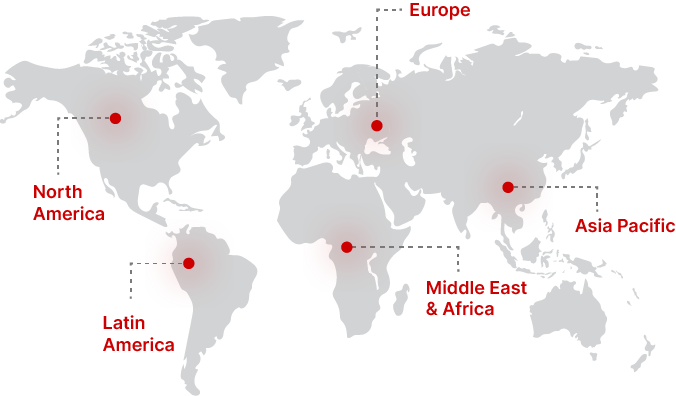 Regional Growth Insights
Download Free Sample
Key Players
ABB
Siemens
Schneider Electric
Eaton
Rockwell Automation
Recent Developments
Jan 2023- Smart Substation Control and Protection SSC600 SW is ABB's first virtualized protection and control solution. The virtualized product allows customers to use the hardware they choose while gaining access to the same demonstrated protection and control functionality as ABB's turnkey solution.
Feb 2023- Hitachi ABB Power Grids has introduced its Smart Digital Substation offering, which combines the most advanced digital substation technology with the unique predictive, prescriptive, and prognostic capabilities of Hitachi's industry-leading Lumada Asset Performance Management solution.
Smart Substation Market Segmentations
Segment by Type
Segment by Application
Frequently Asked Questions