Market Overview
According to Reed Intelligence the Underground Power Cables Market Size will approximately grow at a CAGR of 14.6% during the forecast period.
Underground power cables are wires made to carry electricity below the ground. This is different from overhead power lines, which are wires that hang from poles or buildings. They are used to get electricity from places that make electricity, like power plants or to residences and industries.
Underground wires are hidden from view, making cities and other places look better. Underground lines have less of an effect on the environment because they don't need to clear out a lot of plants or make things look bad. The weather, like wind, ice, or lightning hits, is less likely to cause underground cable problems than overhead lines. Fewer electromagnetic fields around underground wires make it easier for sensitive electronic devices to work. Underground cables come in different types, such as High-Voltage Alternating Current (HVAC) Cables, High-Voltage Direct Current (HVDC) Cables, Medium-Voltage Cables, and Low-Voltage Cables.
The power industry is one of the main businesses that use underground power cables. Electric companies set underground cables to deliver energy to homes, businesses, and factories. The distribution network comprises high-voltage, medium-voltage, and low-voltage lines.
Market Dynamics
Market Drivers
Increased Urbanization and Infrastructure Development
There are generally fewer places for new equipment. Power wires hanging in the air can be unpleasant to look at and can be dangerous in cities with lots of people. Underground power lines are a solution because they make it possible to get electricity to places without taking up valuable space above ground. Urban areas are important hubs for business, economic activity, and everyday life. Storms and high winds, which can cause power blackouts in overhead lines, are less likely to cause problems with underground power lines. This makes it more likely that people and companies in cities will always have power. Smart city projects are often created simultaneously as cities get bigger. Underground power lines can be connected to other smart city infrastructure like data networks, sensors, and communication systems. This makes it easier for technology to work together easily.
Governments prioritize the safety of citizens and the reliability of power supply. Underground power cables are less susceptible to weather-related disruptions, such as storms, lightning, and high winds, which can cause outages in overhead lines. Regulations that mandate the use of underground cables in critical infrastructure or densely populated areas can help ensure a more secure and reliable power supply.Governments are increasingly focused on reducing the environmental impact of infrastructure projects. Underground power cables can help minimize disruption to ecosystems, reduce tree removal, and mitigate the electromagnetic interference associated with overhead lines. Regulations that prioritize environmental conservation can incentivize the use of underground cables.
Market Restraints
The need for specialized equipment and expert staff increases the cost of installing underground cables. Excavation equipment, cable laying equipment, and employees specialized in handling and installing underground cables all add to the costs. Projects are frequently postponed due to the difficulty of underground systems. Unexpected ground conditions, technical obstacles, or bad weather can all cause delays. These delays can result in increased spending connected with project timeframe extensions. The initial cost of laying underground power cables is much higherthan developing overhead lines. This includes the costs of excavating trenches, laying conduits, and other civil engineering tasks.
Market Scope
Report Metric
Details
Market Size by 2031
USD XX Million/Billion
Market Size in 2023
USD XX Million/Billion
Market Size in 2022
USD XX Million/Billion
Historical Data
2019-2021
Base Year
2022
Forecast Period
2023-2031
Report Coverage
Revenue Forecast, Competitive Landscape, Growth Factors, Environment & Regulatory Landscape and Trends
Segments Covered

Segment By type

Low Voltage Cables
Medium Voltage Cables
High Voltage Cables

Segment By Application

Miliary
Civil

Geographies Covered

North America
Europe
APAC
Middle East and Africa
LATAM

Companies Profiles

Nexans
General Cable
SEI
Southwire
JPS
Jiangnan Cable
Furukawa
Riyadh Cable
NKT Cables
LS Cable System
Segmental Analysis
Segment By Type
Low-voltage cables are underground cables that carry electrical power at lower voltage levels. These cables are often used at voltage levels less than 1 kV. Low-voltage cables are usually classified into 300/500 V, 450/750 V, and 600/1000 V. Copper and aluminium can be used as conductor materials in low-voltage cables. Copper conductors are more conductive than aluminium conductors, although they are more expensive. Low-voltage cables come in a variety of designs that are suited to certain purposes. For example, power cables, control cables, flexible cords, and building wires are all suited to specific use cases and installation situations.
Medium voltage cables are underground cables that carry power at medium voltage levels. These cables distribute energy throughout cities, suburbs, industrial districts, and other areas where greater voltage levels are required to travel longer distances or deliver power to larger loads. Although particular regulations and definitions vary by location and industry, medium voltage cables generally run at voltage levels ranging from 1 kV to 33 kV. Medium voltage cable conductors are built of copper or aluminium. These conductors transport electricity from the power source to the load. To help to prevent electrical leakage and protect against moisture, mechanical damage, and other environmental conditions, medium voltage cables are insulated. Two important insulation materials are cross-linked polyethylene and ethylene propylene rubber.
High-voltage cables are underground cables built to transport electrical power across great distances. These cables connect power generation sources, substations, and end users in energy transmission and distribution networks. High-voltage cables efficiently carry huge amounts of power, typically at 66 kV or more voltages. They are an important part of the electrical infrastructure, allowing power to move between areas and providing a consistent supply. High-voltage cable conductors are often constructed of copper or aluminium. These conductors carry the electrical current and are designed to minimize losses.
Segment By Application
Underground power cables are used in various military applications where reliable and secure power delivery is required for operational effectiveness and safety. Underground power lines bring energy to military bases for numerous services, including barracks, administrative buildings, communication centres, and medical facilities. Command and control centres have an importance for coordinating military actions. Underground power lines supply is a dependable and secure power source for command-and-control systems, allowing continuous communication and decision-making.
Underground power lines, power lighting, traffic signals, and other parts of urban infrastructure. Underground power lines are used in residential neighbourhoods to supply energy to homes, apartments, and housing complexes. This method lowers visual pollution and potential hazards linked with overhead power lines. Underground power wires supply businesses, shops, and other businesses. This improves commercial places' appearance while contributing to a safer environment. Underground power cables power infrastructure like subways, light rail systems, and transit stops. This method provides a consistent power supply without affecting transit routes.
Regional Analysis
North America
The North American electricity market is expected to grow more than 3% yearly. The North American power market is expected to be driven by increased industry and urbanization in nations like Mexico. Countries' proposals for reducing carbon footprints, such as those given by the United States and Canada, generated the building of renewable energy facilities throughout North America. Because of its rising energy consumption, the United States is likely to dominate the Underground Power Cables Market Share. Power consumption can suggest using underground power cables to regulate power supply in North American residential and business regions.
Europe
The German Underground Power Cables Market has expanded significantly in recent years. This is mainly due to Germany's large energy transition effort. By 2050, greenhouse gas emissions are to be reduced by at least 80%. Because of the country's growing population and infrastructure development activities, electricity demand has been increasing. France's power usage has increased due to increased power demand. This will likely increase the Underground Power Cables Demand for electricity transmission to several European countries.
Asia Pacific
The Asia-Pacific Underground Power Cables Market will increase at a CAGR of more than 3.7%. The thermal power category is expected to be the largest and dominate the market. This is primarily due to the use of fossil fuels, which are among the least expensive possible energy sources. Although fossil fuels contribute considerably to greenhouse gas emissions, they are the region's most often used energy source in 2019. China is the world's greatest energy producer and the region's largest market. The country's significant level of industrialization and expanding urbanization have the potential to contribute to Underground Power Cables Market growth.
South America
The increase in use of smart grids and smart metres is driving the power sector. Because of growing energy demand and so and outdated power infrastructure the governments in the world are increasingly turning to smart grid technology to modernise their energy infrastructures in South America. To manage the power supply, new innovations in the power supply are being implemented throughout the region. This would increase demand for underground power cable in the area.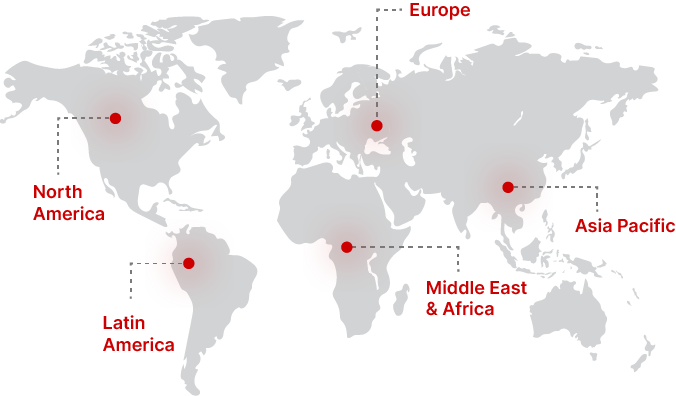 Regional Growth Insights
Download Free Sample
Key Players
Nexans
General Cable
SEI
Southwire
JPS
Furukawa
Riyadh Cable
NKT Cables
LS Cable System
Recent Developments
April 2021 The Supreme Court of India has requested an update on the progress of underground electricity cables in the habitat of the endangered Great Indian Bustard. The court ordered power firms in Rajasthan and Gujarat to put down high-tension power lines to safeguard the birds from being electrocuted.
Underground Power Cables Market Segmentations
Segment By type
Low Voltage Cables
Medium Voltage Cables
High Voltage Cables
Segment By Application
Frequently Asked Questions