Market Overview
The Global Vegetable (HPMC) Capsule Market Size is estimated at a CAGR of 9.53% during the forecast period.
Vegetable capsules are an alternative to the more common gelatin capsules. They are made of components derived from plants, most commonly cellulose or HPMC, and are used in their place. These capsules are a favorite among those individuals who adhere to a plant-based diet, including vegans, vegetarians, and others who favor goods derived from plants. Because vegetable capsules are biodegradable and do not originate from animal sources, they are considered more environmentally friendly than gelatin capsules. Gelatin capsules originate from animals.
HPMC, also known as Hypromellose, refers to hydroxypropyl methylcellulose. Most supplement capsules are composed of HMPC. It is transparent, flavorless, vegetarian, and vegan-friendly. In most cases, it is derived from wood fiber. They are considered natural because they consist of cellulose fiber and are vegan. As long as there are no perceived disadvantages compared to animal-based alternatives, using HPMC firm capsules is a boon for vegetarians, vegans, and the many consumers who avoid animal products.
Market Dynamics
Market Drivers
Increasing use of Gelatin capsules that gives the Market an extra boost
Consumption of gelatin capsules is increasing due to the Market's expansion. Gelatin capsules have been widely used for many years, and it is anticipated that a decline in preference for non-animal sources will continue to increase the demand for vegetable capsules. In treating limited bioavailability, HPMC (Hydroxypropyl Methylcellulose) is crucial. These capsule types are one of the best alternatives to gelatin capsules because they are extremely durable, have a long shelf life, do not cause cross-linking problems, and have greater oxygen permeability. Consequently, the growth and increasing use of gelatin capsules will bolster the Market for vegetable (HPMC) capsules.
Market Restrains
Higher cost compared to gelatin capsules and limited availability of raw material
High prices and limited raw material supplies predominantly constrain the growth of the Market for vegetable capsules. Some producers and consumers find vegetable capsules less desirable than gelatin capsules due to the higher production costs associated with the former. Compared to those used to make gelatin capsules, the raw ingredients required to create vegetable capsules are typically scarcer and less accessible. This may result in cost increases and supply chain difficulties.
Market Opportunities
The Market for vegetable capsules is growing
Vegetable capsules are booming. These pills mask odors and taste and are easy to swallow and dissolve. Vegetable capsules are also suitable for moisture-sensitive, hygroscopic, and liquid compositions. Vegetable capsules have replaced hard gelatin capsules due to their many benefits. Vegetable capsules improve oil-soluble ingredient bioavailability, disintegrate better than other non-animal methods, and are stable in hot temperatures without stickiness. These reasons would boost the worldwide vegetable capsule market. However, high capsule prices may slow market growth.
Product line expansion is a key business strategy
HPMC capsule manufacturers offer various products with properties such as gastric acid resistance, enteric coating, and rapid disintegration, and they facilitate customized clinical trials to expand the revenue base. This is primarily due to consumers rejecting or altering their preferences away from gelatin-based products derived from bovine hide and pork skin. They can anticipate robust incremental growth opportunities if these businesses expand their product line to include vegetarian, marine, and other plant-based gelatin capsules.
Market Scope
Report Metric
Details
Market Size by 2031
USD XX Million/Billion
Market Size in 2023
USD XX Million/Billion
Market Size in 2022
USD XX Million/Billion
Historical Data
2019-2021
Base Year
2022
Forecast Period
2023-2031
Report Coverage
Revenue Forecast, Competitive Landscape, Growth Factors, Environment & Regulatory Landscape and Trends
Segments Covered

Segmentation by Type

HPMC with a gelling agent
HPMC without a gelling agent

Segmentation by Application

Pharmaceutical
Health Supplements

Geographies Covered

North America
Europe
APAC
Middle East and Africa
LATAM

Companies Profiles

Capsugel
ACG Associated Capsules
Qualicaps
Shanxi GS Capsule
CapsCanada
Suheung Capsule
Qingdao Capsule
Lefan Capsule
Sunil Healthcare
K-caps
Segmental Analysis
Segmentation By Type
HPMC with a gelling agent
The HPMC with a gelling agent provides consistent and reliable performance. These are ideal for fillings that are sensitive to moisture. The segment for gelling aids is subdivided into Carrageenan and Gellan Gum.
HPMC without a gelling agent
The HPMC without gelling agents provides a superior dissolution profile, low moisture content, exceptional machinability, and visual quality.
Segmentation By Application
Pharmaceutical end-user industries consume more HPMC than other industries. The pharmaceutical industry accounts for most of HPMC consumption, as it is a fundamental ingredient. Pharmaceutical companies have increased the need for HPMC capsules in recent years. This rising interest is in consideration with the vegetarian-based capsule properties to prevent manufacturing problems related to gelatin interactions and restriction in formulation with gelatin capsules, which boost the product demand. The pharmaceutical industry uses HPMC capsules for various applications, including oral solid dosage forms, enteric coating, and controlled release. Moreover, the rise in demand for innovation and refined products has leveraged the scope of the HPMP capsule market.
Hydroxypropyl methylcellulose (HPMC) has become a popular alternative material for two-piece capsules and is utilized globally in the supplement industry. Although many capsules contain added colors, HPMC has no inherent flavor, odor, or color. Most individuals find HPMC to be palatable. Additionally, it dissolves in the intestines quite rapidly, typically within 10 minutes. Approximately 20 minutes are required to disintegrate bovine gelatin capsules. It can take hours for tablets to dissolve completely. This makes HPMC capsules an ideal delivery method for most supplements, where we want the vitamin or mineral powder to enter the user's stomach rapidly and without discomfort.
Regional Analysis
The Global Vegetable (HPMC) Capsule Market Analysis is segmented by region as North America, Europe, Asia Pacific, Latin America, and Middle East and Africa.
North America
North America dominates vegetable capsules due to various causes. Natural and plant-based products, such as dietary supplements and nutraceuticals, promote regional growth. Vegetable capsules are preferable to gelatin capsules because of their natural origin, biodegradability, and vegan-friendliness. North American consumers increasingly prefer natural, non-GMO, and eco-friendly products. North America's pharmaceutical and dietary supplement industries are also fueling vegetable capsule demand. Many pharmaceutical and dietary supplement companies in the region are using vegetable capsules.
Europe
European law permits HPMC capsules to produce organic products, whereas other outer materials are not exempt. Although HPMC is more expensive than gelatin capsules, it is still relatively inexpensive. Vegetable caps Plus capsules are made without supplementary gelling chemicals, which might delay disintegration and cause product development challenges. These pure, visually appealing capsules meet the needs of European consumers, including high effectiveness and peace of mind from a pure, organic product, and they have shown in numerous studies that health and nutrition manufacturers demand superior performance.
Asia-Pacific
The Asia-Pacific region is anticipated to be the fastest-growing Market for firm HPMC capsules due to China and India's rising demand. Asia-Pacific is projected to be the fastest-growing Market due to the proliferation of pharmaceutical industries in this region, favorable government initiatives in the healthcare sector, and the expansion of pharmaceutical manufacturing industries. Additionally, Southeast Asia accounted for an expanding HPMC capsule market in the Asia-Pacific region.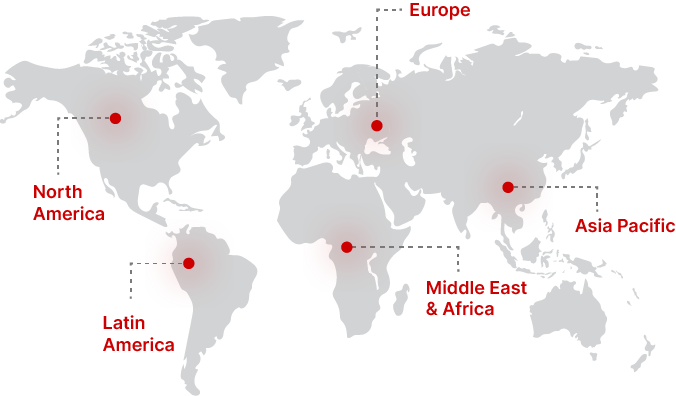 Regional Growth Insights
Download Free Sample
Key Players
ACG Associated Capsules
Qualicaps
Shanxi GS Capsule
CapsCanada
Suheung Capsule
Qingdao Capsule
Lefan Capsule
Sunil Healthcare
K-caps
Recent Developments
August 2019 - ACG Group, a provider of manufacturing solutions for the pharmaceutical industry, has introduced a new line of HPMC capsules to meet diverse pharmaceutical and nutraceutical requirements. The new ACGcaps H+ capsule contains no gelling agent, is suitable for hygroscopic and moisture-sensitive formulations, and satisfies consumer demand for capsules with clear labels and vegetarian options.
Vegetable (HPMC) Capsule Market Segmentations
Segmentation by Type
HPMC with a gelling agent
HPMC without a gelling agent
Segmentation by Application
Pharmaceutical
Health Supplements
Frequently Asked Questions