Market Overview
The Global Intelligent Kitchen Display System Market Size is projected to register a CAGR of approximately 30.2% during the forecast period 2023-2031.
An Intelligent kitchen display system is a computerized system that is used in commercial kitchens to manage orders, track inventory, and provide real-time information to kitchen staff. It is designed to improve efficiency and accuracy in food preparation and service. The Intelligent Kitchen Display System industry is undergoing rapid changes and shows significant growth.
Restaurants are using Intelligent Kitchen Display System Market Trend to increase capacity and speed up food ordering, preparation, and payment from the point of entry. The restaurants in economically stable regions are adopting Smart kitchen systems for convenient & efficient kitchen operations. The technological advancements in this region have led to increase in Intelligent Kitchen display system.
Kitchen Display system costs range widely. Some are available for about $20–$40 per month for the software, while others require a custom quote. If cloud POS is used it can be operated on personal paste biggest costs is required by KDS screens. A tablet-based system that runs on iPads or Android tablets run $400 to $600 per screen, depending on the tablet model. Industry-grade touch screens can run from $800 to $2,000 for a piece.
Market Dynamics
Market Drivers
Kitchen Display systems simplify order management by allowing restaurants to track all incoming orders in real time. It becomes easy to assign the orders to the staff quickly or to store the food for further orders requires display systems to deliver the food item before time. This helps keep operations running smoothly and efficiently. It is used to reduce the cost of labour and save time. The transparency is maintained while billing. It reduces ambiguity regarding the items in the order placed. Timely delivery of food items satisfies the customers. The kitchen timers allow the cook to know the time required for preparation of a dish.
Ingredient Stock Tracking
By monitoring ingredient stock levels in real time, restaurants can ensure they always have enough ingredients on hand when customers place orders. Accurate inventory tracking also helps reduce unnecessary purchasing costs due to overstocking and ensures dishes are cooked with fresh ingredients every time.
Market Restraints
As the on-premises display system requires high amounts of installation the Owners may avoid using the display systems, lack of the display systems may require more time for delivery and restrict the restaurants from placing orders and can result in slow delivery. If it is a startup or the restaurant is not well established, they cannot afford making high-cost decisions like installing Cloud kitchen systems.
Market Scope
Report Metric
Details
Market Size by 2031
USD XX Million/Billion
Market Size in 2023
USD XX Million/Billion
Market Size in 2022
USD XX Million/Billion
Historical Data
2019-2021
Base Year
2022
Forecast Period
2023-2031
Report Coverage
Revenue Forecast, Competitive Landscape, Growth Factors, Environment & Regulatory Landscape and Trends
Segments Covered

Segmentation by Deployment Type

On Premises
Cloud-Based

Segmentation by Display System Type

Point-of-Sale Display System
Digital Menu Boards
Kitchen Video Displays
Order Confirmation Systems
Order Tracking Systems

Segmentation by Application

Restaurants
Catering Companies
Food Trucks

Geographies Covered

North America
Europe
APAC
Middle East and Africa
LATAM

Companies Profiles

QSR Automations
Oracle
Up serve
Lightspeed POS
Square
Epson
Toast
Touch Bistro
Loy verse
Hash Micro
Advantech
Brink Kitchen
Sintel Systems
Bematech
Segmental Analysis
Segmentation By Deployment Type
The On-premises display system stores data on local servers and runs on an internal network. This is kind of an application that can be installed and can be only used on desktop computer. The cost of implementation and maintenance is higher. Restaurants using on premise system u are responsible for their own security which if is inadequate puts it at risk. As the data is stored locally, it cannot be restored if the servers crash, catch a bug, get stolen, or damaged. On-premise data can only be accessed on location. For e.g. We have to be physically present in the restaurant to make any menu changes or view the daily business report. It restricts acquiring new features in the system. These systems are restricted to use at one location only.
Cloud-based system also known as Software as a Service (SaaS) or mobile-based systems, store and process data online. Data is automatically backed up in the cloud and, in the event of a system crash, can easily be restored. The data can be accessed from anywhere in the world to monitor the restaurant's activities. Multiple add-ons, such as restaurant loyalty programs, online ordering, accounting, and kitchen display systems; can be enabled easily.
Segmentation By Display System Type
Point-of-Sale Display System
These systems are typically used by restaurants and other foodservice establishments to manage customer orders, inventory levels, and payment processing. The system is linked with a terminal or computer and includes a monitor for displaying the menu items and order information.
These are interactive displays that use digital technology to display menu options, prices, pictures, videos and other media. They can be used in both full-service restaurants as well as fast casual eateries. The digital boards allow customers to customize their orders or receive suggestions based on preferences entered into the system.
These systems provide live video footage from the kitchen so that customers can track the progress of their orders in real time. Video displays also help to eliminate communication errors between kitchen staff and servers.
Order Confirmation Systems
These systems confirm orders at multiple points along the way so that everyone involved in the process is aware of what has been ordered. They are especially useful for large or complicated orders which require several steps of preparation before completion.
These systems track each step of an order from creation through delivery, providing updates throughout the entire process. This type of system helps ensure food safety compliance while streamlining kitchen operations and improving customer service.
Segmentation By Application
Kitchen display systems are used in restaurants to manage the operations efficiently. Various operations such as order taking, printing tickets and tracking inventory are carried out smoothly. These systems are convinient for the customers and the service providers as well.
Catering companies often use kitchen display systems to manage orders. It is also used to track the inventory levels so that there is no shortage of equipment's required. It helps in ensuring timely delivery which satisfies the customers.
Mobile vendors that serve food can benefit from kitchen display systems to simplify their operations. The kitchen display system is used to perform operations of ordering and billing. As the order placed is visible on the screen which helps the cook to prepare the food accordingly.
Regional Analysis
The Global Intelligent Kitchen Display System Market Analysis is segmented by region as North America, Europe, Asia Pacific, Latin America, and Middle East and Africa.
North America
The market is expected to reach CAGR of 6.5% from 2023 to 2031. North America is one of the largest and fastest-growing markets for kitchen display systems. The region has a well-established foodservice industry which includes a diverse range of restaurants, quick-service establishments, and catering services. As the region is technologically and economically strong the customers can afford visiting high price restaurants. Quick-service restaurants (QSRs) and fast-casual restaurants are prominent segments which drive the demand for kitchen display systems in North America. About 90% restaurants of America use KDSs.
Europe
The European market is expected to reach CAGR of 10.5% from 2023 to 2031.The increasing need of food delivery and adoption of cloud-based systems has led to growth of the market in Europe. Digestor, Trident Information Systems, are the major companies producing Kitchen display system.
Asia Pacific
The Asia pacific market is expected to reach CAGR of 9.5% from 2023 to 2031.China produces about 3576 products related to smart kitchens which involve kitchen display systems. To meet the needs of the customers, Reduce the cost of labour and maintaining transparency with the customers the restaurants are installing kitchen display systems. The number of restaurants is increasing due to the youngsters driving towards experimenting food of different localities. The kitchen display system saves time and gives an online option to order food from anywhere. The installation of kitchen display system has helped the region to boost its sales.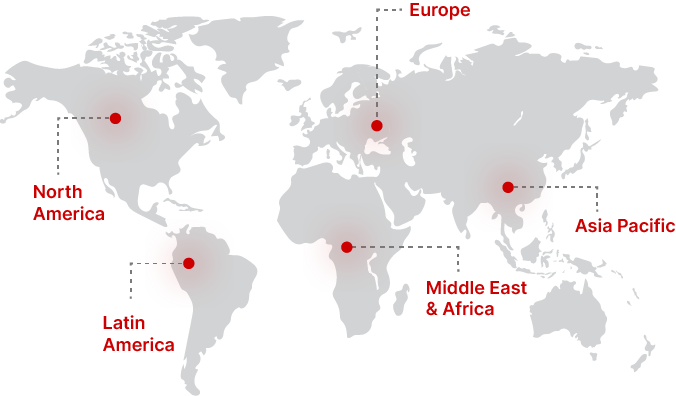 Regional Growth Insights
Download Free Sample
Key Players
QSR Automations
Up serve
Lightspeed POS
Square
Epson
Toast
Touch Bistro
Loy verse
Hash Micro
Advantech
Brink Kitchen
Sintel Systems
Bematech
Intelligent Kitchen Display System Market Segmentations
Segmentation by Deployment Type
Segmentation by Display System Type
Point-of-Sale Display System
Digital Menu Boards
Kitchen Video Displays
Order Confirmation Systems
Order Tracking Systems
Segmentation by Application
Restaurants
Catering Companies
Food Trucks
Frequently Asked Questions